Returning to campus
Guidance and advice for students returning to campus.
Get tested regularly
If you're living on campus or using campus facilities make sure you get tested regularly.
Travelling and testing
Travelling to university from abroad?
Travelling to university from within the UK?
You are encouraged to test before you travel to university, either through your local community testing programme or by ordering a test online .
When you arrive, you should take three tests at an on-site testing facility (three or four days apart) and then test twice a week, either using home test kits or at an on-site facility.
It is very important that, when testing at home, test results are reported online to NHS Test and Trace whether positive, negative or void. Reporting results helps the NHS monitor the spread of the virus, combat the virus and save lives.
Reducing the spread of coronavirus
Please continue to follow safety guidance when on campus and self-isolate when you need to.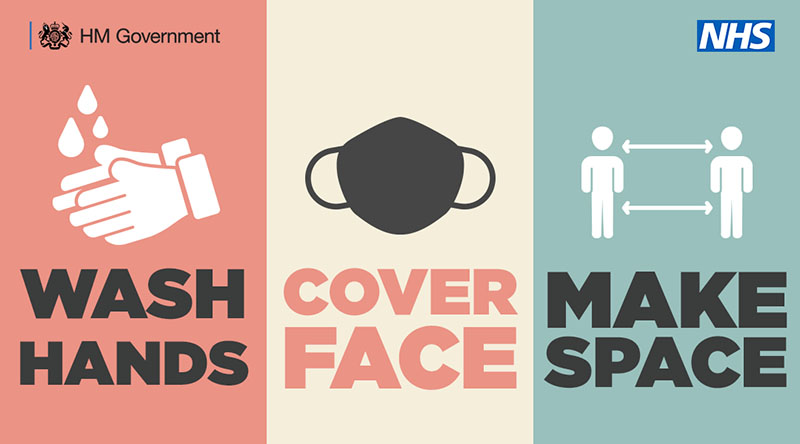 Wash your hands
Frequently, with soap and water. Or use hand sanitiser, if you can't wash your hands. There are gel stations across campus. Get in the habit of using it when you pass one.
Cover your face
You are required to wear a face covering inside all of our campus buildings including teaching rooms, laboratory, skills and IT labs, and social settings, unless medically exempt.
You should also cover your face when standing at bus stops.
Remember to be mindful and respectful of others, noting that some people are less able to wear face coverings, and that the reasons for this may not be visible to others. Be nice and make space.
Make space
Stay two metres away from people outside your household. If you can't stay two metres away from others, you should wear a face covering.
Household mixing
If you're living in UWE Bristol accommodation, do not invite or allow anybody into your flat who doesn't live there. Do not have a flat or house party - they are strictly prohibited. The only exception to the visitor rule is for the Studio accommodation at Wallscourt Park where one visitor is permitted.
COVID-19 support team
Whether you have coronavirus symptoms or not, we have a team ready to help you manage your self-isolation.
COVID-19 support team
Our expectations
Student conduct
You must make sure you read our COVID-19 expectations for students. These include expected behaviour, reporting symptoms, self-isolation and living in UWE Bristol accommodation.
Assessing your COVID-19 risk level
You might be nervous about returning to campus during the current pandemic, we've put together this form to help you understand your risk level and the support you might need before returning to campus.
UWE Bristol has worked hard to make studying with us as safe as possible during the current pandemic.
It is important that you consider your personal situation and ask for support if you have any concerns.
Using lifts
The use of lifts will be restricted to disabled persons/mobility impaired (and their support worker should they have one), or for the transport of large/heavy/hazardous materials where transport on stairways would not be safe.
Other than support workers, lifts are restricted to single occupancy and signage will be in place to remind you of this requirement.
Moving around campus
When you're moving around campus, be aware of people around you and respect social distancing. Remember there may be different rules that apply in different parts of the campus. Keep an eye out for signage.
You are now required to wear a face covering inside all of our campus buildings including teaching rooms, laboratory, skills and IT labs, and social settings, unless medically exempt.
You should also cover your face when standing at bus stops.
You must wear a face covering at all times in shops, catering outlets and on public transport.
Entry and exit routes will be designated where possible to maintain a one-way flow system. If in doubt, follow the signage in the area. When moving around, cover your face and keep to the left. Keep moving and don't hang out in corridors.
Where possible, a stairwell will be designated for travel upwards and a separate stairwell for travel downwards. Keep an eye on the signage.
Studying on Glenside Campus?
Glenside Campus has been 'zoned' to help us manage the number of people in buildings, corridors and toilets. More detail about the zones and specific guidance is available on the Glenside Campus map web page.
Cleaning
In addition to the normal cleaning programme, a higher frequency of cleaning has been implemented.
All hand contact points will be cleaned throughout the day (e.g. door furniture, hand rails, food preparation areas, toilets, flush plates, taps, dispensers etc.).
Using study spaces
Sanitising wipes or sanitising spray and cloths will be available. Please wipe down all the surfaces you use before and after use. This includes the monitor, keyboard, mouse, desk space, chair, telephone/headset etc. It is essential that you do this before you sit down.
To maintain social distancing rules and your safety, the numbers of occupants using an area may be 'capped'.
Where possible refrain from using printers and other shared devices. If necessary to use a printer, wash your hands or use sanitiser from local stations before each use.
Floor space in laboratories, workshops etc. may be marked or managed to ensure that social distancing is maintained around equipment, work benches etc. Keep an eye out for signage.
Using libraries
We have very limited space in our libraries once covid-secure measures are introduced, so we are prioritising individual study. This is so that students who don't have suitable spaces in their homes have somewhere to work.
Read our coronavirus updates for library users for information about which services are available and which are not currently running.
In an emergency
An emergency response will continue to be provided by the University for fire, first-aid and other emergencies, observing social distancing rules where practicably possible.
Fire routes and exits will operate as usual in the event of a fire alarm, any one-way systems will not be observed. However, when outside at the evacuation area please try and remain apart as much as possible.
"We must remember that we can reduce the risk as much as possible, but personal responsibility and the actions of every individual will be the biggest factor in reducing the transmission of coronavirus.

We all need to follow the guidance and measures that will be in place. We are the agents of spread and we can significantly reduce or accelerate spread by our own actions. We need to ensure we work together to reduce risks."
Steve West Vice-Chancellor
Welcoming you to UWE Bristol safely
Further information
For further information, listen to Vice-Chancellor Steve West talk about digital course delivery, the measures in place to keep everybody safe, and how social distancing on campus will work.
You may also be interested in