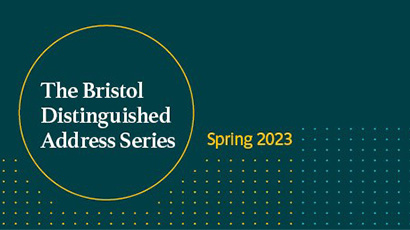 The prestigious Bristol Distinguished Address Series is back at UWE Bristol for 2023, starting with two free online events showcasing two inspiring leaders talking about their work and careers.
The Bristol Distinguished Address series has seen a wide array of talks since its launch in 2008 and provides a unique opportunity to hear perspectives and insights from change makers, activists, entrepreneurs, and leaders who have achieved amazing things in Bristol and beyond.
The 2023 series begins with two free online events, with Aisha Thomas MBE on 10th May and Grant Mansfield on 30th May.
Aisha Thomas studied law before an epiphany saw her move to education and become Assistant Principal at an inner-city secondary school. Today she is Educational Consultant in her own organisation, Representation Matters Ltd, with a focus on anti-racist practice, equity, justice, and liberation. She has presented a BBC documentary about the lack of black teachers in Bristol and delivered a TEDx talk: 'Why Representation Really Matters', as well as winning the Positive Role Model for Race/Ethnicity Award at the Bristol Diversity Awards 2020. She received a 2021 Special Recognition Award from Bristol Black History Month magazine and won the 2021 Baton Awards Campaigner of the Year. Aisha is also a university guest lecturer, and her debut book 'Becoming an anti-racist educator was released in 2022.
In June 2022, Aisha was awarded an MBE for her services to education and her anti-racist practice work via Representation Matters Ltd.
Grant Mansfield is the Chief Executive and Founder of Bristol-based Plimsoll Productions, one of the largest and fastest growing independent TV production companies in the UK. Before launching the company, in September 2013, he spent three years in LA as CEO of Zodiak USA, leading a large creative team producing shows for a wide variety of US Networks. Previously, as Managing Director of RDF and, before that, Director of Programmes at Granada TV, Mansfield was the creative lead for two of the UK's most successful production companies, producing shows as diverse as 'I'm a Celebrity Get Me Out of Here', 'Coronation Street', 'Cold Feet', 'Ladette to Lady and 'Secret Millionaire'.
He began his documentary career at the BBC in Bristol where he created and produced some of the Corporation's most popular documentary series, including 'Driving School' and 'Vets in Practice'. At Plimsoll, Grant is a creative lead on many of the company's shows including 'Tiny World' (Apple +), 'Hostile Planet' (Disney+) and 'Handmade' (Channel 4).
Grant has also been voted the Daily Telegraph's SME Business leader of the year and awarded an honorary doctorate by UWE Bristol where he is also a Board member and visiting Professor. In 2019, Grant led a process to sell a minority stake in Plimsoll to private equity Group LDC and in 2022 he sold a majority stake to ITV in a deal valuing the company at £131 million.
To register for either event, please visit the UWE Bristol website.
Further events as part of the Bristol Distinguished Address Series will be announced later in the year, including details of an upcoming event in June with Vice-Chancellor of UWE Bristol Professor Steve West and Vice-Chancellor of University of Bristol Professor Evelyn Welch.