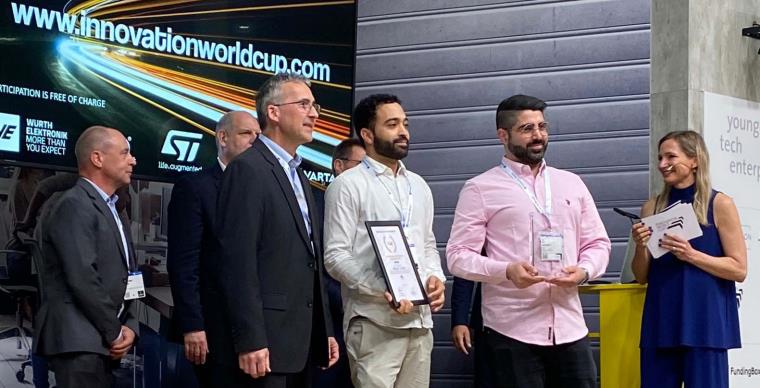 A pioneering start-up business supported by UWE Bristol and Bristol Robotics Laboratory has been awarded £400,000 after winning a prestigious international innovation competition.
Altered Carbon, founded by three former UWE Bristol students and based in Bristol Robotics Laboratory's Hardware Incubator, has been named the winner of this year's ST Industrial Innovation Challenge at Hannover Messe in Germany. The event is the world's leading fair for industrial transformation.
Competition judges selected Altered Carbon from a shortlist of three finalists in recognition of its innovation, commercial potential, go-to-market approach and sustainability. More than 400 businesses entered ST's global Innovation World Cup competition, which also offered the winner prominent speaking opportunities at leading industry events, exclusive business connections with international tech companies, potential investors and partners, and free use of production labs, testing facilities and technical support from ST.
Altered Carbon is developing the 'intelligent digitization of scent'. Its technology is a revolutionary new sensor type that provides computers with the ability to sense chemical compounds, effectively allowing devices to detect scent.
Applications for the technology include detecting leaks in oil and gas infrastructure, identifying battery faults, and monitoring the shelf-life of food to reduce waste. The business believes its technology can be used to tackle some of the world's most pressing challenges, by reducing the waste of the planet's resources.
Ali Rohafza, CEO and Co-Founder of Altered Carbon, said: "I'm extremely proud of our team for working to win this competition. We are enthusiastic about making the Onlife era a reality by using our sensor technology with Edge-AI. We want it to enable better automation and use of global resources to create sustainability in our industries, from green energy to food security."
The £400,000 awards will be used by Altered Carbon to collaborate with STMicroelectronics (STM) on product development. The funding will cover design, development and testing with STM. In addition, the company has recently secured £250,000 in investment from a Regional Angel Investment Accelerator, and landed £600,000 in investment from other investors.
Werner Neumann, Technical Marketing Manager MEMS, STMicroelectronics, said: "With the ST Industrial Innovation Challenge, we want to seek out innovative solutions that correspond to our strategy and bring the Industrial IoT to the next level. We are happy to award Altered Carbon for their technology advancement, and that we can collaborate with them, as well as support further start-ups in the competition who are working on sensing solutions."
Altered Carbon, which employs eight people, has benefitted from Bristol Robotics Laboratory support via its Hardware Incubator, Robotics Innovation Facility and ERDF-funded SABRE business support programme. It has also been supported by the Health Tech Hub at UWE Bristol, UWE Bristol academics Dr Robin Thorn and Professor Darren Reynolds, and is a partner in UWE Bristol's Umbrella project. Two of the company's three founders are undertaking PhDs at UWE Bristol and are working as academic staff. The company is expanding into new premises, the Future Space innovation centre at UWE Bristol's Frenchay campus.
David Lennard, Head of Business Engagement and Enterprise at Bristol Robotics Laboratory, said: "We are immensely proud of Altered Carbon's achievements. It's been a pleasure helping the company to grow and flourish, and apply the skills learnt at UWE Bristol and Bristol Robotics Laboratory to develop a technology with such significant potential. They provide a great example of how a business operating within UWE's tech innovation and enterprise community can draw on a wide range of integrated programmes and support initiatives."