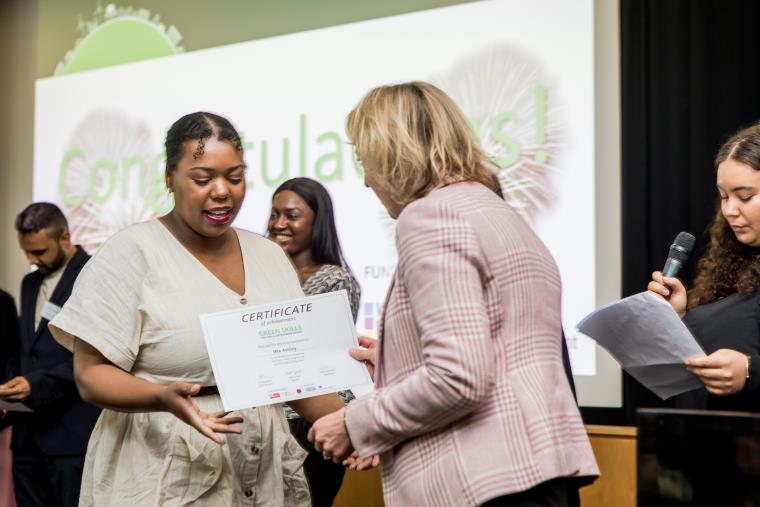 More than 70 young people have successfully completed the first stage of a transformational 'first of its kind' green skills training programme.
The learners began the Green Skills for Jobs and Entrepreneurship programme in March and have just completed the first part of the pilot project, which is led by UWE Bristol, in collaboration with NatWest and the Black South West Network (BSWN). Green Skills is funded by the UK's Community Renewal Fund, which is managed by the West of England Combined Authority.
The programme aims to provide access to green jobs, training and business opportunities to Black, Asian and minoritised young people (aged 18-28), and recent graduates living in Bristol, South Gloucestershire, North Somerset, Bath and North East Somerset. It's been designed to empower them with skills, knowledge, insights and industry contacts to assist them in pursuing careers in the growing green sector.
The initial phase of the project has provided each of them with access to eight days of paid training – covering energy, food, living and the circular economy, transport and air quality, construction and building, innovation and enterprise. They have been introduced to a number of inspirational speakers and leaders from a variety of backgrounds, participated in interactive workshops, completed group activities and been provided with opportunities to reflect on their personal development and future career through one-to-one coaching and mentoring sessions.
To celebrate their achievement the young people joined representatives from UWE Bristol, NatWest and the Black South West Network at an event on the university's Frenchay campus, where they were presented with certificates to mark the completion of the first stage of the programme.
One of those who attended is 27-year-old Mia Ashley, from Bristol. She said: "The programme has been an incredible experience – I have grown both professionally and personally. I have gained a new perspective on what green skills mean to me and have made connections with people with shared passions. The team has been super supportive of my career plans and future goals. It has been amazing to hear from the diverse and incredibly inspirational professionals working towards a more sustainable and promising future."
Stage two of the project is due to start soon and will provide the learners with the opportunity to embed their knowledge and refine the skills they have been developing through access to one of four skills pathways: a fully funded internship with a local business, a fully funded research internship at UWE Bristol, funding to cover industry training, or further learning and support to help set up a Green Tech business or Social Enterprise.
Tracey John, Director of Research, Business and Innovation at UWE Bristol, said: "Green Skills for Jobs and Entrepreneurship has highlighted the necessity for training, like this, to be delivered in the region, for the region. The programme has shown the amazing talent that can be unleashed when underrepresented groups are able to come together and share their knowledge and passion.
"Being able to be part of this incredible celebration for our learners was a privilege and joy. The success of the day was a testament to the remarkable learners, the fantastic team and the amazing partners who have been essential in delivering the programme.
"There needs to be continued commitment to developing talent to help achieve the 2030 Net Zero targets the region has set. UWE Bristol is proud to have been involved in such an innovative and inspiring programme, and is determined to ensure its future success."
Director of the Black South West Network, Sado Jirde, commented: "The collaboration between us, UWE Bristol and NatWest in designing and delivering the Green Skills programme has shown just how much potential, enthusiasm, and flair exists with young Black and minoritised young people in Bristol and across the region.
"The talent that has stepped forward from the community and displayed the entrepreneurial and ethical drive to effect sustainable environmental change is inspiring and provides us with hope. However, it is crucial that what we have started here is not lost. It is vital that the institutions and organisations with power and influence continue to build the right infrastructure to enable young people to succeed.
"We at BSWN are determined to see the Green Skills programme continued and expanded and we call on all our partners to join us in this endeavour."
Matt Hatcher, Natwest Director for Commercial Banking in the West of England, added: "We're thrilled to see the amazing impact this programme has had with young people across our region. Our purpose-led strategy is to champion potential - helping people, families and businesses to thrive. We are so pleased to have been part of the programme delivery with UWE Bristol and Black South West Network and see the learners embrace the programme, identifying future career path opportunities that a low carbon economy will bring to our vibrant region both here in the West of England and wider South West."
Find out more information about the Green Skills for Jobs and Entrepreneurship programme for young people about businesses.