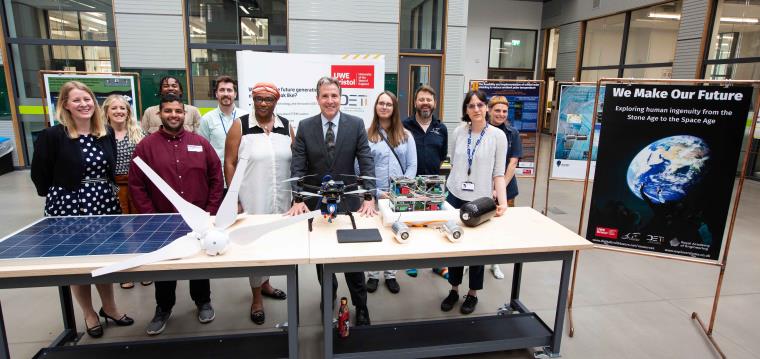 Metro Mayor Dan Norris met the bright young minds behind some of the West of England's leading green tech initiatives during a visit to UWE Bristol's School of Engineering on Frenchay campus.
Mr Norris met some of the skilled young engineers and entrepreneurs behind some of the region's leading green initiatives as part of the Metro Mayor's second Jobs and Skills Summit, as well as being given an insight into projects to inspire the region's future innovators.
The innovative tech on display included drones that measure microplastics in the air, built by award-winning student engineers at UWE Bristol, digitally engineered leak-proof hydrogen storage containers and machines that optimise the growth of the crops people eat.
The programmes are funded through the Digital Engineering Technology and Innovation programme, a £5 million initiative from the West of England Combined Authority.
Mr Norris met learners from the Green Skills for Jobs and Entrepreneurship (Green Skills) project, a programme designed to upskill learners from Black, Asian and minoritised ethnicities to help the region achieve its net zero target.
Green Skills is led by UWE Bristol and delivered in partnership with the Black South West Network and NatWest. It has received £760,000 of funding from the UK's Government's Community Renewal Fund and is overseen by the West of England Combined Authority within the region.
Mr Norris said the demonstration showed the abundance of talent across the West of England and applauded the talented youngsters supporting the region to reach its goal of becoming carbon neutral by 2030, and commented: "I'm so pleased to meet the teams of enthusiastic young people who are pioneering environmentally-friendly technology, boosting the West of England economy and supporting our efforts to reach our net-zero ambitions. It just goes to show how much talent there is in the region, as well as the good, high-quality jobs there are for local people in future-proof sectors such as the green economy, helping us to tackle the climate emergency alongside the jobs crisis."