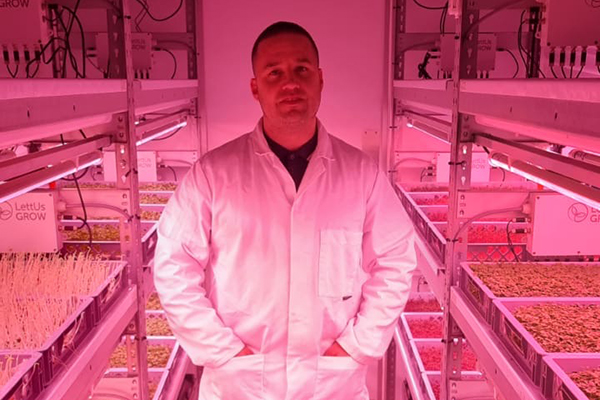 A vertical farming system, set up on Frenchay campus using aeroponic technology to grow and supply micro herbs and baby leaf plants, is the first of its kind to be located at a UK university. The system is being used by student venture The Greener Greens, which Jamie Taylor founded as part of his Team Entrepreneurship degree.
The 40ft container farm, supplied by LettusGrow, provides 24m2 of growing area and houses a four-tiered vertical grow-bed. The growing process uses a software that automates LED lighting, temperature and water vapour. Nutrients are delivered to the plants via atomisers that spray an organic, nutrient-dense fog onto exposed roots (a technique called 'aeroponics').
Greener Greens' plants are to include petit arugula, pea shoots, coriander, basil, pak choi and other small sprouting plants like micro broccoli, which take 11-30 days to reach full height. During this time, cycle pH levels, humidity and organic nutrient levels are automatically regulated.
Jamie Taylor said: "Nature is seasonal, but in this container farm we create our own climate to produce seasonal produce all year round. This is a really innovative system that uses no soil, no pesticides, with crop yields using 95 per cent less water and 99% less space compared to conventional land-based farming."
The entrepreneur said Greener Greens' ethos is to have a lower carbon footprint compared to other suppliers and, by providing a growth area close to the point of need, reduce food transportation miles. It is also reducing a reliance on single unit plastic by using re-usable containers to transport the plants.
Team Entrepreneurship is a degree that helps students set up a business as a team. Jamie said: "All this has only been achievable thanks to the University. Key support from UWE Bristol's enterprise, estates, environmental and sustainability, and catering teams has been crucial in working out how to run the business and how to introduce Greener Greens produce into the university's supply chain."
The system is set to produce some 200kg of pea shoots per month, as this plant variety has a short grow cycle of just 12 days. Initially the vegetables will supply the University and other local customers, with ambitions to set up further containers abroad.
Greener Greens is also building a geo-temporal inventory app that will allow its customers to see what is growing in which container, so they can place orders and receive fresher produce faster. The app will also allow chefs, for the first time ever, to specify the size and shape of their salads and garnishes in-app and create bespoke garnishes.