West of England health tech firms earning national recognition thanks to UWE Bristol support
See all news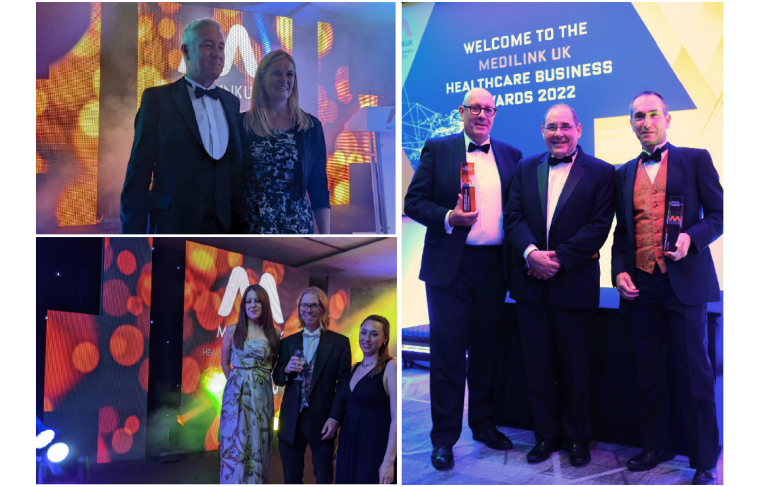 Two companies supported by UWE Bristol's Health Technology Hub have received prizes in a prestigious, national healthcare industry awards ceremony.
Somnus Scientific and EarSwitch were recently announced as winners in the 2022 Medilink UK Healthcare Business Awards. Success in these awards, organised by the largest trade organisation in the sector, is evidence that the Bristol/Bath region is now leading the UK in health tech innovation.
Both winning companies are collaborating on ongoing projects with researchers at the Health Technology Hub. The hub is a centre of excellence, delivering a unique combination of user-led research, innovative product development and creative problem solving. It has worked in partnership with more than 150 businesses in the last four years, supporting them to accelerate the commercialisation and adoption of their products into healthcare environments.
Winners in seven categories were chosen by a prestigious judging panel, representing key stakeholders from across the medtech supply chain. The panel was tasked with assessing entries based on their contribution to the medical device supply chain. More than 200 industry leaders gathered for the ceremony in Birmingham last month.
Somnus Scientific was announced as winner in the 'Partnership between Academia and Business' category for its partnership with UWE Bristol.
The partnership between Somnus Scientific and the Health Technology Hub has combined the Hub's core expertise in biosensor development and Somnus's extensive experience in clinical research, anaesthesia and intensive care medicine.
Working primarily with Dr David Ferrier and Dr Ibidapo Williams at the Health Tech Hub, Somnus is developing a unique technology that will allow a clinician to measure the level of propofol (a sedation/anaesthetic drug) in a patient's blood at any time. This form of personalised sedation and anaesthesia is safer for patients and better for the environment than anaesthetic gases.
An eminent researcher and anaesthetist, Somnus founder and Chief Executive, Dr Tim Craft is also a visiting professor at UWE Bristol and was recently awarded the Royal Society of Chemistry's Emerging Technologies prize.
Ultimately, Somnus's state-of-the-art biosensor technology will enable the development of innovative point-of-care intermittent and continuous sedation and anaesthesia monitoring devices. This will make propofol-based sedation and anaesthesia safer for patients and more cost effective for healthcare.
Dr Craft said: "We are delighted to have this award at the Medilink UK finals. Working with UWE has not only resulted in novel sensors being developed but feels like a truly collaborative arrangement between Somnus Scientific, an ambitious diagnostics company, and our research colleagues at the university."
EarSwitch was announced as winner in the Innovation category. The company's founder and Director Dr Nick Gompertz is working with Dr David Western, Dr John Eveness and Dr Alex Yue at the Health Technology Hub to expand EarSwitch's range of novel technologies.
The company's central ethos is to provide communication devices and control of assistive devices. One of Earswitch's technologies uses a sensor that detects intentional movement of the eardrum by one of the smallest muscles in the body. By tensing this muscle, the sensor can send a signal to control a device, helping people with severe disabilities to communicate.
Dr Nick Gompertz, Founder & Director of EarSwitch, said: "Our ongoing collaboration with UWE is looking forward to clinically validating the biometric monitoring project in conjunction with Royal United Hospital, Bath, developing complex control of robots for assistive use for people with neurodisabilities, and developing novel eye-tracking control from ear-phones. The Medilink UK Innovation Award has provided EarSwitch Ltd with amazing validation and we can recommend the support that UWE has given us to help achieve this — and look forward to our ongoing collaborations."
Professor Richard Luxton, Director of the Health Technology Hub, said: "We are absolutely delighted at the achievements of these companies and we are honoured that the Health Technology Hub is continuing to contribute to these companies' successes.
"What we have seen for the first time is health tech companies based in the West of England being recognised on the national stage. With the support of the Health Technology Hub, we are confident that the West of England can become a real hotspot for innovative and successful health tech firms in the future."