Disclose as disabled (applicants)
We encourage all disabled applicants to disclose so you can get reasonable adjustments and support. 
The University encourages all applicants to disclose an impairment, long-term health condition or any support needs they have. This information is important as it can help to identify any appropriate support that is needed. It is essential if you require exam adjustments or wish to receive any support with your studies whilst you are at UWE Bristol.
Guidance for applicants
When you apply to the University you will have the opportunity to disclose that you have an impairment or medical condition. The information that you provide at this stage will not be taken into account when making your academic offer. You are strongly encouraged to disclose at application rather than wait until you get here. Without this information we will be unable to offer you the appropriate guidance and support to help you access your studies. This allows us to help you identify any disability-related support needs and to make sure you receive correct advice and guidance about how your needs can be met.

Once you disclose an impairment or medical condition on your application form, the University receives this information and automatically sends you an Access and Support Needs Questionnaire via the UWE Welcome Portal (login required).

You can complete the questionnaire online or you may request this in another format if you prefer. The questionnaire is designed to help us work out what information and advice you will need in order to apply for the right funding, as well as any support, equipment and adjustments that you need set up for when you arrive. Please ensure you engage with this process and any follow up contact. Failure to do so may mean delays in meeting your needs.

Once we have received your completed questionnaire, we may send you an information sheet; offer you a telephone or in-person appointment with a Disability Adviser; or invite you to an informal meeting with both a Disability Adviser and teaching staff from your faculty, in order to discuss support and adjustments. The information that you provide at this stage will not be taken into account when making your academic offer.

If we write to you inviting you to meet or speak with us, without your ongoing engagement (such as attending an online or face to face meeting) we will be unable to offer you the appropriate guidance and support to help you access your studies. 

UCAS Code G

If you disclose UCAS Code G (Specific Learning Difficulty such as dyslexia) you will not be sent a questionnaire to complete. Instead you will be referred to our SpLD information and advice about your next steps.
Appropriate evidence
You can submit your evidence at any time. In order to provide you with support and adjustments to your studies, you will need to submit appropriate evidence for your disability or medical condition to disability@uwe.ac.uk. Appropriate medical evidence required is outlined below.
Evidence overview
A GP/Consultant letter is appropriate evidence. How recent your evidence needs to be will depend on your impairment or medical condition. Please send any evidence you have and we will advise you if you need something different or more up to date.
Your evidence should contain:
confirmation that you have a physical impairment or mental health condition that has a substantial and long-term negative effect on your ability to carry out normal daily activities
the length of time the condition or impairment has been present and whether it is likely to last for a long time
effects on study that are observed or predicted at this time for example any mobility issues, sleep disturbance resulting in fatigue, concentration problems, lack of motivation, difficulties with taking notes etc.
Covering the cost
All applicants and students are required to meet the costs of any reports or letters.
Apply for DSA funding for equipment and support
Disabled Students' Allowances (DSA) are provided by your funding body. Depending on your needs, DSAs funding may cover such things as study skills tuition, mentoring, equipment etc. We strongly recommend you apply for DSAs if you are eligible.
DSAs are non-means tested and non-refundable and would be available alongside any other funding you may receive. View more information about DSAs, including guidance on how to apply.
If you are not eligible for funding from your funding body or you are an international student, UWE Bristol may be able to help you with study support. Contact an Information Point for more information.
View our policy on reasonable adjustment for disabled students.
Disclosing your information
Data protection
We understand that you may be concerned about disclosing personal data about yourself or your condition. If we are fully aware of your needs we will be better equipped to ensure you are supported.
Please see our Privacy Notices for more information about how and why UWE Bristol uses your personal data.
You may also be interested in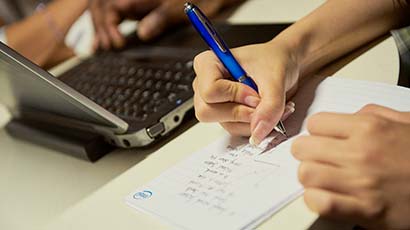 The University encourages all applicants and students to disclose a disability, long-term health condition or any support needs they might have.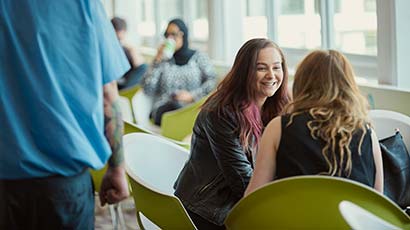 The Dyslexia and Specific Learning Difficulty Service offers advice and support for students who need help in identifying and diagnosing SpLDs.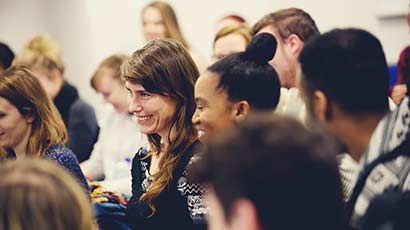 Find out about the support that is available at UWE Bristol to students with any impairment.