Science laboratories at UWE Bristol
Hone your scientific skills working with the very latest technology in recently refurbished science labs. You'll get hands-on with the latest equipment and gather the practical experience you need for a successful scientific career.
What's waiting for you?
A practical scientific experience to put you ahead
Our Applied Sciences courses have an emphasis on practical laboratory and field experience. That's good news after graduation: you'll go into the workplace confident in your skills and ready to hit the ground running.
Step into the Lab Zone
Our 'Lab Zone' is made up of a connected series of research labs and teaching spaces, and is home to over 1,000 undergraduate and post-graduate students. Our fantastic facilities were refurbished in 2019, and include labs for every kind of investigation. You'll find:
Bioscience facilities image gallery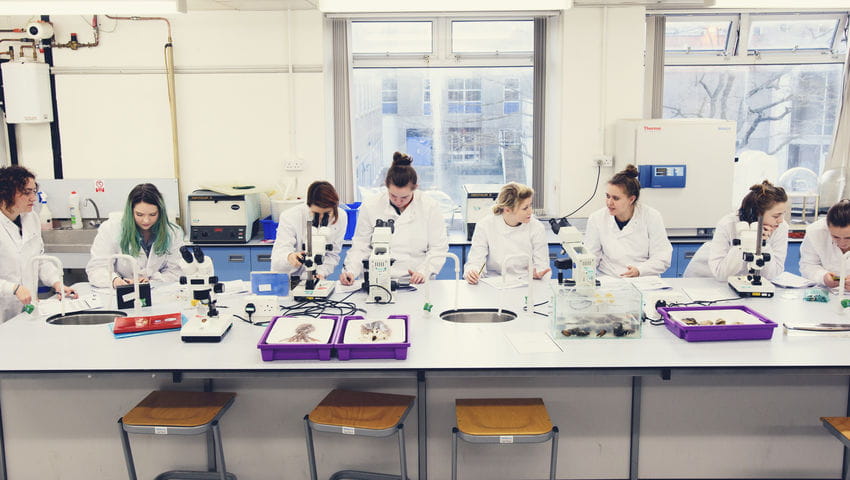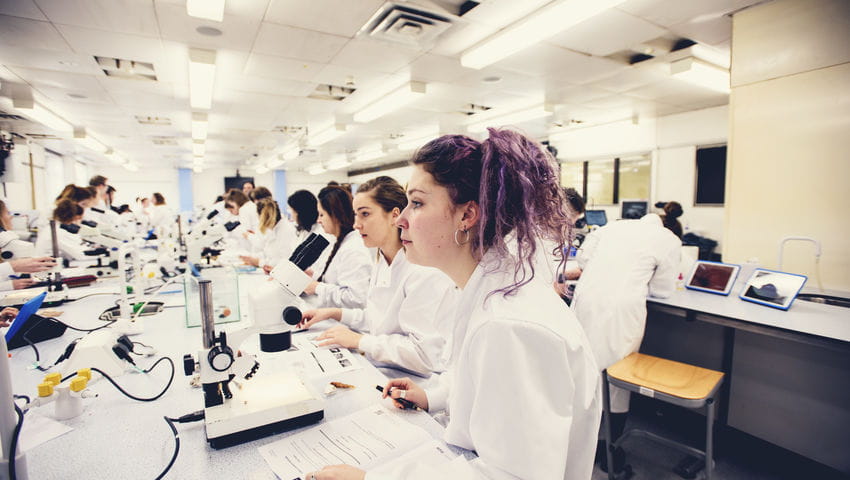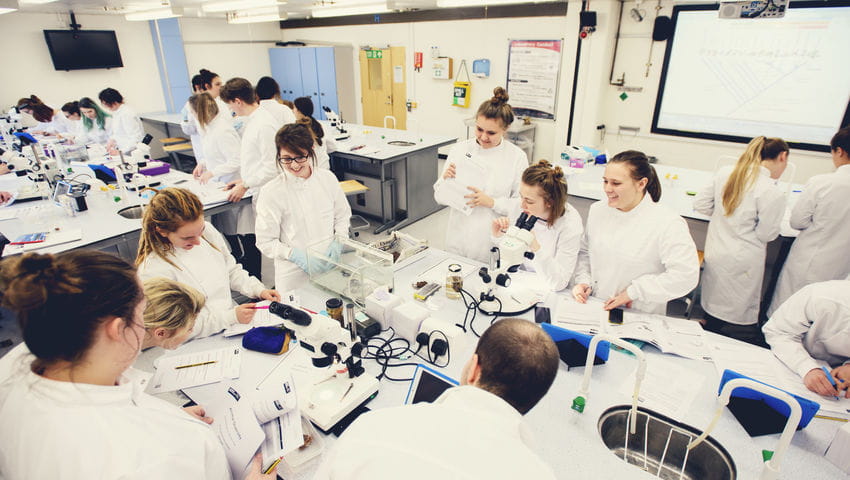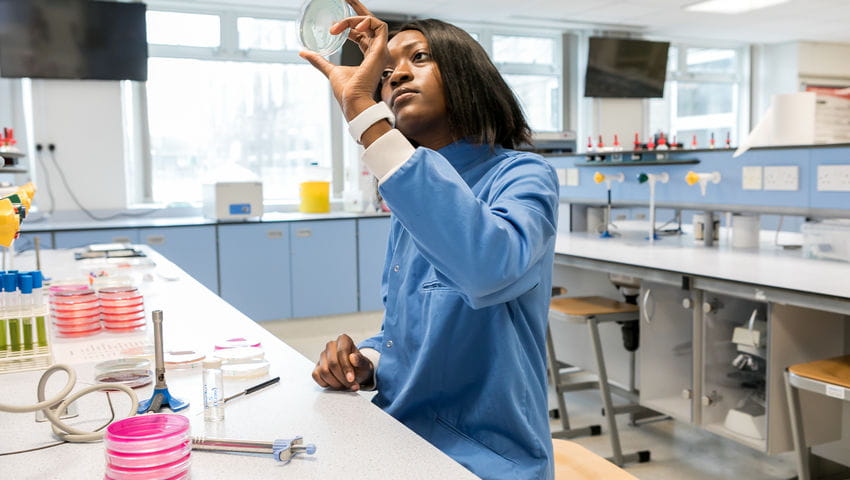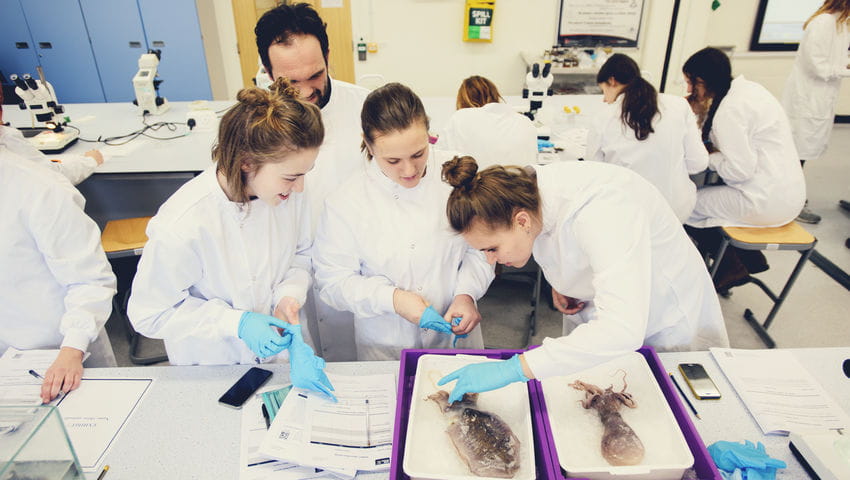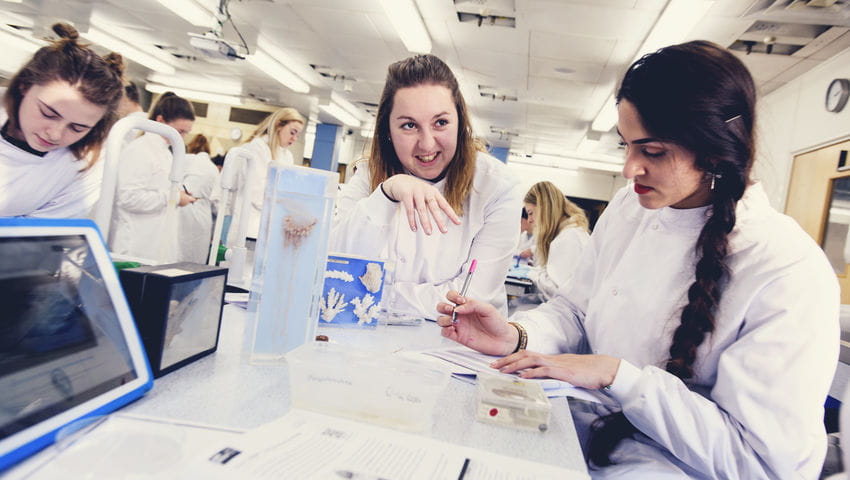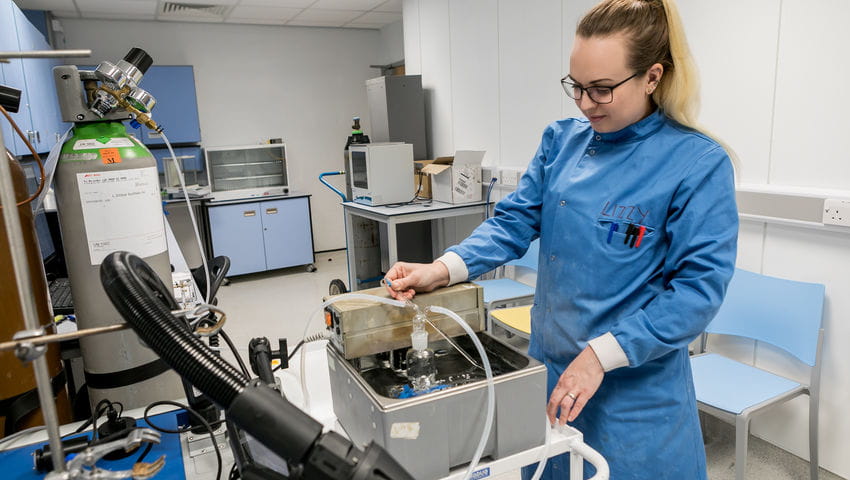 Biomedical and Biological Sciences facilities
Microbiology labs
Low light/photon cameras
Tissue culture and molecular biology equipment for microbiology (separate to avoid cross contamination with others using same techniques)
Luminometers
Tecan plate reader
Anaerobic cabinet
Chemostats and stomachers
CDC reactors for biofilm work
Access to the API database
Molecular biology labs
Fully fitted labs that include:
confocal microscopes
tissue culture facilities
rotor genes
seahorse
ultracentrifugation.
Clinical studies facility
SIFT-MS gas analysis
dedicated space for taking samples from human participants
Bioinformatics facility
Dedicated space for bioinformatics and big data analysis (2B051)
Dedicated Linux server (64 processor cores and 256 Gb of RAM)
12 dual screen Linux workstations running Ubuntu 18.04
Electron Microscope facility
TEM: a Phillips CM10 transmission electron microscope (TEM) with a Gatan Orius SC1000 CCD camera
SEM: a FEI Quanta 650 field emission scanning electron microscope (SEM) fitted with an Oxford Aztec energy dispersive X-ray microanalysis system
two Reichert-Jung Ultracut S ultramicrotomes for producing ultrathin sections for TEM
Emscope SC500 sputter coating unit for coating samples with gold to make them conductive for SEM
Other specialist resources
In Vitro Toxicology laboratory
Physiology laboratory
Plant and Microbial Research laboratory
Bioluminescence room
Centre for Research in Biosciences (CRIB)
Nuclear Suite
Simulation House image gallery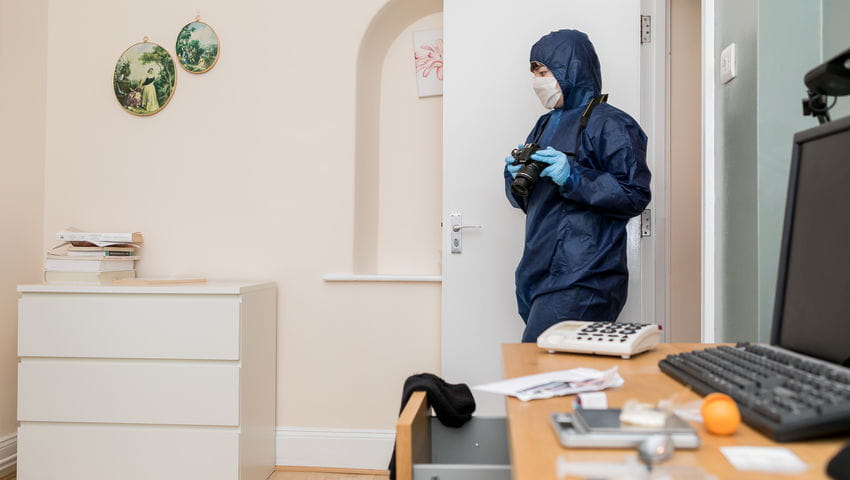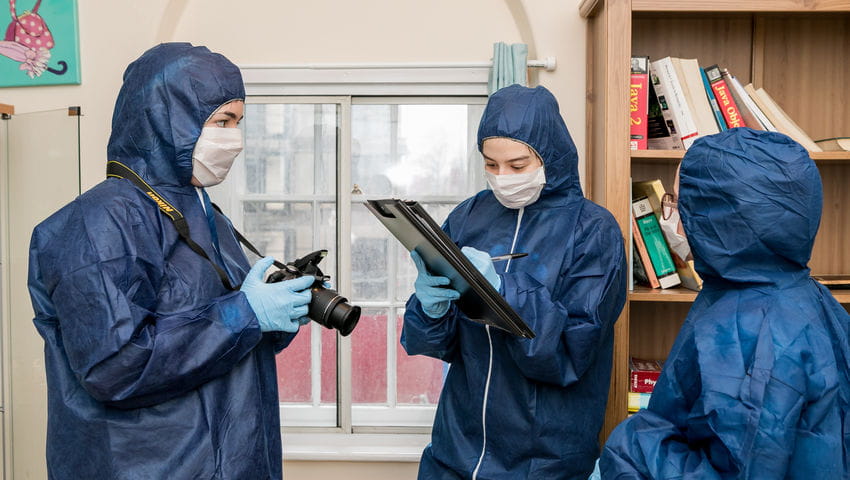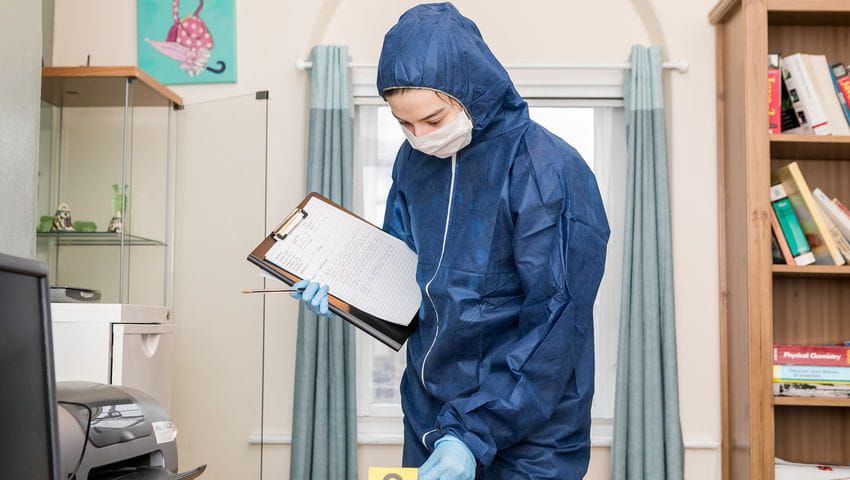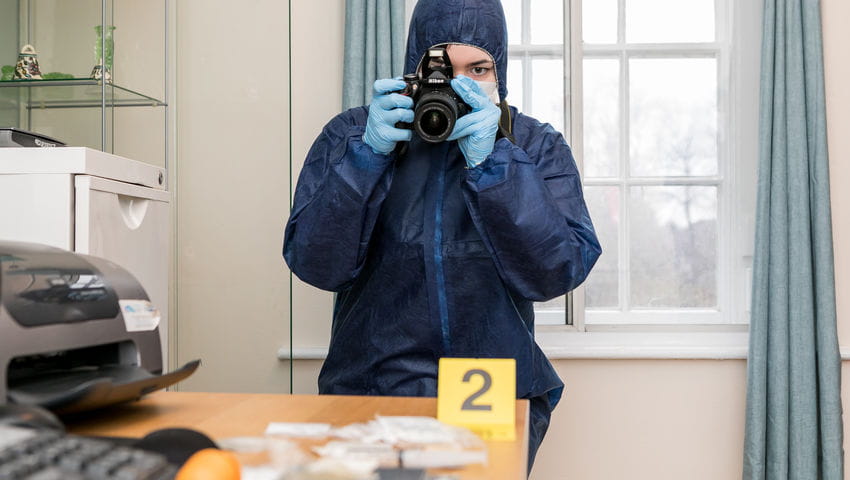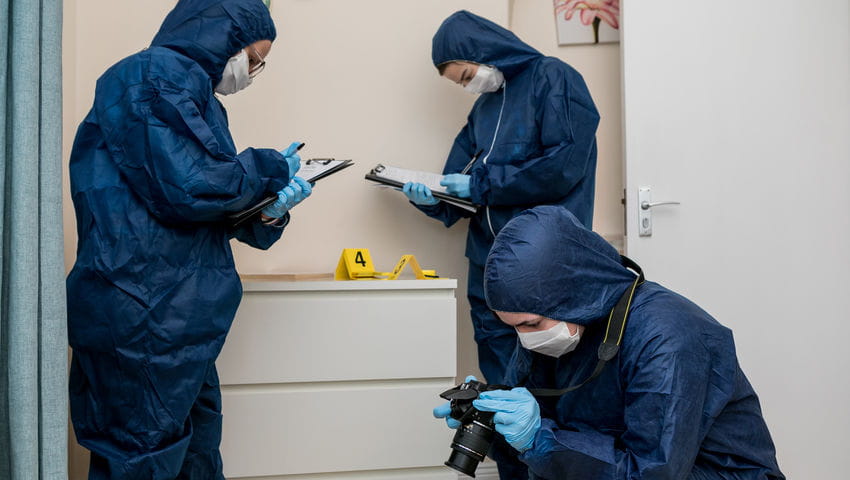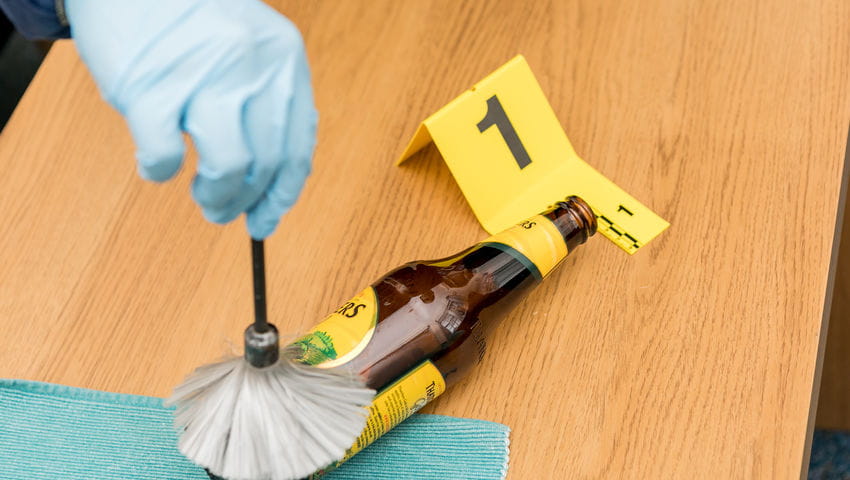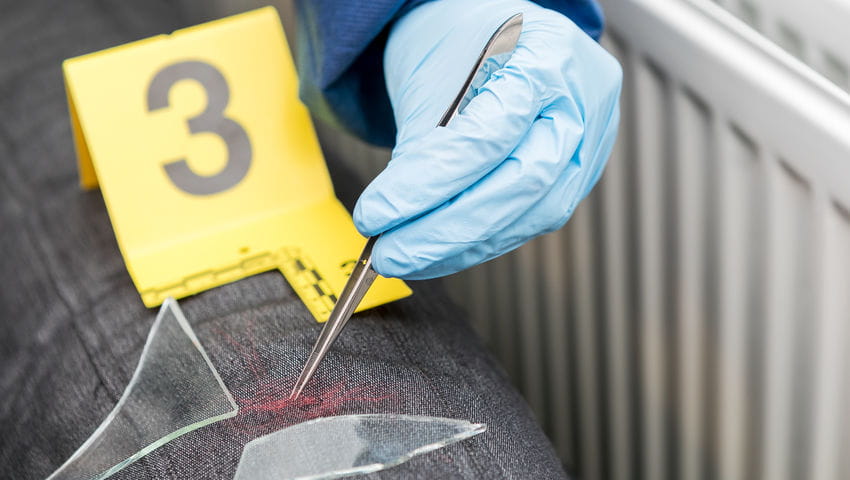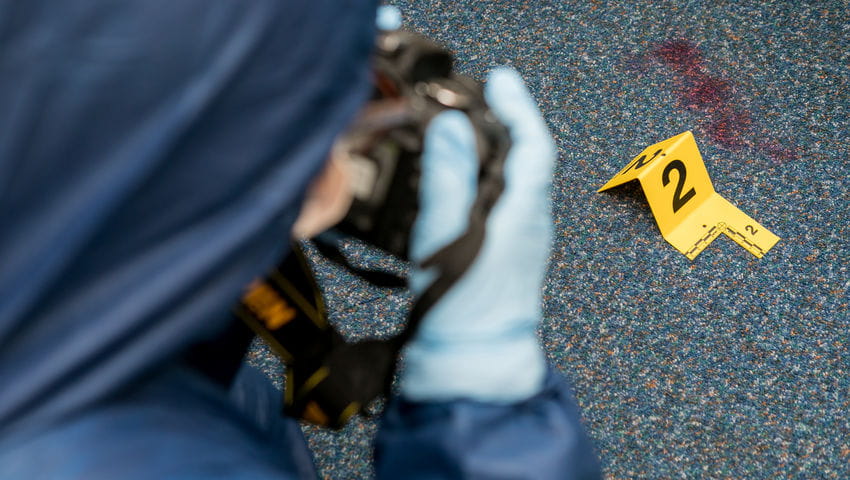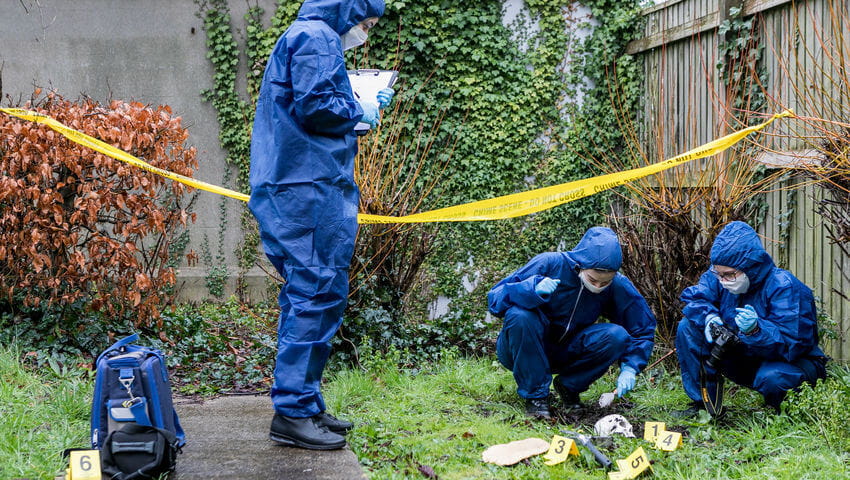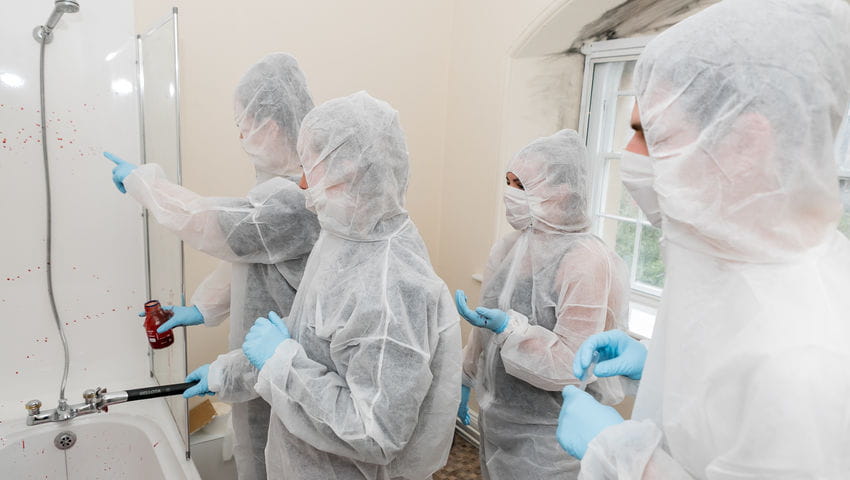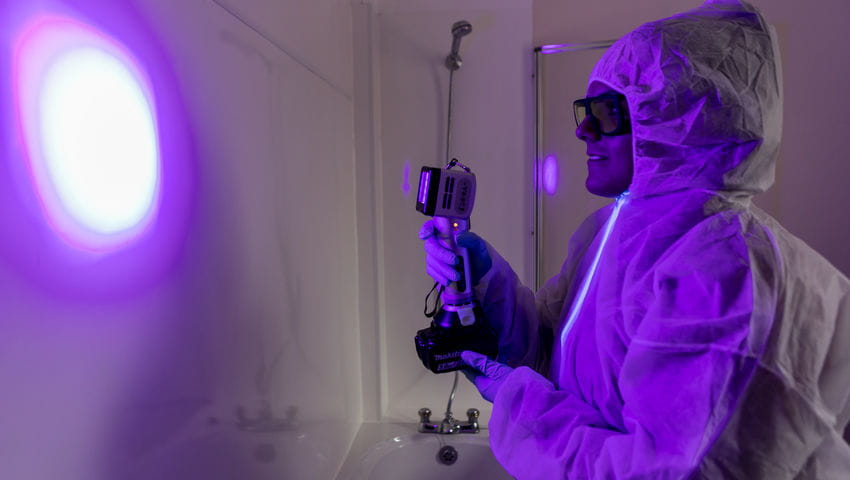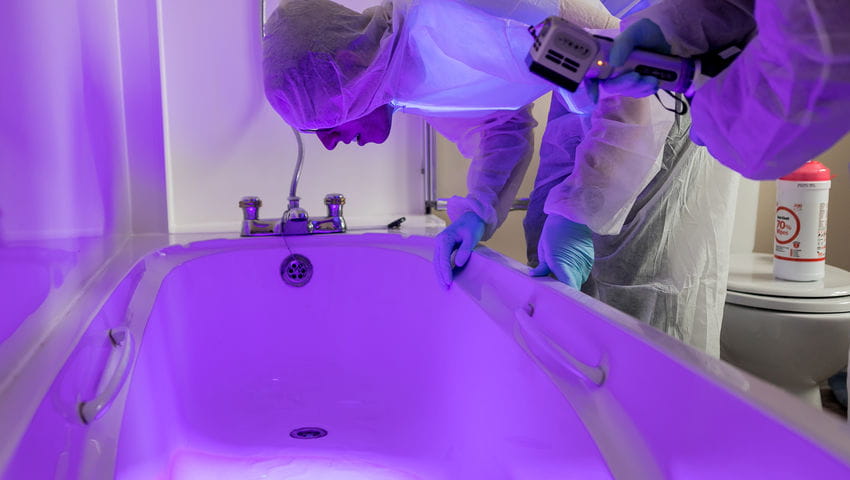 Forensics and Analytical Chemistry
These facilities support teaching on our Forensic Science courses.
Forensics and Analytical Chemistry facilities
Labs and suites
Electrochemical Sensors laboratory
Sensors laboratory
Volatile analysis laboratory
Centre for Research in Analytical Materials and Sensor Science (CRAMSS)
Screen-printing room
Specialist resources
Biosensor printing
Chemistry instrumentation
Cyanoacrylate fuming
Electron Microscope Unit
Handheld Raman
Fingerprint scanner
Fluorimeter
Glass refractive index measurement (GRIM)
High-magnification comparison microscope
Low-magnification comparison microscope
Polarising light microscope
Potentiostat
Scannning UV/Vis spectrophotometer
Vacuum metal deposition (VMD)
Video spectral comparator (VSC)
Vis microspectrophotometer (MSP)
Crime scene facilities
Simulation house – A dedicated house, garage and garden where crime scenes can be simulated
Environmental Science and Conservation
These facilities support teaching on our Environmental Science courses.
Environmental Science and Conservation facilities
Labs and specialist resources
Air Quality Management Resource Centre (AQMRC)
Environmental Field Centre
Environmental laboratories with:

growth cabinets for plants
growth facilities for algae and C. elegans.

Envirotron greenhouse – Allows dedicated growth conditions in different sections
Molecular Biology and Post-Genomic Science
Bristol Genomics Research Institute (BGRI)
Plant and Bacteria Molecular Biology laboratory
Field work facilities
Both rotary and fixed-wing drones
Soil gas sensors
Bat detectors
Envirotron image gallery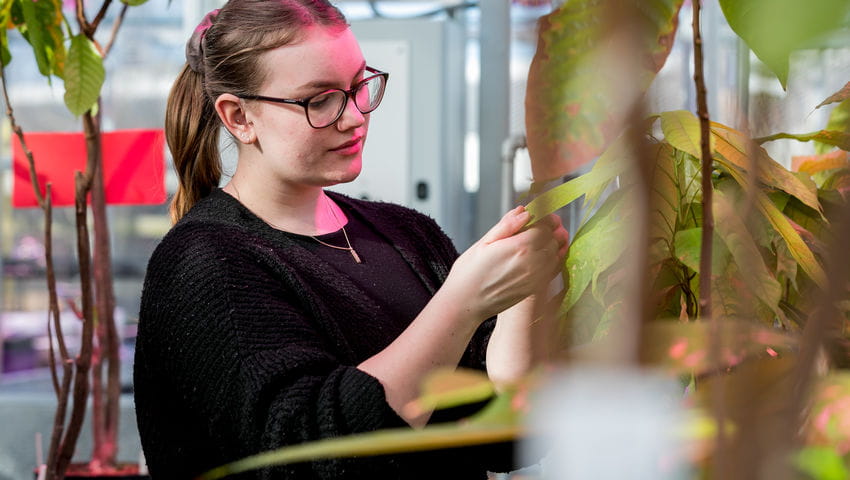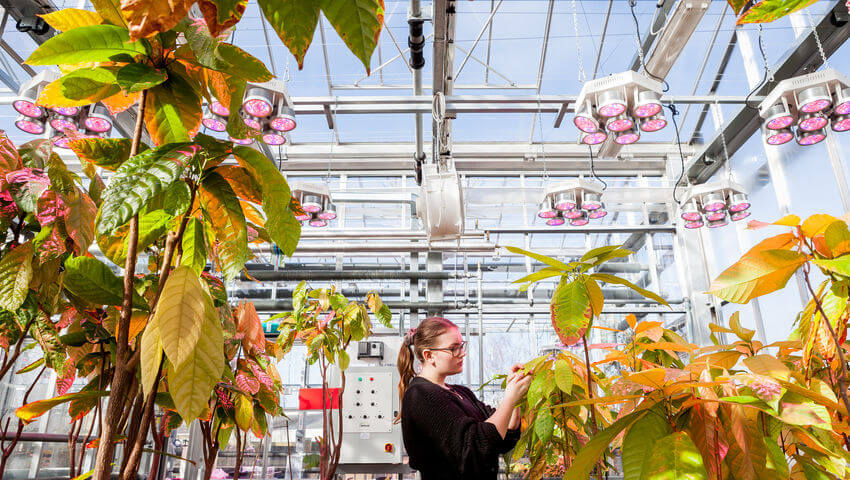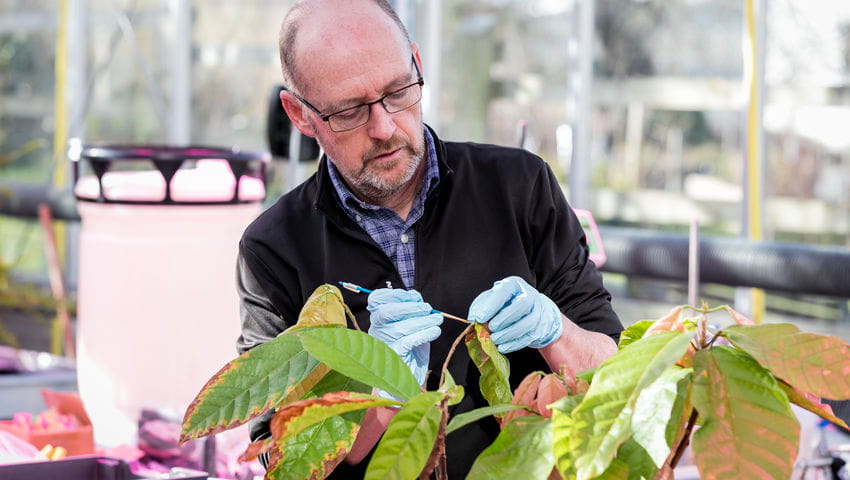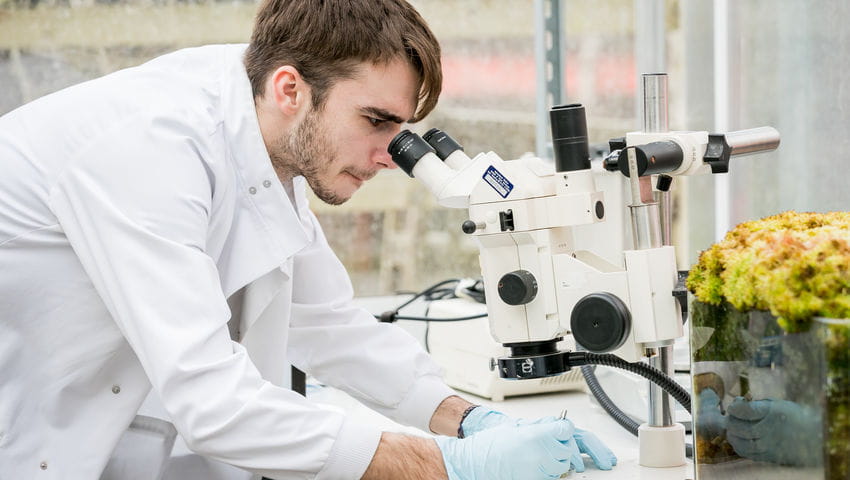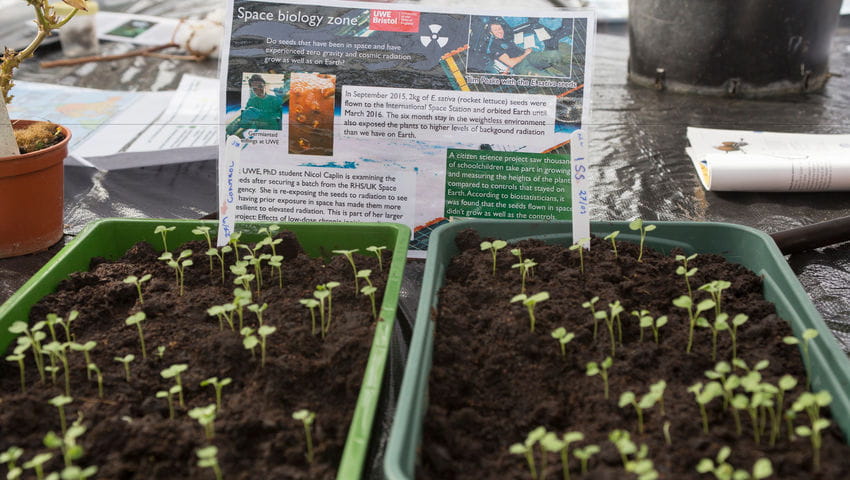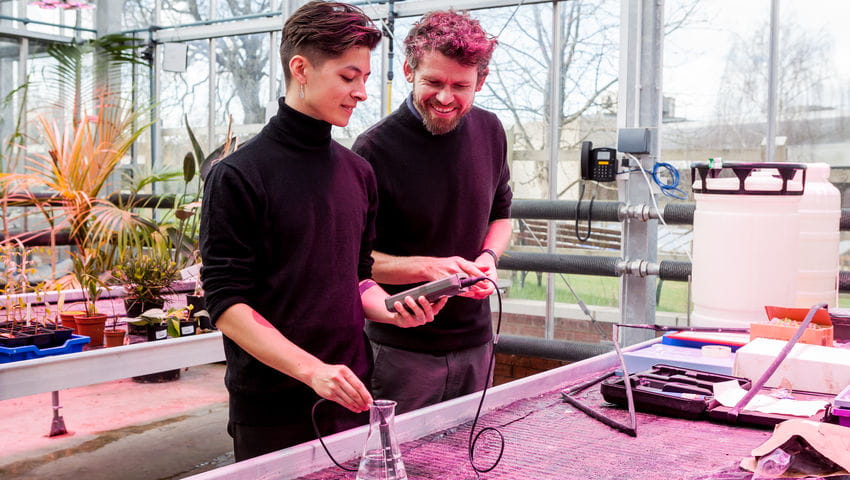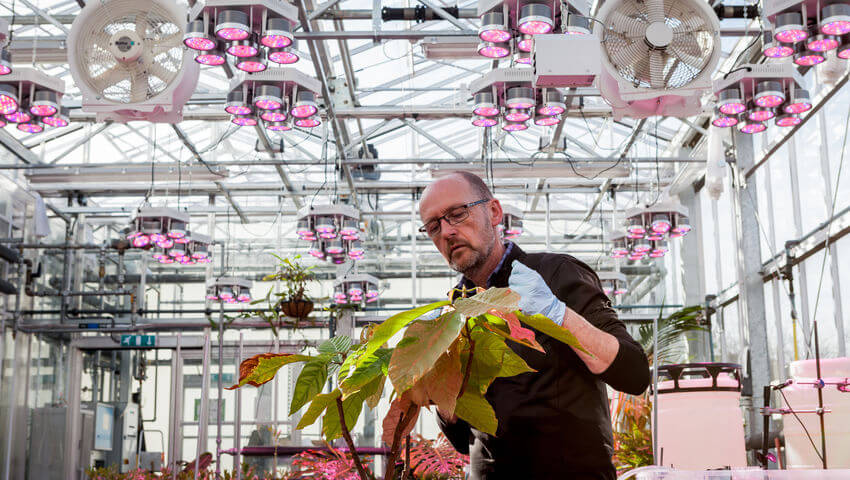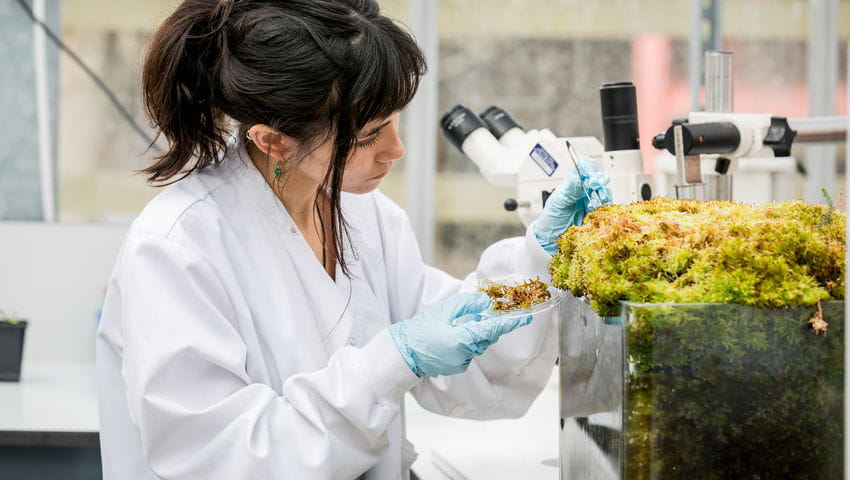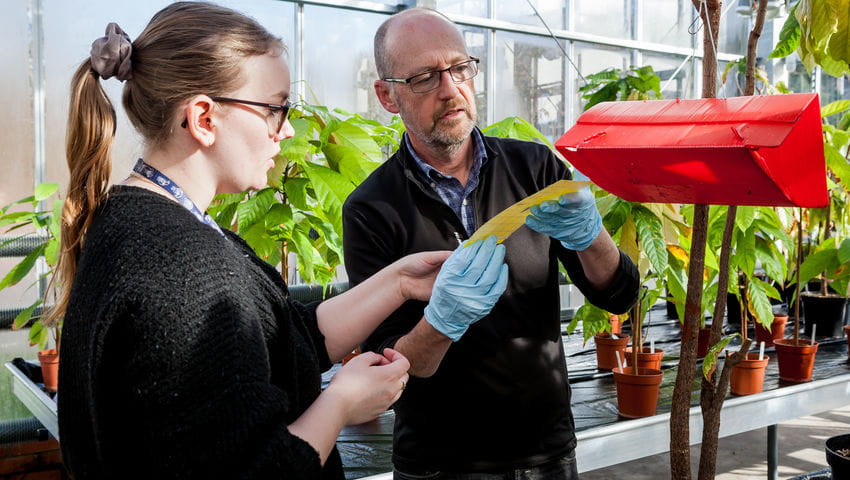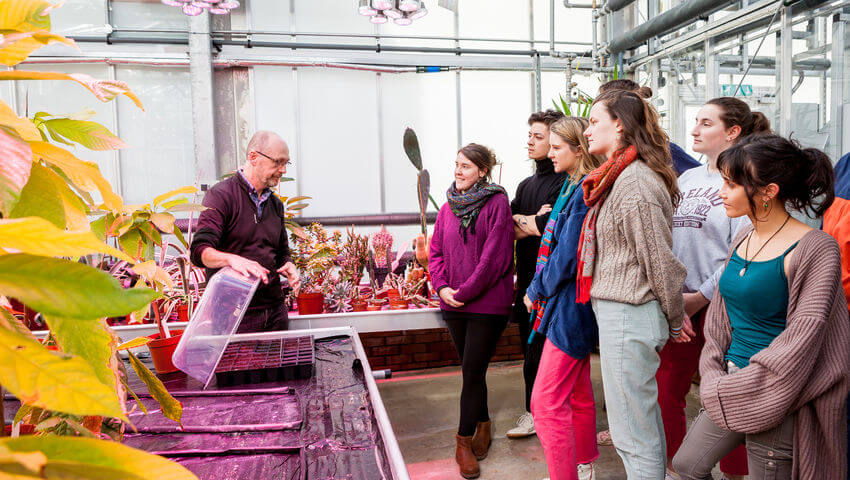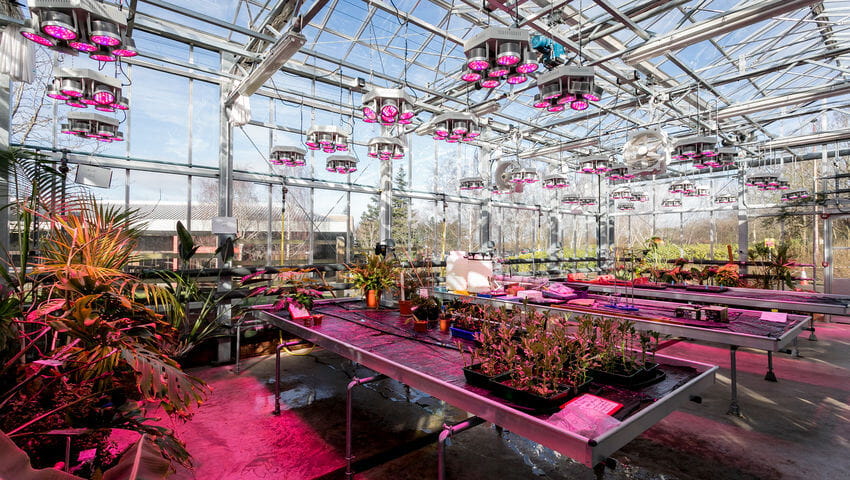 Science Communication facilities
In-house resources
The Science Communication Unit has its own facilities, or access to spaces on campus for recording, filming and producing content:
Portable recorders
Camera equipment
Adobe software, including InDesign and the video editing software Premiere Pro
Facilities supporting students undertaking science communication research and evaluation:
Relevant IT packages (eg Qualtrics)
Transcribing equipment
External facilities
The Science Communication Unit also has many collaborations with organisations where specialist equipment is available, or field trips may take place.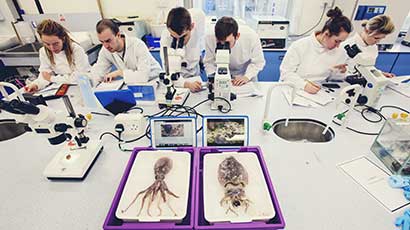 Our Biosciences courses include: Biomedical Science, Biological Sciences and more. Find out why you should study a Bioscience degree at UWE Bristol.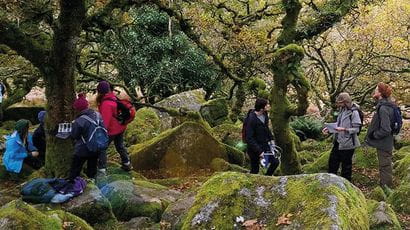 Our Environmental Science courses include: Biological Sciences, Environmental Science, Wildlife Ecology and Conservation Science and more.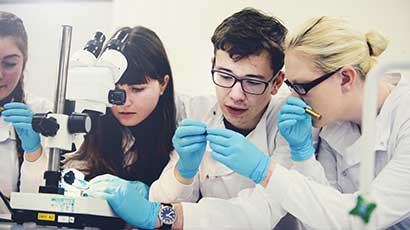 Our Forensic courses include: Forensic Science BSc(Hons) and Forensic Science MSci. Find out why you should study a Forensic Science degree at UWE Bristol.