About our sports facilities
With top-of the range equipment, amenities and playing surfaces, UWE Bristol Sport provides a range of facilities to join, hire and visit.
Most of our facilities are available for hire, and we can host a variety of events ranging from sports training and tournaments to corporate fun days and children's parties.
The Centre for Sport currently offers three inclusive changing spaces for those who require privacy. A curtained off area is available for female-only activities and at the discretion of the duty manager, exceptions will be made for those who engaging in Isha (night-time) prayer during Ramadan.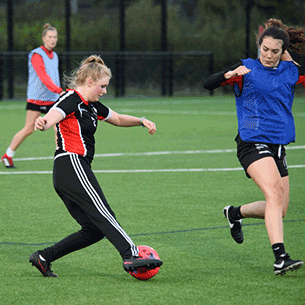 Get fit and keep active
We know just how important it is to stay fit and healthy. It not only boosts energy levels and focuses the mind but it also helps you to de-stress and feel happier. At our Centre for Sport, you'll find everything from climbing walls to squash courts, football pitches to fitness studios. And whether you are an elite athlete or a total beginner there is something here for you. Explore the Centre for Sport for yourself on our 360° tour.
UWE Bristol Sport app
Book exercise classes, MOVE sessions and facilities, get up-to-date information, news and offers, hear about events and receive push notifications for important alerts.
Get the app