Climbing wall features
The impressive indoor climbing wall in UWE Bristol's Centre for Sport is located on Frenchay Campus.
It has:
7.5m high indoor climbing wall
nine climbing wall lanes (each lane permits both lead climbing and top roping)
approximately 77m squared of climbing surface, which includes approximately 400 bolt-on holds and a overhang section
20 different routes graded from F4 to F7a.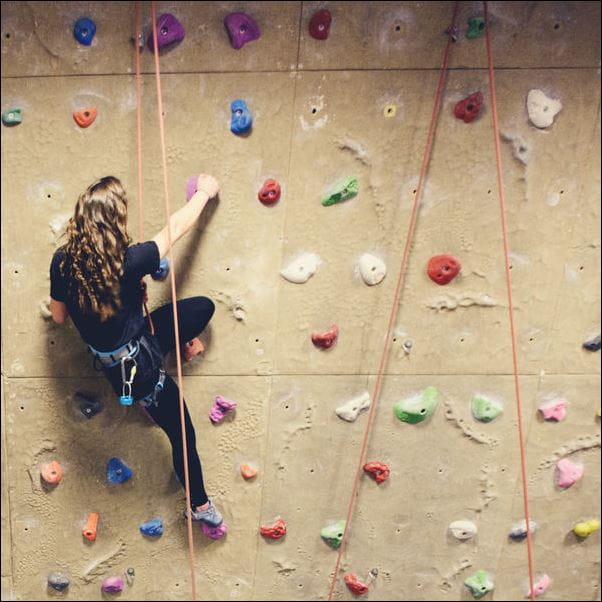 Book a climbing course
Adults and children can learn how to climb by taking part in one of our professionally taught climbing courses.
Book a climbing course
Book the climbing wall
The wall is open for anyone to use, provided users can show proof of a climbing wall membership or take part in one of our beginners' climbing courses.
Cost
There is no charge for Active Card members. Non-members pay just £5 per visit.
Individual bookings
Individuals do not need to book to use the wall. Please contact us to check availability.
Group bookings
The wall is perfectly suited for team-building sessions, climbing clubs or schools. If you would like to book or find out more, please contact us to discuss your requirements.
Terms and conditions
Please read our climbing wall conditions of use.
Availability
During term time, the climbing wall is closed to the public at the following times:
Mondays: 17:30–19:30
Tuesdays: 18:00–20:00
Wednesdays: 13:00–18:30
Thursdays: 19:00-21:00
During busy periods you will be restricted to a maximum of two hours.
Hire climbing equipment
Equipment is available to hire from the Centre for Sport reception at a cost of £1.50 per person (deposit of £10). You can hire a harness, belay device and a screw gate karabiner.
Top ropes are in place, those wishing to lead climb must provide their own ropes and replace any top ropes removed before leaving. Quick draws will be provided for some routes. Helmets are provided free of charge and we recommend you use one.