Higher and degree apprenticeships
What are higher and degree apprenticeships?
Our higher and degree apprenticeships combine on-the-job training with academic study.
Many apprenticeships offer the opportunity to gain a higher education qualification – usually a Bachelor's or Master's depending on your chosen course – and on most apprenticeships you will earn a salary whilst doing it.
Degree apprenticeships at UWE Bristol
Jemma King talks about the benefits of gaining a degree level qualification whilst you are employed and earning a salary.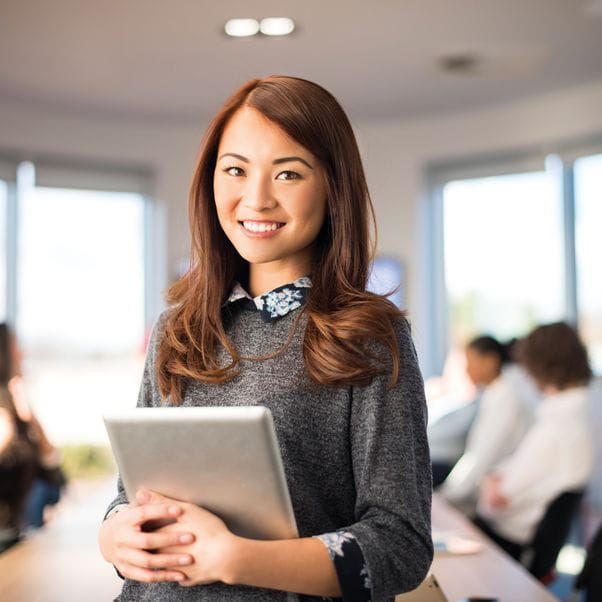 Benefits of becoming a higher or degree apprentice
Usually you'll gain a university degree while earning a salary, plus a professional accreditation (depending on your apprenticeship).
Apprenticeships are fully funded by your employer with government contribution, leaving you debt free.
You'll get on-the-job training as well as a higher/degree level qualification so you can apply what you learn right from the start.
You'll get direct access to UWE Bristol's experienced academic community, as well as our modern facilities.
UWE Bristol has long-standing experience in running apprenticeships—get the support you need while at university and at your workplace.
Support for higher and degree apprentices who are disabled
You may be eligible for reasonable adjustments and support if you're disabled, which includes specific learning difficulties such as dyslexia. We strongly recommend that you disclose your disability to your employer so that reasonable adjustments can be considered within the workplace.
However, you aren't eligible for Disabled Student Allowances, so please apply to Access to Work as soon as possible to cover any needs you have around specialist equipment or assistive technology.
Find out more about support for current disabled students.
Coronavirus FAQs
I'm on a work-based apprenticeship, how will this affect me?
If you aren't feeling well, please follow your employer's sickness absence reporting guidelines. Please keep a record of your sickness days and contact your apprenticeship training coordinator or programme lead by email or telephone.
If you are a healthcare or essential services related apprentice we understand that you might be required to support your employers to deliver essential services during this period. In line with government policy, the University is committed to supporting affected apprentices involved in essential services while minimising any negative impact on their apprenticeship programmes in the longer term. If you are one of these apprentices, please advise your apprenticeship training coordinator or programme lead by email or telephone as soon as conveniently possible.
I have a progress review coming up, how will I complete this now?
Your training coordinator or faculty lead will continue to conduct all progress reviews with you remotely, using Teams, Skype, etc. We still encourage your employer representative to attend wherever possible. This will continue to be your opportunity to review how your apprenticeship is progressing and of course flag and concerns you may have.
I am approaching my end point assessment, what will happen?
If this is the case, your EPA organisation may get in touch with you to discuss possible delays. EPA organisations, wherever possible, have moved to online delivery to keep disruption to your apprenticeship to an absolute minimum. If you know who your EPA organisation is, please keep an eye on their website. You can also visit the Institute for Apprenticeships & Technical Education to review the ongoing flexibilities that have been allowed for each individual Apprenticeship Standard, simply search for your apprenticeship in the search engine (ie Nursing Associate).
Do I still need to record my off-the-job learning?
Please continue to record your off-the-job learning. UWE Bristol will continue to deliver your programme online to help you progress in your apprenticeship and meet the off-the-job requirements, even if it does not follow the schedule or content laid out in your training plan.
If you are on furlough but continuing to engage in apprenticeship activity from home, you are still able to meet your off-the-job commitment.
The Department for Education's guide to off-the-job learning tells you what to include.
How will this affect my breaks in learning?
Breaks in learning allow you to take time away from your apprenticeship, usually for sickness absence or parental leave.
In response to ongoing developments regarding COVID-19, The Department for Education has eased the regulations for breaks in learning. This allows the University to minimise the negative impact on you if you are forced to take a break from your studies.
Wherever possible, we will work with you and your employer to avoid disruption to your apprenticeship. If you think you will need a break in learning, please contact your apprenticeship training coordinator or programme lead by email or telephone.
My employer has a query about my apprenticeship and the impact of COVID-19. Where can they find more information?
I have been furloughed by my employer. How does this impact me?
The government have issued online guidance to apprentices and their employers on furlough.
Apprentices who have been furloughed can continue to engage in their apprenticeship activity, and the University will support you in the kinds of things you can do in this period.

If you have been furloughed, you should contact the UWE Bristol apprenticeship team by at degreeapprenticeships@uwe.ac.uk and they can provide further advice and guidance as well as more information about options and how this impacts an apprenticeship programme.
I am worried that I am not going to be able to commit to my 20% off-the-job learning requirements, due to work and/or personal commitments. What does this mean for my apprenticeship?
UWE Bristol is delivering a range of content online and face to face for all students wherever possible, including those on apprenticeships (see additional guidance under Study and Assessments section). It is important that, wherever possible, you continue to engage with those activities.
As an apprentice, where appropriate, there will be instances where you are able to record time spent on work-integrated learning activities (such as skills progression) that can be included in off-the-job learning activities. It is important that you continue to record any time you are spending on any kind of approved learning activities. These will then be discussed during your next progress review meeting.