Partnerships in the Department of Engineering, Design and Mathematics
It is the strength of our partnerships and relationships that allows us to achieve what we do. Our flexibility of approach makes us the first choice for many local organisations and businesses.
Partnerships with some of the top organisations and businesses in the industry mean our courses stay relevant to the current market as well as the latest technologies and influences. Some firms contribute directly to course content, giving experience of real-world scenarios and day-to-day challenges.
These links create access to excellent placement opportunities and lectures and workshops with visiting professionals also provide our students with unique insights from the front line of industry.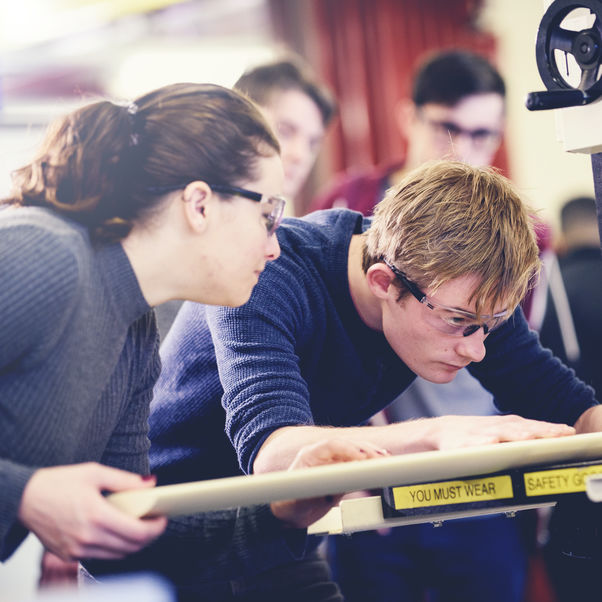 Other partnerships and collaborations
Tomorrow's Engineering CODE
The Tomorrow's Engineers Code is a framework for organisations hoping to increase the number and diversity of young people pursuing engineering careers. Co-created by and for the engineering community, The Code asks signatories to commit to improving the quality, inclusivity, targeting and reach of activities designed to inspire young people and to build and share understanding of how to do so. Be part of a new era of collaboration and join the community.
Association For Black and Minority Ethnic Engineers

AFBE-UK promotes higher achievements in education and engineering particularly among people from black and minority ethnicity (BME) backgrounds.
WISE Ten Steps signatory

WISE Ten Steps is an ambitious, industry-led campaign to ensure that women in science, technology, engineering and manufacturing have the same opportunities to progress in their career as their male counterparts.
Unique in its focus on sectors where women are still very much in a minority, it has been signed by business leaders with a significant workforce in the UK.
Primary Engineer

Bringing engineering and engineers into primary classrooms and curricula. Inspiring children, pupils and teachers through continued professional development, whole class project work, competitions and exhibitions. Find out more about Primary Engineer.
Industrial Advisory Board
The role of the Industrial Advisory Board (IAB) is to facilitate the exchange of ideas between the board members, academic staff and students in the Department of Engineering Design and Mathematics (EDM).
Professional recognition
Many of our Engineering courses are accredited by relevant professional bodies. Specific accreditations include:
Royal Aeronautical Society (RAeS)
The Royal Aeronautical Society is the one multidisciplinary professional institution dedicated to the global aerospace community. For more information visit the Royal Aeronautical Society.
Institution of Mechanical Engineers (IMechE)
The Institution has been the home of Mechanical Engineers for 150 years with around 80,000 members worldwide. The IMechE is the UK's qualifying body for mechanical engineers. For more information visit the IMechE.
Institution of Engineering and Technology (IET)
The IET is one of the world's largest engineering institutions with over 168,000 members in 150 countries. For more information visit the IET.
You may also be interested in