How to book a room
You can book rooms on Frenchay, Bower Ashton or Glenside Campus to use for group study or other academic purposes.
Get an idea of room availability
General Purpose Teaching (GPT) rooms will be available to book. You can consult Online Room Timetables to get an idea of room availability.
The Student Room Bookings System allows any UWE Bristol student to book a teaching room on Frenchay, Bower Ashton or Glenside Campus, a library group study room in Glenside Library, or a group study room or table in Frenchay Library, to use for group study or other academic purposes.
We have recently made six group study desks bookable on the main floor of Level 4, Frenchay Library. These show up as Lib-4D25-TEAL on the booking system.
Rooms can be booked between 08:00 and 00:00 on Mondays to Fridays and up to ten days in advance.
It is unlikely that you will find a room available all day so it is better to break up your activities into sessions of two or three hours.
Different rooms contain different equipment. To avoid disappointment, please visit a room in advance to confirm it fulfils your requirements.
Make your booking
All you need is your UWE Bristol login details. You can book a room up to ten days in advance.
If you need to check or cancel
You can check your bookings via My Bookings. You can also cancel bookings and view previously cancelled bookings.
Terms and conditions of use
View terms and conditions
Student Room Bookings are for academic purposes only. If you are intending to book a room for a sports, society or network activity this must be done through The Students' Union at UWE online system, or by emailing suopportunities@uwe.ac.uk or your appropriate societies/club coordinator.
The University reserves the right to adjust/remove bookings if necessary.
All waste material must be removed from the room on departure and any furniture moved must be returned to its original position.
Any damage to rooms will be reported and the appropriate action taken.
The student making the booking must be a fully registered student and will be held responsible for ensuring that the room is used in an appropriate manner.
All students using the room must comply with our Health and Safety Regulations.
Noise must be kept to a minimum and must not disturb users of neighbouring areas. Amplified music is not allowed in teaching rooms.
Any issues such as damage or breakage to the room or equipment must be reported immediately by ringing 222 from an internal phone or emailing facilities@uwe.ac.uk.
No equipment to be connected to AV equipment other than via the standard laptop input.
Under no circumstances should existing AV equipment be moved or disconnected or the PCs turned off. Please log out of the computer after use.
The room must not be used for any commercial purposes.
Rooms are only used by the students that have booked the room and will not be interchanged with other groups without first consulting and receiving written confirmation from Room Bookings or The Students' Union at UWE.
Any breach of these terms and conditions may result in the service being withdrawn for the remainder of the Academic Year.
You may also be interested in
We have spaces and facilities across all campuses that you can book or just turn up and use.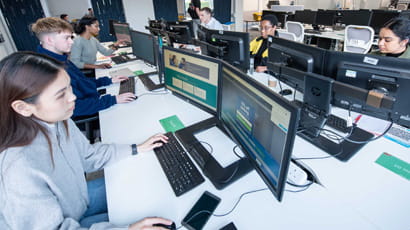 UWE Bristol's computer rooms, loanable laptops, and guidance on how students can book computers.