Time management overview
Time management is about sorting out your priorities and making sure you achieve them in the time you have.
Overwhelmed by assignments, revision, the need to earn money, and other commitments? Here is some guidance to help you manage your time effectively.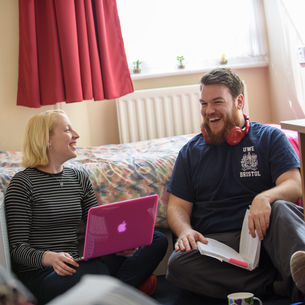 Five steps to help you manage your time
Ask yourself, "Why am I here?". Being clear about your purpose helps to determine the relative importance of the tasks you need to do.

List your tasks. Make them as specific as you can. Where appropriate, break down large tasks into smaller sub-tasks.
Prioritise your tasks. For each task ask...

"How important is the task?" - If you have trouble answering, refer to your purpose.
"How urgent is the task?" - ie, when must it be finished.

Decide how long you need to spend on each task. This will be determined by:

the task's importance
the amount of time available.

Provide yourself with a blank timetable. This could be a diary, an online calendar, or a wall chart giving an overview of the week/term/year ahead.
Fill in times of:

paid work
lectures, workshops, exams, etc
other activities/commitments that are fixed and predictable.

Allocate time for:

domestic tasks such as shopping and laundry
regular breaks for leisure and relaxation.

Decide on the periods you'll use for independent study and mark them in.
Check that the timetable looks realistic. Are the independent study periods of a reasonable length? Are they at times of the day when you study effectively? Have you allowed yourself breaks for relaxation, meals, etc?
Refer to your list of tasks. Allocate specific tasks to the periods you've allowed for independent study. Be as precise as possible. The urgency and importance of each task (see above) will determine when you do it and how much time you allocate.

Time management is more a discipline than a skill. Once you've drawn up your plan, do your best to follow it. If you fall behind, review your plan and amend it.

Set aside a regular time for reviewing and updating your plan. A brief weekly session often works well.
It is often helpful to have an additional planning session at the beginning of each year and term.
Occasionally review how you're managing your time.

Break down large tasks into smaller sub-tasks

For example, for an essay the sub-tasks might be:

outline early ideas
extract relevant information from lecture notes
research in the Library
discuss key issues with other students
review notes
plan essay
write first draft
revise content and structure, and write second draft
revise style, grammar, etc and write final draft
hand in
evaluate feedback received.

Complete a log each day for a period of several days (preferably a week or two), including a weekend.

Try to fill in your time log frequently so that you don't forget things. The exercise is much more useful if your record is accurate.

Analyse the completed time log

When you've completed your log, go through it and count the hours you spend on different kinds of tasks:

study - including lectures, workshops, independent work
paid work

maintenance - the things necessary to maintain your life, such as sleeping, eating, cleaning, shopping, childcare, etc

leisure - when you're engaged in leisure activities as part of a healthy lifestyle
discretionary - 'free time', which you can use as you choose.

By adding up the hours you've spent in these ways, you'll gain a picture of the current balance in your life.

Review how you spend your time

Ask yourself...

Are there any activities that you'd like to spend more or less time on, or that you could eliminate?
Are there times of the day when you work best? Are you using them in the best way?
Are there times when you don't study well? Are you using them for other activities?
Do you waste time - your own, or other people's?

Download a time log:
Other time management support
Online advice and tutorials
Assignment planner – Create a personalised schedule for each of your written assignments.
Assistive software – Discover technology on campus PCs to help you plan and review your work efficiently.
Time management fundamentals – Online video training (source: LinkedIn Learning). Includes detailed table of contents, exercise files, transcripts and closed caption support.
Search the library
You can do your own library search from the library website or, if you prefer, try the suggested search below.
Overcoming obstacles
Do you have trouble studying, or managing your time effectively? Most students struggle with their studies at some point.
Support with overcoming obstacles
You may also be interested in