About the iMean7 conference
More about the conference programme, panels, welcome reception and conference dinner.
Conference venue
iMean7 conference will take place in room 2X112 (base room) within the Bristol Business School at UWE Bristol. Located in the heart of Frenchay Campus, the Bristol Business School building was opened in 2017 and offers an innovative way of studying and working, with new social and learning spaces to allow students, staff and business people to work more closely together, and make valuable new connections.
Registration for iMean7 conference will be in the Atrium space of the Bristol Business School building.
There are accessible toilets with alarms on every floor in the building. Level 2 (ground floor) has an accessible toilet with a shower, wash and dry WC, ceiling track hoist and baby changing facilities. We have a dedicated room to rest and recover with soft seating and a fold-up bed.
Welcome Reception
We hope you will join us for our Drinks Reception at 18:30 on Wednesday 19 June 2024 in the main Conference Venue (the Bristol Business School Atrium). It provides an opportunity for us to welcome you to Bristol and to iMean7.
The reception is sponsored by a range of publishers who will be displaying their books throughout the conference, including (TBC) Benjamins, Bloomsbury, Cambridge University Press, Edinburgh University Press, Elsevier, Multilingual Matters, Oxford University Press, Palgrave/Springer, Routledge/Taylor and Francis and Wiley.
Bristol Business School building
Also known as "X block", the Bristol Business School building is a space that offers an innovative way of studying and working.
Conference Dinner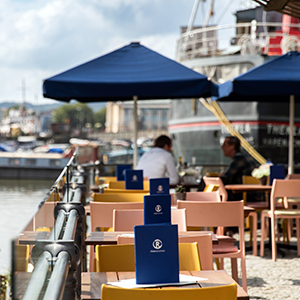 The Conference Dinner will take place at the scenic Riverstation, located on Bristol's iconic harbourside in the centre of Bristol, on the evening of Thursday 20 June 2024.
You can find out more information such as the conference dinner rate or register/pay for the conference dinner on the iMean7 Registration page.
The photograph on the right has been provided courtesy of Riverstation.
Find out more about the conference panels below.
You may also be interested in
Find out more about iMean conference from the Bristol Centre for Linguistics (BCL) at UWE Bristol.
Call for papers and abstract submission guidelines for iMean conference.