Research at the Centre for Appearance Research (CAR)
Discover our themes, how you can get involved, projects and PhD research.
At the Centre for Appearance Research (CAR), we use innovative research methods to examine and improve adults' and young people's experiences of appearance.
Our applied, interdisciplinary research aims to understand the size, impact and root causes of appearance concerns. We use this knowledge to develop practical, evidence-based strategies to help individuals and communities, and shift social norms.
Research themes
Our research and consultancy focuses on two broad areas:
Visible difference (disfigurement)
Visible difference is a physical appearance that is different to the societal norm. People may have a visible difference as a result of:
a congenital condition (eg cleft lip and/or palate or a birth mark)
following injury (eg burns)
medical treatment (eg surgery for cancer)
skin conditions (eg vitiligo).
Many people with a visible difference live fulfilling lives. Unfortunately, some do experience psychological and/or social challenges relating to their appearance.

We're dedicated to working with people who have a visible difference to better understand:
Psychosocial needs of people with appearance concerns
Factors contributing to adjustment to cleft lip and/or palate
Interventions for children, young people and adults affected by an altered appearance due to burns, cancer treatment, or other conditions or injuries
Decision-making about breast reconstruction after mastectomy.
Body Image
In a society obsessed with appearance, there is an awareness that the way we think and feel about our bodies is central to our health and wellbeing.

Working with a range of age ranges, countries and theoretical approaches to body image research, we engage in projects concerned with:
Eating disorder prevention and weight-related concerns
Psychological factors motivating people to seek cosmetic surgery and expectations of outcome
Positive body image
Objectification
Social and cultural influences on body image (peers, family, mass and social media)
Evidence-based interventions to promote positive body image and acceptance of diversity in appearance in schools, community settings, media and social policy.
We're also involved in projects that bridge our two research themes, Visible Difference and Body Image. We study the experiences of people with and without a visible difference, who have body image concerns.
You may also be interested in
See how the CAR research projects make a difference.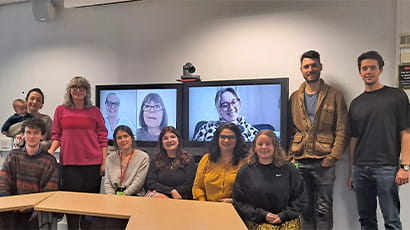 More about the work of the VTCT Foundation and its team members.