UWE Bristol hosts one of region's largest cyber security events to attract future talent
See all news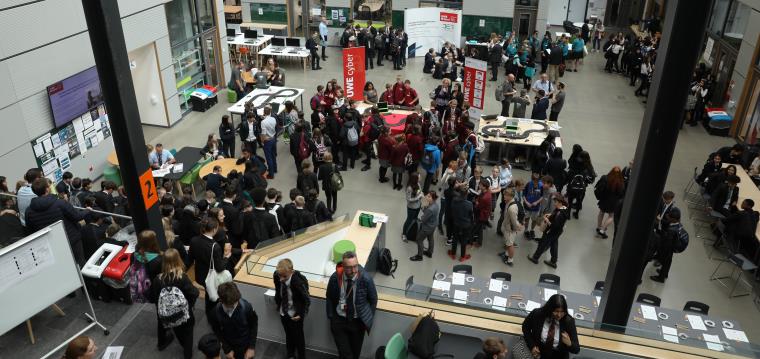 More than 300 young people attended a Unlock Cyber Taster Day at Frenchay campus. Students aged 12 to 14 participated in hands-on activities including manipulating a Scalextric track to improve the performance of model racing cars.
The event was run by Unlock Cyber, an employer-led initiative established by UWE Bristol to build a community of young cyber security enthusiasts with the right skills to follow a career into the sector.
Industry and cyber representatives from across the West of England region attended the event yesterday in the School of Engineering building to deliver the cyber activities for schoolchildren.
UWE Bristol Cyber Schools Outreach Manager Elaine Brown, who manages the Unlock Cyber project, said: "Young people often think that employers need you to have a lot of technical expertise when in fact this is not the case. They are looking for applicants with good communication skills and enquiring minds, who enjoy problem solving and can work under pressure. We're trying to engage with and excite more young people, especially girls, who probably think cyber is not for them, to ensure that cyber is more diverse and inclusive. Our biggest challenge moving forwards is how we can cope with the level of demand from schools."
Kevin Milwood, Cyber Risk Manager from Hargreaves Lansdown, said: "Unlock Cyber stands for what I believe in – giving young people the opportunity to learn about careers in cyber. It's such an important area for business and I'm passionate about doing what I can in the local area to develop the UK's skills supply chain to meet the ever-increasing demand for cyber experts. The national curriculum is currently quite limited, so it's great that Hargreaves Lansdown can get involved with a programme like this that lets us share our expertise."
Ben Waring, HR and Resourcing Advisor at Leonardo Cyber Security Division in Bristol, said: "Cyber threats are a reality for all of us, so we want to respond to these long-term threats in a positive manner by generating future career opportunities for young people. For the Unlock Cyber taster day, our apprentices have designed a Cyber Crime scene, testing the students' knowledge of how cyber criminals might target them and use any available information against them. This activity also helps students think about how they can better protect themselves and their family from cyber crime."
UWE Bristol has worked with the National Cyber Security Centre (NCSC) and regional partners to develop the Unlock Cyber programme. The university has been recognised by NCSC for its excellence in cyber security education, across its outreach activities through Unlock Cyber, its taught programme at UWE Bristol, and its work across the region and the wider UK to improve cyber security education.