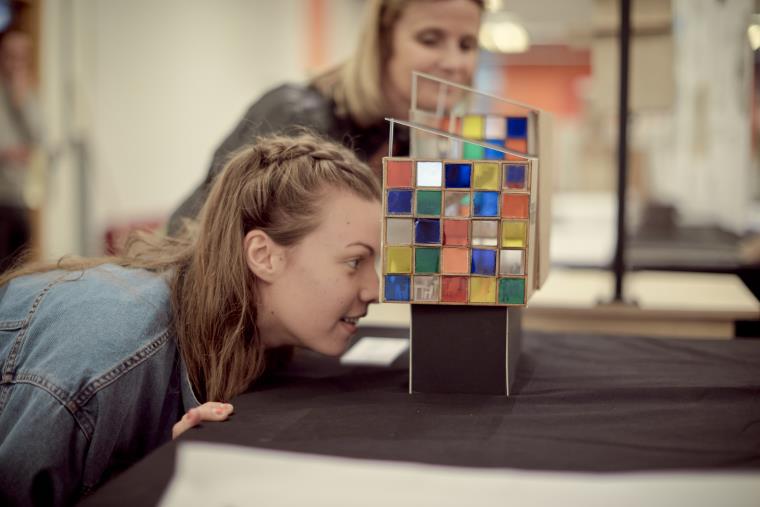 Emerging talent at the University of the West of England (UWE Bristol) will exhibit work at the annual graduate degree shows for the Creative Industries and Faculty of Environment and Technology, starting on 9 June 2022.
The events, which are a highlight in the city's calendar, return after a two-year hiatus and will celebrate the University's ambitious and creative graduating students through a mix of physical exhibitions and a digital showcase.
The degree shows kick off on Thursday 9 June with Faculty of Environment and Technology (FET), covering architecture, creative technologies, computing, engineering, geography and the environment, and product design. The free event takes place between 17:00 and 21:00 at UWE Bristol's Frenchay campus.
As in previous years, the one-day event will give FET graduates the chance to display innovative ideas for products and services which aim to fill gaps in the market.
Fabia Jeddere-Fisher, UWE Bristol Interim Head of Department for Architecture and the Built Environment, said: "This has been the most incredible graduating cohort, and this Degree Show celebrates their resilience over the past few years.
"These students have learnt to understand different viewpoints, collaborate with multiple disciplines, and present design solutions with a wider perspective. We are delighted to welcome friends, family and industry partners to campus to walk among the students' creative outputs and meet the future designers, thinkers and changemakers."
The Creative Industries Degree Show, covering art, design, animation, drawing and print, fashion, media, performance, photography and filmmaking, opens to the public at the university's vibrant City Campus at Bower Ashton, Arnolfini and Spike Island on 11 June 2022. The week-long showcase features a series of events, including live music, scratch drama performances, a festival stage and outdoor art gallery.
Jacqueline Butler, UWE Bristol's Head of School of Art and Design said: "We look forward to sharing the talent of our graduates and celebrating their success with colleagues, friends, family, industry partners and the general public across the city and region both online and in person."
One of the creative graduates exhibiting is 25-year-old Elena Hartley, who has been studying BA Drawing and Print at Arnolfini. Her independent research project (dissertation) was titled Middle Age Penance and "Melodramatic Money-Shots": Confessional Discourse in the Real Housewives of Beverly Hills, which combined two of her favourite things: Middle Age art and The Real Housewives TV show.
Elena has been awarded the Rome Arts Programme scholarship; she'll spend July in Rome studying painting and drawing.
She said: "My work is ambiguous yet humorous, allowing figures from both popular culture and biblical tales to emerge and act as vehicles for me to better tell my own personal story and challenge female archetypes through the dialogue between drawing, painting and printmaking.
"I'm going to miss UWE Bristol, especially after a long day in the studios seeing the sunset over Bristol Harbour from the top floor of the Arnolfini studios. But I also feel relieved and excited to be graduating, with a little anguish thrown in there too. It's nerve wracking, yet I'm intrigued to see how life outside of the university bubble goes."
The first ever UWE Bristol Alumni Show will also take place at Arnolfini during the Creative Industries degree showcase, featuring work from the last two years' graduates who missed their degree show due to the pandemic.
The Creative Industries degree showcase is open to the public at Bower Ashton, Spike Island and Arnolfini on the following dates and times:
Saturday 11 June 2022, 09:30–17:00 (recommended last entry at 16:00)
Sunday 12 June 2022, 11:00–17:00 (recommended last entry at 16:00)
Tuesday 14 June to Friday 17 June 2022, 11:00 20:00 (last entry at 19:00)
Saturday 18 June and Sunday 19 June 2022, 11:00–17:00 (last entry at 16:00)
Find out more about the UWE Bristol degree show.