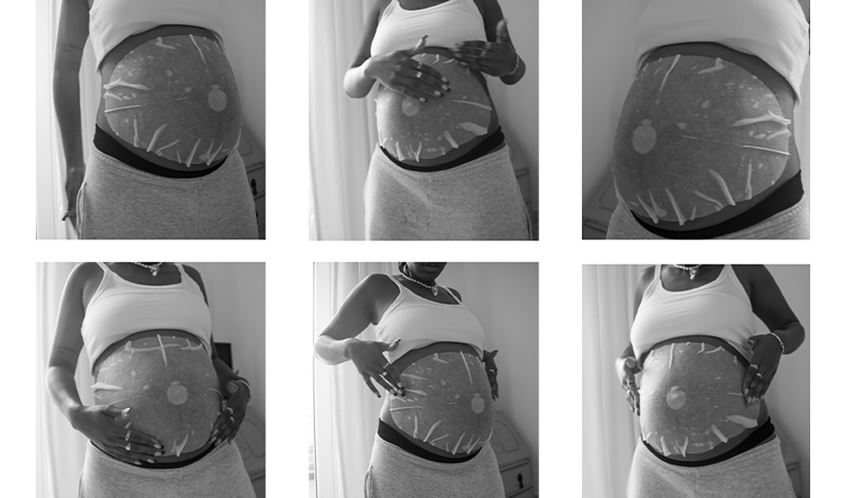 An annual end of year celebration of work by students at the University of the West of England (UWE Bristol) takes place next week (8-15 June).
The Degree Show will see over 1000 undergraduates and postgraduates from the College of Arts, Technology and Environment display their work through a mix of physical exhibitions, alongside a digital showcase.
An annual highlight for the University and the city of Bristol, members of the public are invited to attend the free in-person exhibitions, held across the University's Frenchay and City Campuses, and discover a new generation of talent.
Among those exhibiting is 24-year-old Bristol MA photography student Jade Carr-Daley. She discovered she was pregnant two weeks into her first academic term and her final photography project explores her journey from student to caregiver during her course.
She said: "I had never intended to plan when I had children, but just accept that when it happens, it happens. But the fear did come from the negative stereotypes you hear about unexpected pregnancy; I worried about what other people would think and the fact I was studying too – you don't tend to see or hear about pregnant people completing a Masters."
Despite Jade's initial concerns she felt determined to carry on with the course. Her intended project for her MA, exploring her British-Jamaican heritage, hadn't quite got off the ground. She said: "With encouragement from my lecturers I took a step back from the project I'd planned and instead began to photograph my pregnancy, to reflect the experiences I was having."
The resulting images form part of an ongoing series called 'Not Ready Not Steady GO!', which will be on display at Arnolfini during the UWE Bristol Degree Show.
"A lot of the images are black and white, shot on film and digital," continued Jade. "This was to show that the early and middle part of my pregnancy wasn't all positive. I experienced some bleeding - I didn't really know what caused it, which made me panic and like I couldn't connect with my baby at this point. I knew I was pregnant, but I didn't want to be too happy in case something happened.
"Going into the last trimester, I introduced more colour to the images, and then when I gave birth there's a lot more colour to show the positive aspect that, in the end, it wasn't all like gloom and really negative vibes - I got to connect with my baby."
Jade's son Knox is now 10 months old and as she prepares to graduate with a MA in photography Jade feels proud of how far she's come: "I'm really happy for myself that I went against what most people think you do if you get pregnant. I think some people doubted I could do both, but I still managed to produce a really good body of work for my course, despite the challenges."
And Jade is just one of a number of students who'll be showcasing degree work inspired by their own life experiences.
BSc Digital Media student 21-year-old Michael Allam moved to Bristol from Lebanon to begin his degree in 2020.
When he was 17 Michael discovered he had a rare heart condition called Wolff Parkinson White Syndrome which causes rapid and unsteady heart palpitations due to an extra electrical connection leading to shortness of breath and chest pains.
Through diagnosis and treatment Michael realised that the simple act of talking to other people and encouraging them to get checked if they had health concerns had the ability to do some good.
This desire to have important conversations and raise awareness of meaningful causes close to his heart has led Michael to create a business concept for his final year project, which does just that.
'Heart House Studios' is a blueprint for a creative design and media production studio, which evolved from Michael's creations of heart-related art and digital drawings which he initially posted on Instagram (@hearthousemedia). This allowed him to start conversations with people, sharing the meanings behind the art and spread awareness of his past heart condition.
Heart House Studios has taken this another step further with a 'campaign' concept for part of the design business which Michael hopes will make a difference. He said: "The plan is to run a limited digital campaign each month to raise funds for charity and introduce new discussion topics to our communities. We look at unspoken issues that may need more attention and come up with campaigning concepts. In addition, we aim to collaborate with organisations and charities to amplify their voices and share their stories."
So, for Michael, the business concept for Heart House Studios is to use art and design for the greater good. "My experience inspired me to talk about issues more and my final project for my degree seems like a great way to communicate it."
And for another MSc Digital Media student, Carlos Leonardo Emanuele Borja, 22, a desire to have a real-world impact is the inspiration for his philanthropic non-fungible token (NFT) profile picture collection called Caring Creatures.
By leveraging blockchain technology, Carlos has used 8-bit pixelated art to create 10,000 unique animal images representing England, Scotland and Wales (a lion, a unicorn and a red dragon). They will be sold to donate to charitable organisations and, down the line, provide sustained financial support to them through a digital fundraising platform and virtual events.
He said: "I live in Bristol city centre and I often see homeless people who are struggling, especially at night, so I often stop to buy them soup or hot drinks. So, when I needed a technical project for my final year, I wondered whether there was anything I could do? How could I use technology such as blockchain technology and NFTs to help the homeless in the UK?
"While researching this topic I discovered that NFTs have been successfully used in the past to fundraise for different initiatives; an example is the 14-year-old girl in the US who sold NFTs of her beluga whale drawings to raise money to support conservation work.
"Seeing the potential for achieving something good gave me the motivation to create a movement that inspires a community to work towards a common goal and provide the necessary platforms to be part of it."
Both Carlos' and Michael's work will be on display at UWE Bristol's Frenchay campus. Find out more about the UWE Bristol degree shows.
You may also be interested in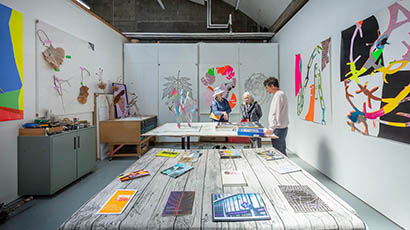 News
04 April 2023
Fine Art students from UWE Bristol will exhibit, perform and screen their work during Spike Island's annual Open Studios, later this month.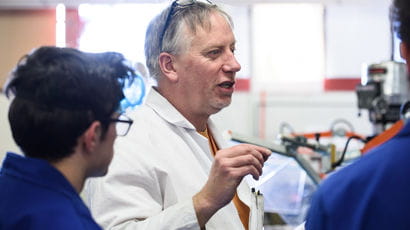 Media contacts are invited to check out the vast range of subjects where UWE Bristol can offer up expert commentary.