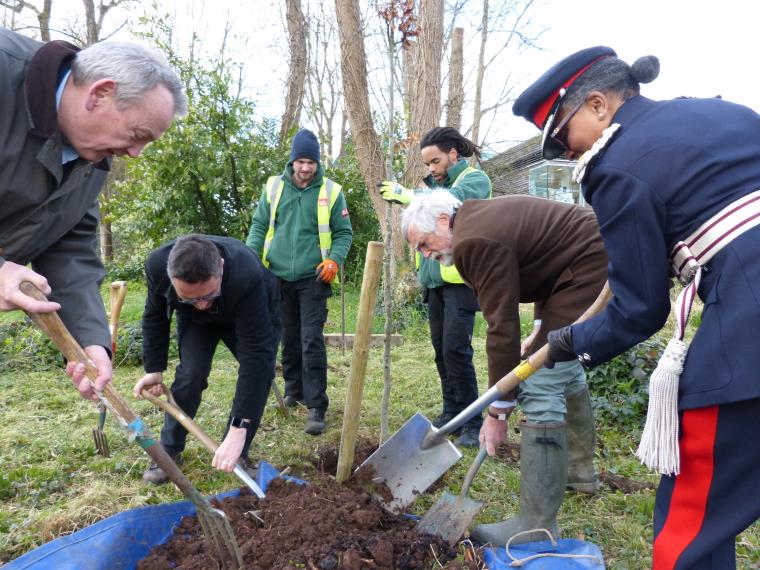 A special tree planting ceremony has taken place with the Lord-Lieutenant of the City and County of Bristol, Peaches Golding, as part of the Queen's Green Canopy initiative at UWE Bristol's Bower Ashton Campus.
She was joined by the Deputy Lord-Lieutenant, Chris Curling, Professor James Longhurst, UWE Bristol Assistant Vice-Chancellor for Environment and Sustainability, and the UWE Bristol grounds team, to plant the final tree of 20 new mixed native woodland trees at the City Campus site, as well as three large jubilee oak trees at each of the university's three campuses – Frenchay, Bower Ashton and Glenside.
The Queen's Green Canopy trees at Bower Ashton will replace a number of mature ash trees which were recently lost to ash dieback disease. In total, 78 new trees have been planted across the UWE campuses during the recent planting season (October to March), plus 100 metres of new native hedging, in line with the university's landscape and biodiversity action plan.
The Queen's Green Canopy is a unique tree planting initiative created to mark Her Majesty's Platinum Jubilee in 2022 which invites people from across the United Kingdom to "Plant a Tree for the Jubilee". Individuals, schools, colleges, universities, companies and community groups are taking part.
Paul Roberts, UWE Bristol's head of environment and sustainability, said: "We were delighted to welcome the Lord-Lieutenant and Deputy Lord-Lieutenant, as the Queen's representatives, to Bower Ashton to mark this occasion. Our grounds team have been working extremely hard and it's wonderful to see the new trees planted in the copse to the front of the building and the new, rather majestic jubilee oak."
UWE Bristol has a long-standing commitment to supporting biodiversity and ecosystem enhancement across the whole of the university's estate, and promoting the benefits for wildlife and for people. The university last year adopted the 'Building with Nature' standard as a means to guide the development of its estate in ways that are good for wildlife, good for people and in ways that respond appropriately to climate and ecological emergencies.
It also recently joined 26 universities around the world by introducing Ecosia as its default search engine. Ecosia is an alternative to other search engines and commits 100% of its profits to climate action, with at least 80% financing tree-planting projects.
More information about UWE Bristol's commitment to biodiversity is available online.