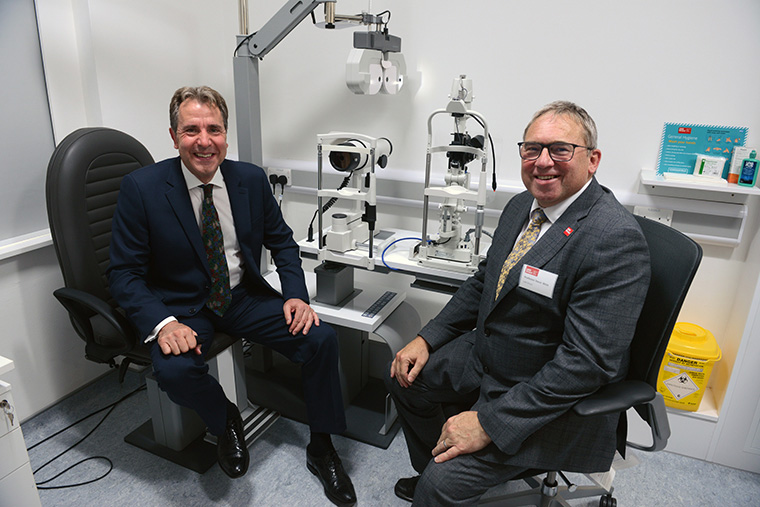 UWE Bristol's new School of Health and Social Wellbeing was officially launched by West of England Metro Mayor Dan Norris at a ceremony at Glenside campus.
Alongside the launch of the new school and a tour of the campus and facilities, Mr Norris also officially opened the UWE Bristol Eye Clinic.
The School of Health and Social Wellbeing brings together two former departments (Department of Allied Health Professions and Department of Nursing and Midwifery) and a number of programmes from the Department of Health and Social Sciences, to achieve integration of learning and teaching and related research across professional disciplines. In all, the school is home to 13 specialist professions, more than 4,000 students and 300 academic staff. The range of its work includes public and environmental health, social work, and professions allied to health, nursing and midwifery.
The school reflects the changing health and social care landscape in a diverse, inclusive community that is dedicated to having a positive impact on the health and wellbeing of the population by meeting the workforce ambitions of the university's partners, and career aspirations of UWE Bristol learners.
The UWE Bristol Eye Clinic opened in October 2020 and provides a state-of-the-art learning environment and real world experience to students on the BSc (Hons) Optometry programme.
The clinic provide sight tests, prescriptions and a range of eyewear brands to students, staff and the public. Find out more and book an appointment for a free site test on the UWE Bristol website.
Mr Norris said: "The West of England is home to some of world's best learning, teaching and research facilities. The School of Health and Social Wellbeing and the UWE Bristol Eye Clinic are the latest additions, and it was fascinating to see how they are being used to train students and to serve the local community."