Terms and conditions
1. Fees and payment
Fees paid by individuals
1.1 Full payment of fees must be received prior to the commencement of the course/event. Your place cannot be guaranteed until a completed booking form and full payment has been received.
1.2 Fees can be paid by credit card (via our secure online store). Payment by cheque is also accepted – please make all cheques payable to UWE Bristol.
1.3 For payment by bank transfer, please add £50 to your fee for the additional bank charges to be made to us and provide us with the transaction reference number. Our bank details are available on request.
Fees paid by sponsoring organisations
1.4 If your organisation is paying your fees and would prefer to be invoiced, please submit full details on the booking form and a reference/PO number if available. Payment by invoice is only available to UK based organisations. Payment is required within 30 days of the date of invoice.
2. Cancellation by us
2.1 Please note that events have minimum attendance levels and may be cancelled if too few bookings are received
2.2 If we cancel a course/event we shall endeavour to give you at least four weeks' notice and offer a full refund for the course/event fee.
2.3 We reserve the right to:
2.3.1 amend or cancel courses/events
2.3.2 change the courses/events location
2.3.3 substitute lecturers and tutors.
2.4 We will not be liable for any losses (including, but not limited to, travel and accommodation costs) arising as a consequence of any modification or cancellation of a course/event, or timetabling constraints as set out above beyond the cost of the event fee.
3. Cancellation by you
3.1 If you wish to cancel your place at a course/event your request should be made in writing (via letter or email) direct to the CPD team. Please check with your individual CPD teams for timescales in which a refund can be obtained.
3.2 If you wish to cancel your place on a credit bearing CPD module, your request to withdraw should be made in writing, either prior to or within 21 days of start date of module to receive a full refund.
3.3 If you are unable to attend, you may transfer your place to someone else at no extra cost.
3.4 There will be an admin fee applicable in some cases. Please check your individual CPD team for the fixed amount applicable to your booking.
4. Non-attendance
4.1 Non-attendance due to illness or for personal or professional reasons does not provide the right to refunds, extra tuition or a course/event transfer.
4.2 However, in such an event we will consider all the circumstances and take such action that we consider to be fair and reasonable.
4.3 Please note that if alternative options are offered there may be additional administrative or fee charges.
5. Deferring your place
5.1 Participants wishing to defer their place on a course or to transfer to another course, must make all requests in writing to the CPD team stating the course title and start date your have booked, and the new course details you wish to transfer to.
5.2 All requests will be considered and agreed at the discretion of the CPD team.
5.3 Agreed requests to defer to a later course run, or alternative course, made four weeks or more prior to the course start date will not incur any administration fee.
5.4 Agreed requests to defer to a later course run, or alternative course, made within four weeks of the course start date will incur a £100 administration fee charge.
5.5 Requests to defer to a later course run made after the course has started will be considered at our discretion and if granted will incur a £100 administration fee charge, plus charges for any training already taken place on the initial course. We will also require the full course fee payment for the new course to be attended.
6. Travel
Please ensure that your place is confirmed and the event is running before you make any travel arrangements. We do not offer refunds for travel or accommodation costs in accordance with Clause 2.4 above.
7. Visas
7.1 We recommend you contact the Embassy in your own country to check visa requirements before you book.
7.2 If you cannot attend because you have not obtained a visa to enter the UK, no refund will be offered.
8. Certificates
8.1 On completion of a non-credit bearing short course/event, UWE Bristol may provide you with a certificate of attendance. The name given on the booking form will be the one that appears on the certificate. It is not feasible to examine and grade your ability of work or depth of knowledge, therefore the certificate of attendance is not a qualification.
8.2 If you do not receive your certificate at the end of the course for reasons that we are responsible for, we will post certificates free of charge. If you do not collect your certificate for reasons that we are not responsible for, eg you miss the last session or leave early, we will post it to you (subject to you attending 70% of the course) but you must supply a self addressed A4 envelope with a first-class stamp.
Alternatively, you may collect the certificate from UWE Bristol. Certificates will be held for up to one month after the course has ended. Replacement certificates can be produced up to one year after completion of your course but will incur a fee of £2.50 plus postage and packaging.
9. Disabled participants
We will make reasonable adjustments for participants with specific requirements. Please contact us before booking a place to discuss your requirements.
10. Participant conduct
Participants are expected to conduct themselves in a professional manner and to recognise that other delegates also require support and assistance. If a delegate becomes persistently disruptive, we reserve the right to offer a verbal or written warning and, if this does not resolve the situation, we may, at our discretion, ask the delegate to leave the event.
11. Force Majeure
We shall not be liable for any failure or delay in the performance, in whole or part, of any of our obligations arising from or attributable to acts, events, omissions or accidents beyond our reasonable control including, but not limited to strikes, lock-outs or other industrial disputes (whether involving our workforce or the workforce of any other party), act of God, war, riot, civil commotion, malicious damage, compliance with any law or governmental order, rule regulation or direction, accident, breakdown of plant or machinery, fire, flood, storm, pandemics, epidemics or other outbreaks of disease or infection, failure in the public supply of electricity, heating, lighting, air conditioning or telecommunications equipment.
12. UWE Bristol short courses with UWE Bristol module or ILM Accreditation
12.1 Any short course participant may be eligible to complete an assessment to gain UWE Bristol module accreditation against a short course where available.
If you are interested in gaining the UWE Bristol module accreditation, you will have an opportunity to discuss the assessment requirements with the course tutor on the first day of the course, to help in your decision.
12.2 To register for the assessment, you must complete the additional information requested on our online booking form, along with any additional fee payment for the accreditation.
12.3 Any requests to complete the course assessment must be submitted to the CPD team by the end of the final teaching day for the course. If you wish to gain the UWE Bristol module credit at a later date, you may be required to attend the next course date and pay all applicable course fees.
12.4 By completing your booking form you will be agreeing to the University's regulations regarding accredited study, including the following:
12.4.1 Withdrawing from the assessment
12.4.2 Submission of work
12.4.3 Late work
12.4.4 Resits (sometimes called referral or second opportunity)
12.4.5 Second attempt at a module (sometimes called re-take)
12.4.6 Extenuating Circumstances.
13. Data Protection Act
The University collects information about all participants/students for various administrative, academic, security and health and safety reasons:
13.1 I agree to the University processing my personal data, in accordance with the Data Protection Act 2018, whilst I am a student. I agree to the processing of such data for any purposes connected with my studies, for communicating to me information relating to my studies, for accommodation, security or my health and safety whilst on the premises, or for any other legitimate reason (including notifying The Students' Union at UWE and the Alumni Association of my registration).
13.2. I agree that the University can provide an academic reference on request.
13.3 I accept that the University's Academic Regulations require the authorised posting of course results lists by electronic means to individual students or, by exception, on designated University notice boards approved and designated for this purpose.
13.4 Information on this form and other information held by the University will be sent to external agencies to enable them to carry out their statutory functions. These agencies include HESA (the Higher Education Statistics Agency) - students are advised to refer to HESA's data protection information for students for further information.
13.5 We will not supply your details to any outside organisation for marketing purposes. The information supplied on this booking form will be retained, unless instructed otherwise on our course database and will be used for all legitimate purposes in connection with the administration and marketing of our course programmes.
14. Additional Data Protection Information for ILM courses
The College of Business and Law at UWE Bristol are an accredited ILM Centre, and are therefore required to comply with the provisions of the Data Protection Act 2018 (the Act) in relation to how we handle any personal data we obtain from you. Any personal information we gather will only be used in the context of your employment with us or the business we conduct with you. We may also collect sensitive personal data about you, but only with your explicit consent in advance.
We may process all the information we obtain from you to enable us to fulfil our contractual obligations to you and we may request further information from third parties or disclose your details to other selected third parties, such as ILM, City and Guilds or their regulators or industry bodies.
We may from time to time email or post to you or your company details of products or courses we believe may be of interest to you. If you no longer require such information or you have provided us with any information that you no longer wish us to use, please call us on +44 (0)117 32 86377.
In disclosing your personal details to us, you agree that we may process and in particular may disclose your personal data:
as required by law to any third parties
to selected third parties who may process personal data on our behalf
to third parties such as ILM who may use your personal data or sensitive personal data (as appropriate) to:
enable us to fulfil our contractual obligations to you – for example by providing you with an examination certificate
contact you directly about events, courses, programmes, or ILM membership
carry out statistical analysis
pass to their regulator or industry bodies to (1) monitor equal opportunities relating to ethnicity or disability, or for other such monitoring purposes or to (2) account for learners where there is a requirement to do so, or to (3) meet their requirement to contact you directly and the information is not readily accessible from any other source
disclose and publish your details in directories which may contain information about the centre
provide or arrange prizes, remuneration and awards
contact you about your ILM studying membership.
If we pass your personal data to ILM it:
may transfer your personal data outside the European Economic Area (EEA) and if they do they will make every reasonable effort to ensure that any transferred data receives the same protection as if it would within the EEA
undertakes that ILM and its staff will take every reasonable step possible to protect the confidentiality and security of all material it receives, to carry out its various responsibilities.
You have the right to have us correct any inadequacies in the personal details we hold about you, and to object to any direct marketing we carry out using your personal details. You also have the right to ask for a copy of the information we hold in our records, in return for a small fee of not more than £10. Please email uwebusiness@uwe.ac.uk if you want a copy of the personal data we hold about you.
You may also be interested in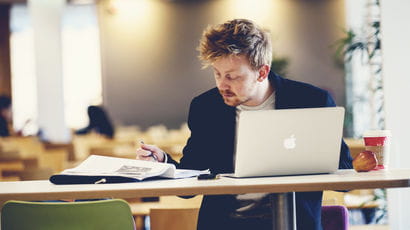 Study support and advice for UWE Bristol students including referencing, research, study spaces and more.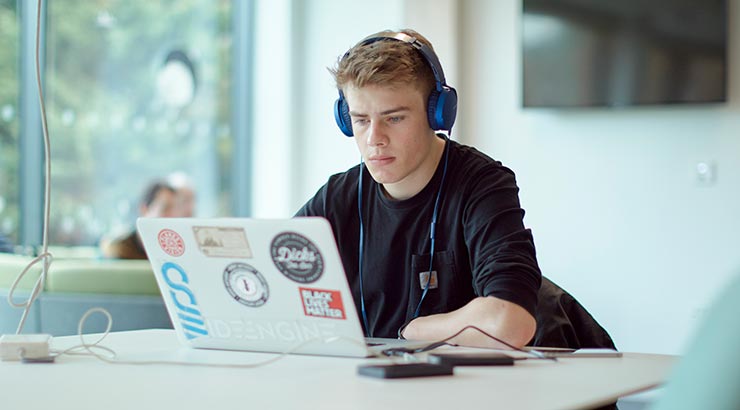 Courses at UWE Bristol including foundation courses, undergraduate courses and postgraduate courses plus part-time, professional and international courses.