Support the UWE Bristol Fund
Your gift, of any size, will make a huge difference. It will enable us to help more students facing financial hardship, provide an excellent student experience, and support the impact of our world-leading research.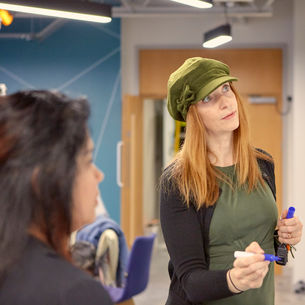 Ways to donate
Regular gifts
Complete a standing order form and return it to us. We will then relay the information to your bank on your behalf.
If you are doing a sponsored event, you can fundraise for any of the areas outlined in the UWE Bristol Fund from supporting students in financial hardship, to enhancing the student experience or supporting important research.
To discuss your fundraising ideas and find out what support we can offer, please contact the UWE Bristol Fund Team.
"Supporting computing students at UWE Bristol is the perfect fit with the business of our main benefactor, Apak Group. I know Tony, the founder of Apak, would have been very proud. Every year we look forward to meeting 'our' students, and we enjoy hearing about how they get on."
How Apak Group are making a difference
Lin Papadopoullos Tony's widow and Chair of Trustees, Tony Papadopoullos Charitable Trust
Financial systems specialists Apak Group wanted to set up a bursary to celebrate the memory of founder Tony Papadopoullos. So far it's been a great success.
About Apak Group
Apak was founded in 1979 by Tony Papadopoullos and has grown to become a leading provider of specialist financial systems. The business, which now operates as Apak Group, is based just outside Bristol and supports the global asset finance and banking sectors.
The Tony Papadopoullos Bursary
When the original Apak business merged with the Sword group, two former Apak directors created the Tony Papadopoullos Memorial Trust with a donation from funds created from the merger.
UWE Bristol worked with the Trust to create the Tony Papadopoullos Bursary – financial help awarded to two high performing students studying an undergraduate course involving computing.
Apak Group continue to support the bursary through regular donations to the Memorial Trust. The team sees it as a very suitable memorial for Tony, and everyone at Apak Group appreciates the feel good factor of supporting successful students.