Support the next generation
Find out how you can make a difference to our students.
Why support us?
With your help we can increase the support we can offer to talented students in financial need.
Whether you're an individual or an organisation, there are many ways you can support students at UWE Bristol. You can help them overcome financial pressures by setting up a scholarship, or give recognition to their hard work by sponsoring a prize.
Scholarships
Scholarships are awarded to students who are excelling in their studies and struggling to cover the cost of university. This kind of financial support helps to widen higher education access and develops talent regardless of circumstances.
You might want to set up a scholarship in your own name, in your organisation's name or in memory of someone else. You might choose to support a scholarship for students studying a certain course or programme. However you would like to get involved, scholarships are a great way of giving back to your community by shaping the next generation.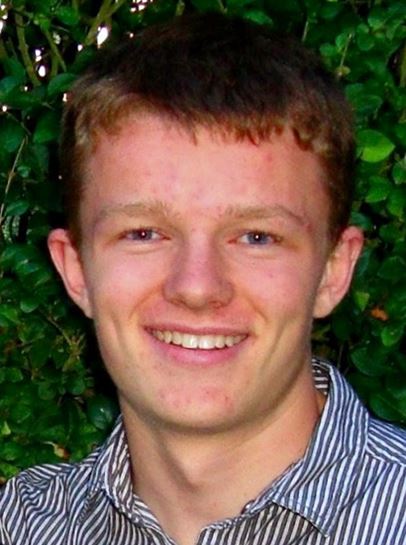 "Dan was an engineering undergraduate at UWE Bristol studying on the MEng course. He had a successful time at the University, eventually graduating with a first-class degree in 2014. Sadly, Dan died tragically in 2016. We were keen to start a scholarship in his memory at a university that proved so influential in his life. "
More about the scholarship
Julian Legg Founder of the Daniel Legg Mechanical Engineering Scholarship
First awarded in 2017, the Daniel Legg Mechanical Engineering Scholarship is made to the student who performs best in the second year of the Mechanical Engineering course.
Julian Legg, Daniel's father, decided to set up the scholarship. His hope is that it can help young aspiring engineers through their studies and provide some extra impetus to their time at UWE Bristol.
"Supporting computing students at UWE Bristol is the perfect fit with the business of our main benefactor, Apak Group. I know Tony, the founder of Apak, would have been very proud. Every year we look forward to meeting 'our' students, and we enjoy hearing about how they get on."
How Apak Group are making a difference
Lin Papadopoullos Tony's widow and Chair of Trustees, Tony Papadopoullos Charitable Trust
Financial systems specialists Apak Group wanted to set up a bursary to celebrate the memory of founder Tony Papadopoullos. So far it's been a great success.
About Apak Group
Apak was founded in 1979 by Tony Papadopoullos and has grown to become a leading provider of specialist financial systems. The business, which now operates as Apak Group, is based just outside Bristol and supports the global asset finance and banking sectors.
The Tony Papadopoullos Bursary
When the original Apak business merged with the Sword group, two former Apak directors created the Tony Papadopoullos Memorial Trust with a donation from funds created from the merger.
UWE Bristol worked with the Trust to create the Tony Papadopoullos Bursary – financial help awarded to two high performing students studying an undergraduate course involving computing.
Apak Group continue to support the bursary through regular donations to the Memorial Trust. The team sees it as a very suitable memorial for Tony, and everyone at Apak Group appreciates the feel good factor of supporting successful students.
Prizes
Prizes are generous donations given as recognition to students who are excelling in their studies or who are positively contributing to life at UWE Bristol. Prizes help with students' career outcomes when they enter the job market as they stand out on a CV and help open doors.
Prizes are not merely financial; the gesture of the support can be a life-changing resource for students.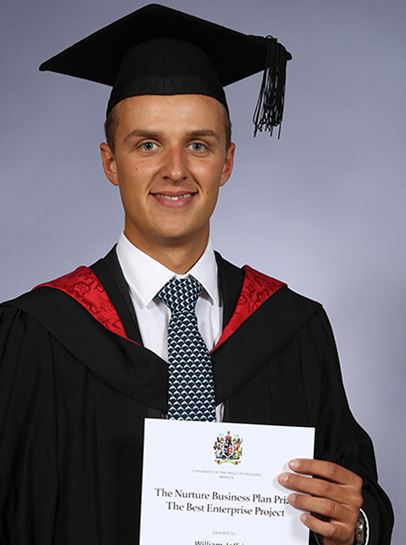 "As a business, Nurture realises how important young talent is to industry. Giving our prize helps develop and support the upcoming generation and it's something we're very proud to do."
More about the prize
Peter Fane Managing Director of the Nurture Landscapes Group and UWE Bristol alum
The Nurture Business Plan prize, now in its ninth year, seeks to encourage and reward entrepreneurial students at UWE Bristol. It was created in 2012 by Peter Fane, Managing Director of the Nurture Landscapes Group and UWE Bristol alum.
Image: William Jeffries, Nurture Business Plan Prize Winner 2019
How to give a prize or scholarship
If you are interested in finding out more about how to support the next generation through a prize or a scholarship, please complete the form below to provide some background information. We will be in touch to discuss your ideas and answer any questions.
100% of your donation will go towards supporting an exceptional UWE Bristol student. The minimum suggested donation for a prize is £100, and for a scholarship £1,000. We can provide advice on how to maximise the impact of your gift.
UWE Bristol Fund
Donations provide grants to support students and local community projects.
Support student and staff-led projects that help local communities grow and prosper.
Help us to provide hardship grants for students facing severe financial difficulty and funding for extra-curricular activities.
The UWE Bristol Fund is made up of donations of all sizes from alumni, staff and friends who want to make a real difference to the University community.