Athena SWAN for Nursing and Midwifery, and Allied Health Professions
The Departments of Nursing and Midwifery and Allied Health Professions have been jointly awarded with an Athena SWAN Bronze award, recognising our support of gender equality.
Bronze Athena SWAN award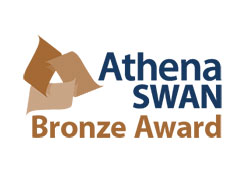 The Athena SWAN Charter recognises commitment to the advancement of gender equality in academia, including professional and support roles. The Departments of Nursing and Midwifery and Allied Health Professions successfully achieved a joint Bronze Athena SWAN award in November 2014 and renewed it in 2018 under the post-May criteria. It acknowledges our commitment and efforts to promote gender equality.
The departments continue to work to improve gender representation and inclusive practices to support the advancement of students and staff within healthcare education and practice.
Joint Departmental Inclusivity Team for Athena SWAN
The joint Nursing, Midwifery and Allied Health Professions Inclusivity Team for Athena SWAN meets up to six times per year.
The Self-Assessment Team undertakes activities relating to its implementation plan, raising awareness of the Charter among students and staff, and conducting consultation gauging staff perspectives around the culture and the processes of the departments.
To find out more about the activities of the team, you can contact the current Athena SWAN lead, Dr Mary Cramp at Mary.Cramp@uwe.ac.uk.
University-level award
UWE Bristol holds a University level Athena SWAN Bronze Award. Find out more about the University's achievement and our commitment to Athena SWAN principles. 
University-level Athena SWAN
Equality and diversity at UWE Bristol
The Equality, Diversity and Inclusivity Team provides professional support and advice on equality and diversity for both staff and students.
UWE Bristol offers a number of mentoring schemes including the Equality and Diversity Mentoring Scheme and the Women Researchers Mentoring Scheme.
The University also has a Carer's Leave Policy, a Flexible Working Policy and Procedure, and a range of other useful policies, which can be found via Human Resources.
External resources
The following links provide a vast range of resources for considering equality issues in science, technology, engineering maths and medicine (STEMM):