OSCOLA extra guidance
Supplementary guidance not found in the official OSCOLA guides.
COM/SEC documents and other EU working papers
COM documents are the working papers of the European Commission, covering preparatory legislation and policy.
SEC documents are Commission staff working documents or papers produced by the Secretariat-General of the Commission until 2012.
In 2012 the latter were re-labelled as SWD documents (Staff Working Documents).
JOIN documents are those jointly issued by the European Commission and the High Representative of the Union for Foreign Affairs and Security Policy.
Of these, COM documents are the type of European Union documentation that you are most likely to come across, and need to reference.
The EU help page will assist in understand the differences between types of EU official publications. Patrick Overy's European Union: A Guide to Tracing Working Documents provides a clearer, and more comprehensive, overview.
Reference a COM or SEC document
Note: citations from COM and SEC documents follow the same principles:
Author (or body responsible for producing the document), 'Title of paper in single inverted commas' (Brief indication of type of document if the title does not make this clear) Document number, (include chapter and/or article if necessary for pinpointing).
Footnote example: Commission, 'Access of Consumers to Justice and the Settlement of Consumer Disputes in the Single Market' (Green Paper) COM (93) 576 final, 16 November 1993.
Footnote example: Commission, 'Proposal for a Council Decision on the European Capital of Culture event for the year 2013' COM (2009) 0176 final.
Footnote example: Commission (EC), 'Recommendation for a Council Decision establishing, in accordance with Article 104(8), whether effective action has been taken by Hungary in response to recommendations of the Council in accordance with Article 104(7) of the Treaty establishing the European Community' (Communication) SEC (2004) 1621 final.
Footnote example: Commission, 'Commission staff working document – Annex to the report from the Commission – Member States' replies to the Court of Auditors' 2007 Annual Report' SEC (2009) 0257 final.
Current law statutes (annotated)
If you are citing the commentary upon legislation in the Current Law Statutes Annotated, cite the name of the relevant legal commentator and make it clear that you are referring an annotation to the Act, and not the primary text of the Act itself.
The following is a suggested format:
Oliver Hyams, [annotations to] 'Sale of Student Loans Act 2008 s 1(4)(e)', Current Law Statutes Annotated (Sweet & Maxwell 2008) I, 10—5.
Neutral citations
See the Building Legal Information Online (BLIS) tutorial for further explanation regarding neutral citations.
Home Office and other government publications
A Home Office report can be treated like a printed book. There will not normally be a named author or editor for such reports, so you need to cite the relevant organisational or corporate author(s) instead, eg the Home Office or other government department(s).
The OSCOLA standard advises the following:
If your source is an online publication which is also available in hard copy, cite the hard copy version.
Citations of publications that are only available electronically should end with the web address in angled brackets (< >), followed by the date of most recent access, expressed in the form 'accessed 1 January 2010'.
Footnote example: Home Office report
31 Ministry of Justice, Home Office and the Office for National Statistics, An Overview of Sexual Offending in England and Wales (2013) 20.
Note: The report has three government departments as authors, with title, year and page number. The three departments cited would also be the publishers so this information is not replicated within the brackets.
Footnote example: Home Office research study
32 L Kelly, J Lovett and L Regan, A Gap or a Chasm? Attrition in Reported Rape Cases (Home Office Research Study 293, 2005) 25.
Note: The report has three named authors. The series title, series number and date of publication are in brackets. The page number is at the end.
The examples above are taken from the Oxford Journal of Legal Studies. The journal is published by the University of Oxford and uses the OSCOLA standard, 4th edition.
Foreign law sources
There is limited advice on citing legal documents from foreign jurisdictions in the OSCOLA 4th edition (see sections 1.4 and 4.3). We therefore advise you follow the examples of foreign law formats in the Guide to Foreign and International Legal Citations* (with the exception that, as OSCOLA stipulates, full stops in abbreviations should be dropped).
The first edition (1996) is freely available online at the link above. A print copy of the second edition (2009) is held in the Library's Law Search Area.
* A publication of the New York University School of Law's Journal of International Law and Politics
Photographs and other images
When citing a photograph or picture you must identify the source of the image.
For example, if you are citing an online photograph you would reference the website where you accessed the image.
Footnote example: photograph on a website
14 Janet Lindenmuth, [photograph of] 'Atlantic Digest 2d' (Flickr, 12 January 2012) accessed 27 November 2014.
If, however, you are referencing a photograph that you took yourself, you would reference yourself as the personal creator (or with your identity anonymised, if required).
Footnote example: personal photograph
15 Photograph taken by Susan Shreeve (27 November 2014).
Footnote example: personal photograph anonymized for marking purposes
15 Photograph taken by Student 1235 (Name withheld as per University policy) (27 November 2014).
You may also be interested in
Advice on academic-related issues and what to do if something happens which affects your studies.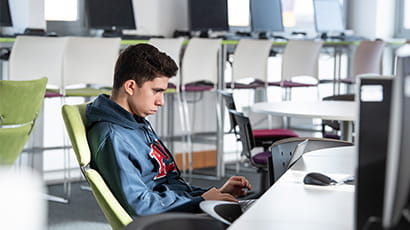 Guides to referencing standards in use at UWE Bristol and links to some useful referencing tools.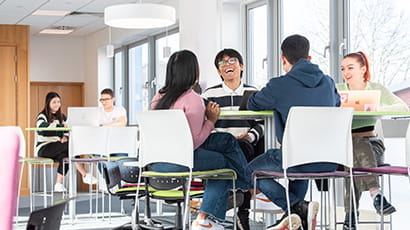 College-specific online study support and one-to-one help tailored for your subject.