Get support from your peers
Peer Assisted Learning (PAL) is support for students, by students, and normally takes the form of regular, timetabled, coordinated group study sessions or workshops.
PAL can help you increase your academic confidence and boost your resilience. Engage with this student-led support on a regular basis and benefit from the experience of current students.
Starting university is exciting but can also be daunting. Learning alongside other students on your programme, however, can give you a greater opportunity to discuss ideas, broaden your knowledge, gain confidence, make friends and adjust to university life more quickly.
"PAL helped me from the beginning to the end of the year as it gave me a student perspective on the work load. This really helps you settle in as you can ask them where things are or the questions you wouldn't want to ask your lecturers. You can almost say they are like your academic lifeline."
Read Rapha's story
Rapha BSc(Hons) Urban Planning
From tutors to personal support, Rapha has found help from all angles during her time at the University so far.
As a participant of the PAL scheme, she got tips on coping with workload, with PAL Leaders explaining things in a simpler way to help her get a better understanding.
Become a PAL Leader
Put your knowledge and experience of being a UWE Bristol student to good use by helping other students to help themselves, and get paid for it.
Be a PAL leader
"I am way more informed now of the services UWE Bristol has to offer to support students, alongside how to communicate between students and staff to make changes and improvements."
Year 2 PAL Leader College of Business and Law
You may also be interested in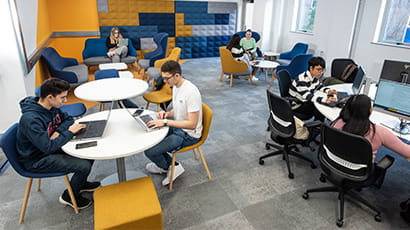 Support to help you study, including referencing, academic writing, research skills, time management, reading, plagiarism advice, and IT.
Advice on academic-related issues and what to do if something happens which affects your studies.