Applying for ethical approval
The University's ethics application process for students and staff, approval pathways, and forms.
If you are conducting research involving human participants, and/or their tissue or data, you should follow the appropriate route indicated below: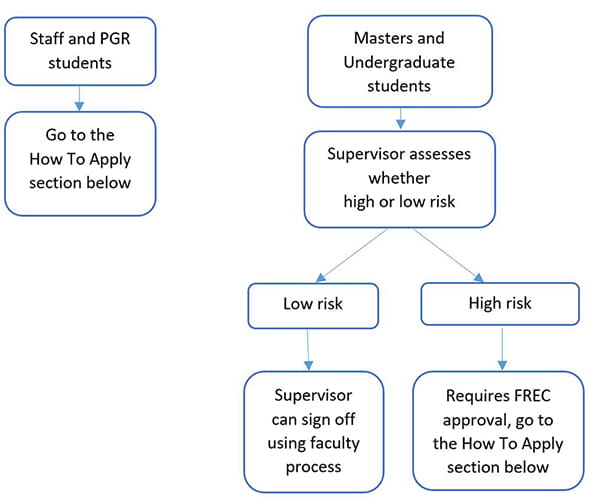 How to apply
From Monday 11 October 2021, we are piloting an online applications process in the Faculty of Environment and Technology (FET), for FET staff and doctoral students ONLY. To gain access to the new online system, FET staff should apply using the link below:
New online ethics application (for FET staff only)
Postgraduate research (PGR) students who do not have a UWE Bristol staff email account will need to request access to the system by contacting the Research Ethics Admin Team (researchethics@uwe.ac.uk).
All staff and doctoral students in the Faculty of Arts, Creative Industries and Education (ACE); Faculty of Business and Law (FBL); the Faculty of Health and Applied Sciences (HAS); and Professional Services, should continue to use the current process linked below. ALL undergraduate and postgraduate taught students whose research has been assessed as high risk should also use the process and form linked below.
Complete the application form (DOC), providing the following:
Project details, including dates for activity requiring ethical approval
Funding arrangements
Research questions and methodology
Participants – recruitment, sample size, how you'll contact them, inform them about the study, and get their consent to participate (and withdraw if they choose to do so), how you'll deal with issues that may arise
How you'll collect store and dispose of your research data
Whether you'll be carrying out your research overseas, and any implications
Whether your research is deemed to be security sensitive
How you'll disseminate your research findings.
What documentation do you need to provide?
You are required to provide the following details:
Research proposal or project design
Participant information sheet and consent form
Staff and postgraduate research (PGR) students must provide a UWE Bristol privacy notice
Undergraduate and M-level students should follow the Data Protection guidance for UWE Bristol students (PDF)
Questionnaire/survey
External ethics approval and any supporting documentation (if appropriate)
When do you need to apply?
You must allow six weeks for your application to be processed. Please note, over the summer and the Christmas and Easter vacations, your application may take up to eight weeks when scrutineers are not available to review applications.
How will your application be reviewed?
Applications are logged by the Research Ethics Administrative team, and sent out to members of the Ethics Committees for scrutiny. Scrutineers use a checklist, Scrutineer's Review Form (PDF), to ensure that applicants have addressed the necessary points in their applications. Comments are collated and then passed to the Ethics Committee Chairs to make a decision on approval. Often further work or clarification is needed before full approval can be given (make sure you factor this into your timetable).
You cannot start collecting data until you have full ethical approval for that activity.
Potential outcomes of an ethics application are:
full approval
approval with conditions
revise and resubmit
not approved.
You will be given feedback to help you to make your application better. It is very unusual for an application to be 'not approved'.
Once you have ethical approval:
Make sure that what you do is only what you have been given approval to do.
If you haven't got consent from your participants to share your data or use in ways not specified in your consent form, you can't do it!
The NHS and other research ethics committees
If your research project involves NHS patients, service users, organs, tissue, data or other bodily material, or is to be conducted on NHS property, please refer to our Health and Social Care research page.
If you have ethical approval from another external research ethics committee, for example from another Higher Education Institution, you will need to email this to your FREC or to RESC for ratification at researchethics@uwe.ac.uk.
Amendments
If things change, you need to let the Committee know, and may need to apply for further approval, for example changes to participant groups, protocols, or extensions. You can do this by completing an amendment form (DOC). This can generally be processed quite quickly.
Urgent approval in exceptional circumstances
If you need an urgent decision on your application, a special request for exceptional approval can be made by contacting the Research Ethics Administrative team at researchethics@uwe.ac.uk, tel: +44 (0)117 32 81167. This option is only available to staff and not to undergraduate, postgraduate taught or postgraduate research students, and cannot be used to support a retrospective ethical approval.
If a project has multiple methods of data collection that do not require fast approval, then the researcher should request urgent processing only for the relevant part.
The researcher must accept that there are no guarantees that an urgent decision can be made by their deadline. It is dependent on the capacity of others.
If the application is of poor quality, then it will cease to be treated as urgent.
You will need to complete a short form, available from the Research Ethics Administrative team: researchethics@uwe.ac.uk, to explain why your application cannot be processed within the standard timescale). This form will need to be signed off by the RESC/FREC Chair.
The RESC/FREC reserves the right to delay processing urgent applications if the necessary administrative and scrutiny resources are not available to reach a decision with the urgency requested.