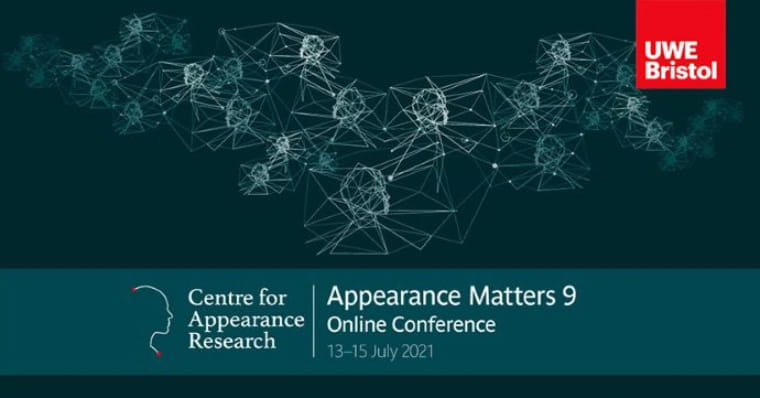 Leading academics from around the world will meet next week to discuss how the COVID pandemic has affected issues around body image and appearance.
The biennial Appearance Matters Conference organised by the University of the West of England (UWE Bristol), will take place from 13 to 15 July, drawing in delegates from more than 30 countries globally.
Hosted by the Centre for Appearance Research, the world's largest research group focusing on the role of appearance and body image in people's lives, researchers will explore the various ways that 16 months of lockdowns and government restrictions have affected how people view and treat their bodies.
Amongst the researchers presenting is Diana Harcourt, Professor of Appearance and Health Psychology at UWE Bristol, who will be sharing the results, for the first time, of her study about visible difference and lockdown. Professor Harcourt and colleagues interviewed a sample of adults in the UK who have a facial difference, such as cleft lip and skin conditions, to understand their experiences of lockdown.
Professor Harcourt said: ''People whose appearance is different or unusual in any way often report that everyday interactions can be difficult and stressful because of public reactions and intrusion such as staring. We were interested in their experiences of lockdown and social distancing, which have changed social interactions, as well as their experiences of video conferencing and face coverings, and thoughts about the easing of lockdown and return to 'normal' social interactions.''
The study found that whilst lockdown offered some reprieve from the stress of everyday interactions for people with facial differences, there were concerns about the impact on social confidence and anxiety about returning to 'normal' life.
Those describing appearance-related concerns that impacted on their daily life encountered new challenges posed by the pandemic which proved difficult to manage, such as increased use of video conferencing which they felt drew attention to their visible differences and made them feel uncomfortable. For others, the pandemic shifted their attention away from their appearance, but there were concerns it would impact on resources for non-COVID treatment such as surgical procedures and support.
Beyond the impact of COVID, the three-day conference will also include presentations on issues as diverse as cosmetic surgery, sexuality and gender, and social media. This year's keynote speakers include award-winning writer, speaker and appearance activist, Carly Findlay OAM, and Professor and Chair of Women's Studies at San Diego State University and LGBTQ Studies advisor, Esther Rothblum.
Research Psychologist, Dr Nicola Stock, who is co-hosting the conference said: ''This will be our ninth Appearance Matters Conference but the first time that it has been delivered virtually. Despite current restrictions, the conference will offer the same vibrant programme, including addresses from two international keynote speakers, oral and poster presentations, symposia, workshops, and a panel discussion event. We are using an innovative, bespoke platform, which will allow our delegates to engage and connect with colleagues from around the world.
''We're excited to welcome more than 200 delegates, including researchers, health professionals, charitable organisations, and businesses. We are grateful to our conference sponsor, the VTCT Foundation, an organisation dedicated to providing support for those affected by a visible difference.''