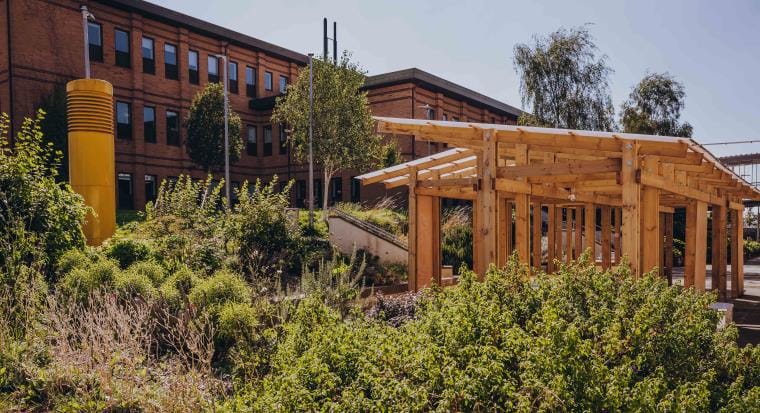 New poll reveals parents in the South West don't fully recognise role of universities in tackling climate change
Parents of teenagers looking to universities to help their children find purposeful, climate-positive careers
UWE Bristol has joined other universities across the UK to showcase their vital impact as part of a major new campaign backed by actress and environmentalist Lily Cole
Just 45 per cent of parents of 16 to 18-year-olds in the South West believe that UK universities are equipping the next generation of students with knowledge about climate change, according to new research from Universities UK.
And alarmingly, although UWE Bristol and other universities have made efforts to publicise their sustainability strategies and engage with local communities, only 54 per cent of parents in the South West recognise that universities are researching solutions to climate change.
The findings come as universities across the UK launch a major new campaign backed by actress and environmentalist Lily Cole, to reaffirm their commitment to tackling the climate emergency through researching solutions, working with local communities, and equipping students and the public with much-needed climate literacy.
Despite this apparent lack of awareness, parents see universities as crucial to delivering on the Department for Education's Sustainability and Climate Change strategy – published last week – with 64 per cent believing that going to university would equip their child with skills and knowledge that can help make the world a better place, and 70 per cent thinking a university degree is essential for those contemplating a career in tackling climate change.
And given the opportunity, more than one in three UK adults (37 per cent) would consider higher education as a route to upskilling to realign their career with efforts to combat the climate emergency.
Universities throughout the country have joined forces to set the record straight on their commitment to climate action and demonstrate the remarkable breadth of ways that universities are actively tackling the climate emergency through research, business and community interaction, and efforts to equip every graduate with climate literacy, no matter what subject they study.
Included in the campaign are two research projects that have been conducted at UWE Bristol. The first is ClairCity an air quality study that saw the University work with policymakers and community groups across Europe, putting people at the heart of environmental change to facilitate lasting change to the world's air pollution and climate crises. The second is a collaboration with Gloucestershire Wildlife Trust, which resulted in the development of benchmark standards for 'green infrastructure' used by planners and developers to help ensure developments are better for nature and for people.
Other recent UWE Bristol initiatives aimed at tackling climate change include:
Professor James Longhurst, Assistant Vice Chancellor for Environment and Sustainability at UWE Bristol, said: "UWE is working hard to decarbonise its activities so that by 2030 we will be a net zero carbon university. Through our teaching, we are helping our students to develop the knowledge, skills and attributes that will prepare them for the changing climate of tomorrow. UWE's research and innovation activities address carbon mitigation and climate adaptation challenges and we are working in partnership with local, national and international partners to implement solutions to reduce emissions and adapt to future climate challenges.
"We will make sure that through our ongoing climate emergency actions UWE responds to the issues identified by the UUK survey."
Evan Botwood, President of The Students' Union at UWE, said: "Tackling climate change is of vital importance to all of our students, so it's essential that they have the right skills to be able to drive the critical changes in consumer and commercial behaviour that are required.
"We look forward to working closely and constructively with the University on behalf of our students, to ensure they are fully equipped to take on this challenge."
Professor Steve West CBE, Vice-Chancellor of UWE Bristol and President of Universities UK, said: "We need urgent and ambitious climate solutions and must ensure future generations are given the chance to build the careers they need to tackle this emergency head-on. Universities are crucial to this. A university education can make all the difference in equipping students with the knowledge and skills to help them to make a positive impact on the planet, whatever path they choose.
"Evidence shows that universities are centre-stage in the UK's climate action efforts, from researching bold and innovative solutions to mobilising businesses and local communities in ways that benefit us all. As a sector, we can do even more to ensure the public hear this vital message, and that is what this campaign is all about."