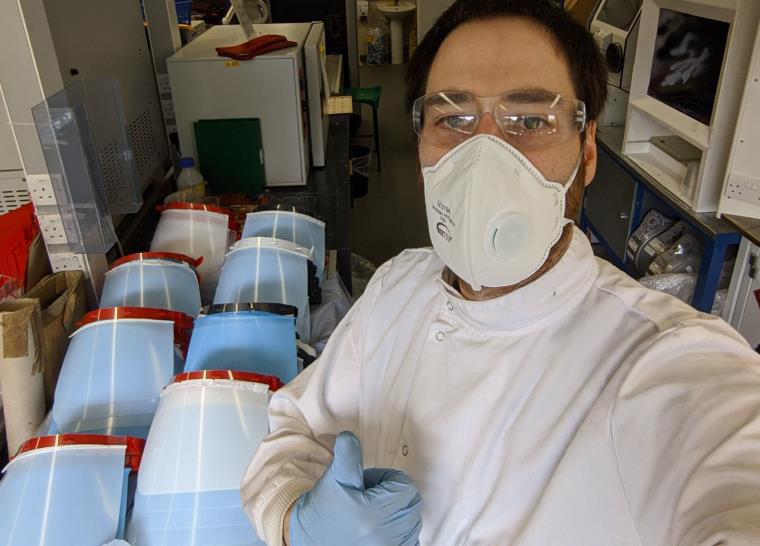 Technicians at Bristol Robotics Laboratory (BRL) are using laser cutting technology to produce protective visors for NHS staff during the coronavirus pandemic.
A team are manufacturing an initial batch of 200 for staff working at Avon and Wiltshire Mental Health Partnership (AWP) NHS Trust. They plan to expand production with the support of 3D printing facilities and technicians across three UWE Bristol faculties.
The cleanable visors are being created using an approved design by University College London. The team also plans to manufacture surgical mask straps, which help prevent masks rubbing against the ears of clinical staff.
Gareth Griffiths, a Senior Engineering Manager in BRL's Robotics Innovation Facility (RIF), said: "The trust approached us asking if we could supply PPE and we were very happy to use our facilities and expertise to help with their request.
"The visors can be made very quickly, with the manufacture process taking about two-and-a-half minutes for each visor. They are made from smooth laser-cut plastic so they can be easily cleaned and reused if necessary.
"We've consulted with health trusts and other universities to ensure we're making PPE that clinicians really need rather than offering equipment they may not require or isn't usable. We've been careful to make sure our visors will be of real benefit to NHS staff."
Alan Metherall, Associate Director of Nursing at AWP NHS Trust, said: "I'd like to thank the team at BRL for their assistance in providing these visors for our staff so that they can continue to care for our patients safely.
"We already work closely with UWE Bristol through the provision of training for mental health nurses and this demonstrates great partnership working and will make a real difference in enabling our teams to continue the fight against Coronavirus (COVID-19) at AWP."
The BRL team has offered to supply visors to the new Nightingale Hospital Bristol, which has been constructed at the Exhibition and Conference Centre at Frenchay campus.
In three weeks, the centre has been converted into a 300-bed temporary hospital to provide hundreds of extra beds if local services need them during the peak of coronavirus. Accommodation that is not currently being used by students is also being made available for NHS staff on Frenchay campus to provide doctors and nurses with easy access to the new emergency facility.
Scientists from UWE Bristol have also supported frontline clinical areas by supplying thousands of litres of disinfectant. The solution made in labs at Frenchay campus has been sent to South Western Ambulance Service NHS Foundation Trust, local GP surgeries, care homes and police stations for use as a surface disinfectant or alternative to hand sanitiser.
The team of technicians producing visors at BRL are part of the SABRE programme at the RIF, which brings researchers and industry in direct contact with current and new users of robotic technologies. The SABRE programme helps small and medium sized enterprises (SMEs) explore the benefits of robotics and smart automation technologies.
Gareth said: "My current role involves working to help SMEs and manufacturers with robotics innovation and engineering problems. To pivot to supporting an organisation as big as the NHS and applying my expertise to the health sector has been hugely rewarding and interesting. As soon as the lab was approached to support the NHS, I jumped at the chance to play a part."