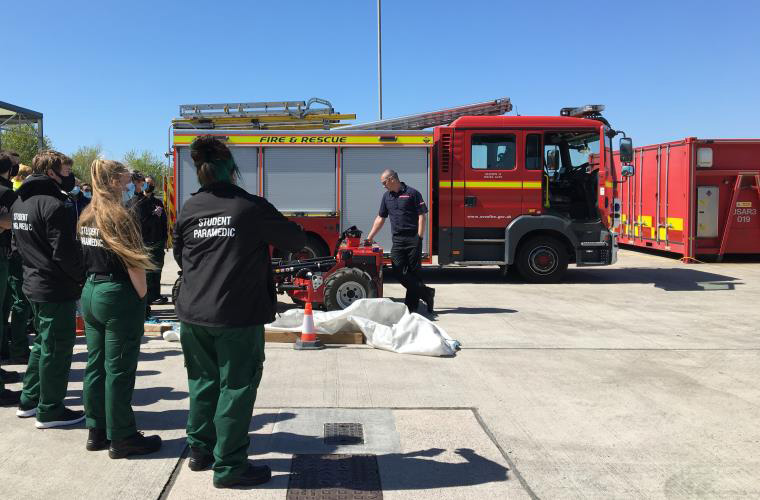 The newest cohort of BSc Paramedic Science students have successfully completed a familiarisation training programme with Avon Fire and Rescue Service (AF&RS), in partnership with the South West Ambulance Service (SWAST).
The course offers an insight into the varied and technical responses that AF&RS provides, alongside the various emergency situations they attend.
Over a three-week period, the student paramedics visited fire stations across Bristol to learn about the capabilities of AF&RS, including specialist rescue techniques such as water rescue, rope rescue, and urban search and rescue. Students completed 12 days of practical and theoretical training followed by a firefighting overview.
Since the start of the pandemic, emergency services have worked closer together than ever before to protect the NHS and help save lives. Training courses such as this ensure effective public services delivery, and promotes better relationships and joint understanding of the ways each service works, which can only have better outcomes for our communities.
Joanne Markerson, Senior Lecturer in Paramedic Science, said: "The Paramedic Science team are really pleased to continue the collaboration with Avon Fire and Rescue Service as part of their community placement.
"Placed at the start of the course, this shared learning experience develops the foundations of collaborative working. It builds on their university teaching to help prepare the students for the dynamic incidents that they are likely to attend alongside Fire Service colleagues during their emergency ambulance placements. We hope to continue this highly beneficial working partnership, developing ready and able students for their future placements and lifelong careers."
Gareth Lloyd, Station Manager for Avon Fire and Rescue, said: "The familiarisation training was a huge success; not only does it help us build better relations with our partner agencies but it also helps us gain a better understanding of the varied work each service provides as well as any joint working protocols that need to be maintained.
"The crews delivered some really in-depth training to the new student paramedics, and I would like to thank them for their hard work and dedication throughout. It is vitally important that we continue to work in cohesion with our partner agencies, to effectively respond and deal with incidents which keep our communities safe."