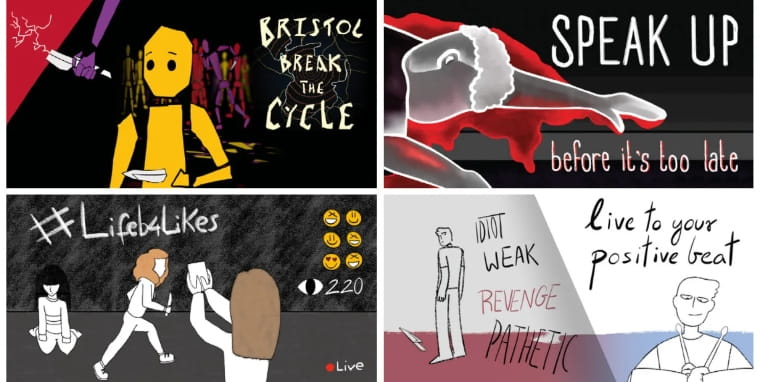 A series of powerful short films created by student animators from UWE Bristol is part of a campaign by Avon and Somerset Police educating young people on the dangers of knife crime.
The campaign, titled Knife crime: A new way forward, brought school pupils from across the South West together in creative workshops to discuss issues surrounding knives and to create short stories that communicated the dangers and impact of knife crime.
Second-year BA Animation students from UWE Bristol were then invited to convert the strongest storyboards into short animated films which will be shared widely on social media to raise awareness of knife crime amongst young people.
John Parry, Senior Lecturer in Animation at UWE Bristol said: ''We're very proud to have been part of this important project, utilising our creativity and design skills to communicate the dangers of knife crime.
''Our undergraduate animation students worked incredibly hard to bring the stories and concepts of young people to life and to create films which are thought-provoking and impactful.
''Working on live briefs and real projects are important aspects of our BA Animation course at UWE Bristol so it was a privilege to offer this opportunity to our students and to give them the chance to make a difference to young people's lives while also furthering their own professional development as animators.''
The four short films form part of a wider campaign run by Avon and Somerset Police in Weston-super-Mare, Taunton, east and south Bristol, which sees the students' work reflected on buses, billboards and bus shelters, as well as the key messages from each film discussed on local radio and in the local media.
Over the past year, police have been working with young people from four schools across the Avon and Somerset area, in order to better understand why they might carry knives, what support they want from the police, and the issues they face in their daily lives which can lead to them becoming involved in knife crime and violence.
Avon and Somerset Police's Chief Constable Andy Marsh said: "The key element of this project is that it has young people's opinions at the heart of it. We know that police telling young people not to carry knives is not the solution, and police enforcement alone will never be enough to resolve this complex issue.
"By listening to young people's voices and engaging them in a creative process to produce campaigns which mean something to them and their peers, we hope that they can feel empowered and less fearful.
"What's interesting is that the four finished films are not only engaging and professional, but they are all completely different, reflecting the thoughts of individual young people whose lives and circumstances vary depending on where they live.''
The four films include:
Lifeb4Likes created by Miriana Rocchetti and Klaudia Kaps
Eye for an Eye created by Martyna Sikonczyk
Speak Up created by Bree Maddrell Mander, Willow Krum and Anastasia Pillar
The Cycle created by Dom Wren and Jack Churchill