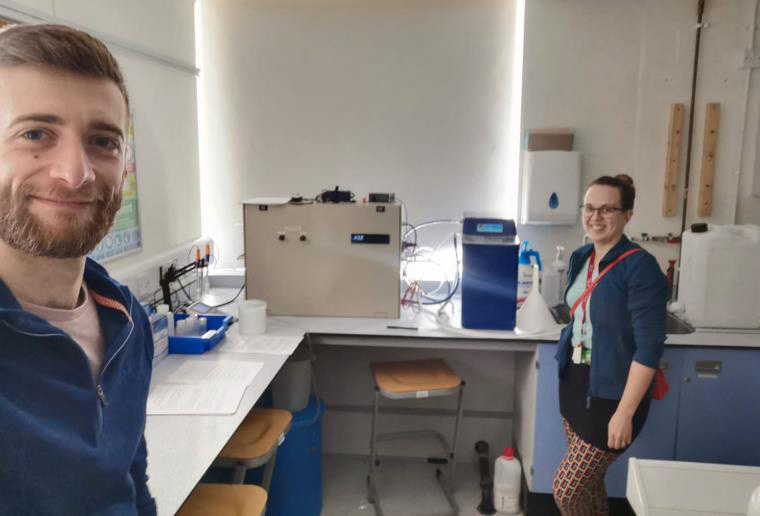 Scientists at UWE Bristol are working around the clock to support frontline clinical areas during the COVID-19 emergency.
A team of academics have paused their research projects to focus on producing thousands of litres of disinfectant to help slow the spread of coronavirus.
Disinfectant produced in a lab at UWE Bristol's Frenchay campus has so far been sent to South Western Ambulance Service NHS Foundation Trust, local GP surgeries and police stations. It is being used as either a surface disinfectant in high throughput areas (door pads, ambulance beds and desks) or as an alternative to hand sanitiser.
The team, from the University's Faculty of Health and Applied Sciences, are also working with industry partners to increase production of generators that make disinfectant. These generators will be capable of producing 1,000L a day and will be installed in-situ at frontline services such as hospitals, ambulance stations, care homes and police stations so disinfectant is available where it is most needed.
As well as being used as a surface disinfectant, the UWE Bristol disinfectant could play a role in tackling the UK's shortage of personal protective equipment (PPE) for medical staff. It can be used to spray down some PPE for decontamination and safe reuse as well as disinfect the inside of ambulances. This approach is being tested with industrial partners at an independent laboratory ahead of possible introduction to the front line.
A team of eight members of UWE Bristol staff, including PhD students and post-doctoral researchers, are working alongside the University's estates department on the effort to support frontline services.
Darren Reynolds, Professor of Health and Environment, said: "We've been researching this technology for the past 20 years, and have specialist production facilities in our lab, so are very well placed to help support frontline clinical areas. We're happy to be contributing our expertise and facilities to helping frontline staff who are doing a wonderful job in extremely challenging circumstances.
"The NHS would normally receive disinfectant from cleaning suppliers but as demand has increased, the supply chain is struggling to keep up. If there are any frontline services (hospitals, ambulance services, police stations, care homes), having difficulty with supplies of disinfectant or hand sanitiser, get in touch with us and we'll endeavour to provide and deliver it. We are here to help."
Unlike commonly used disinfectants such as bleach, the cleaning product made at UWE Bristol is called electrochemically activated solution (ECAS). ECAS technology can provide resilience to frontline sectors when supply chains struggle.
UWE Bristol is one of the leaders in the world on the development of electrochemically activated solutions and their applications. Previous research has included testing its efficacy on fresh produce, its use in off-grid drinking water production and as a surface disinfectant on a wide variety of materials.
The work on disinfectant forms part of the broader role UWE Bristol is playing in the immediate crisis. The University is in discussions with NHS colleagues to offer support and resources, which could include science labs being used for testing and nursing skills laboratories and simulation suites being used for training staff or providing care by using them as wards.
UWE Bristol has also offered to support the production of ventilators through its 3D printing and rapid prototyping facilities within the Bristol Robotics Laboratory at Frenchay campus.
Professor Steve West, Vice-Chancellor at UWE Bristol, said: "It is absolutely fantastic to see different areas of the University pulling together at this time of great uncertainty to use their experience and resources to support the NHS and other frontline services. Universities have the potential to play a critical part in getting the country through this immediate crisis and I'm enormously proud of all of our staff for their contributions."