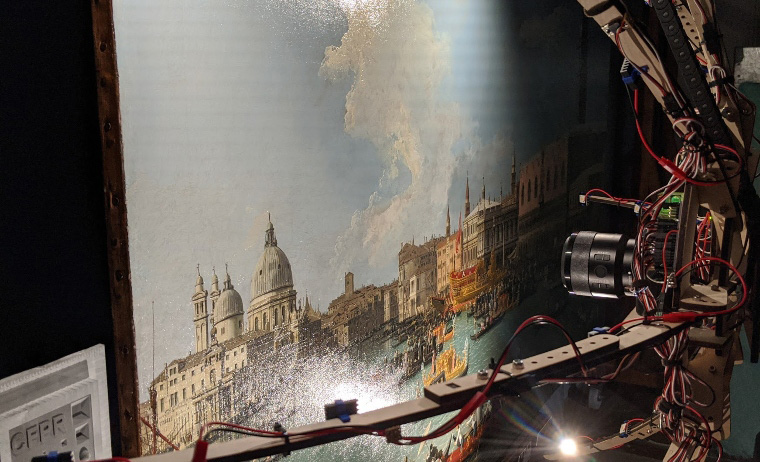 The artistic methods and style of 18th-century Italian painter Giovanni Antonio Canal, commonly known as Canaletto, have been examined and uncovered by researchers at the Centre for Fine Print Research at UWE Bristol using a prototype scanner capable of capturing minute details, textures and brushstrokes that are invisible to the human eye.
Researchers were given the opportunity to trial their scanner on Canaletto's 'The Grand Canal, Ascension Day' oil painting which is currently on display at the Holburne Museum in Bath as part of their 'Canaletto: Painting Venice' exhibition. It is the first time in more than 70 years that the paintings have left their home at Woburn Abbey – one of the world's most important private art collections – giving members of the public the opportunity to see some of Canaletto's best works up close.
3D scanners are often used by conservators and curators to document and evaluate the condition of paintings and understand artists' techniques. Information gathered by the scanner can be used to visualise surface texture in ways not previously possible. While most scanners are very costly and capable of examining only small objects or paintings in detail, researchers from UWE Bristol created a cost-effective prototype scanner capable of capturing much larger works, including the Canaletto painting which measures 190cm by 120cm.
The painting was scanned over three days and more than 5,000 up-close images of the painting were captured to create the final scanned images which users can view and interact with online. The final high-resolution images provide a fascinating insight into Canaletto's working method, particularly his process of incising and outlining the architectural elements of the painting. Meanwhile, shaded images rendered from the surface structure information clearly show the incision lines that were produced while the paint was still wet. These allowed the artist to emphasise architectural details.
Research Fellow, Dr Xavier Aure said: ''It was a privilege to examine and capture one of Canaletto's masterpieces. The images we have generated using the scanner reveal so much about his working style and process; we can extract information about the surface, see how the artist applied paint and learn more about the way he constructed his work. We also hope to launch an online viewing platform in the near future so that these high-resolution scans can be seen by the public, giving people the chance to engage with Canaletto's painting remotely which is so important during the pandemic when travel is restricted.''
Best known for his city view paintings of Venice, Rome and London, Canaletto was a distinguished landscape painter whose works have been known to fetch $20 million at auction.