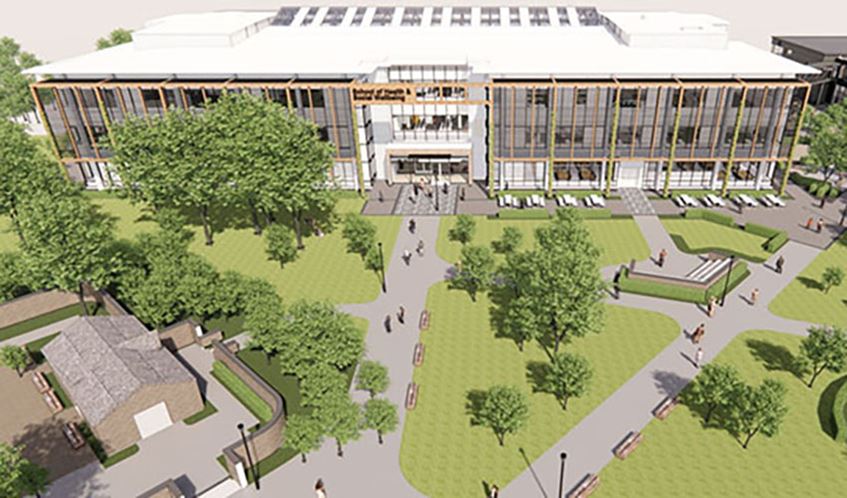 UWE Bristol is developing proposals to relocate its School of Health and Social Wellbeing from Glenside campus to Frenchay campus.
The plans are being developed to enable the University to consolidate and enhance its health and wellbeing provision, as it strives to provide the best facilities to train a modern healthcare workforce.
While Glenside is home to excellent sector-leading facilities, it is limited to the restrictions of a Grade II-listed building. Frenchay campus provides greater opportunities in terms of learning, teaching and research space and collaboration with staff, students and researchers from across the University.
Relocation provides the opportunity to design a facility that brings to life the vision for the future success of the School and to build on its outstanding learning and teaching, practice led research and partnerships across the region and beyond.
Design work is ongoing with a view to beginning pre-construction work in late 2024 and completing the building works by September 2026, subject to achieving planning permission.
The project will look to build on the vision of creating an Integrated Care Academy (ICA) - an exciting new partnership with our NHS and commercial, charity and independent sector partners across local and regional health and social care systems. The ICA - the first of its kind in the South West - will create a health and social care system where we will deliver new models of patient-centric, sustainable health, social care and wellbeing that become best practice in the UK and beyond.
Professor Marc Griffiths, Pro-Vice Chancellor and Head of the College of Health, Science and Society, said: "The design work undertaken to date has provided an opportunity for key stakeholders to come together and explore a future facing learning, simulation and research environment that promotes collaboration and inclusive spaces. Over the coming months we will continue to work with stakeholders and our external partners to ensure our future home for the School of Health and Social Wellbeing is positioned to deliver excellence in terms of student and staff experience. The completion of the new location for healthcare at UWE Bristol will also further promote the interconnections with wider subject areas and the Integrated Care Academy."