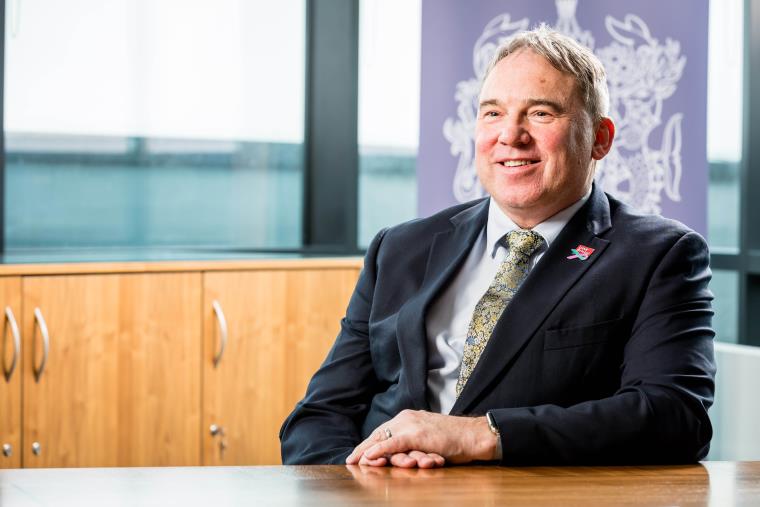 Professor Steve West CBE, DL, Vice-Chancellor, President and Chief Executive of UWE Bristol, has been elected as the next President of Universities UK (UUK) following a ballot of UUK's members.
He will succeed the current President, Professor Julia Buckingham CBE, Vice-Chancellor of Brunel University London, from 1 August 2021 and will hold the post for two years.
Professor West has been Vice-Chancellor of UWE Bristol since 2008. He trained as a Podiatrist and Podiatric Surgeon in London, working in the NHS and private/commercial sector before entering academia in 1984 working first at The Chelsea School of Chiropody and Podiatric Medicine, The London Foot Hospital and Westminster University before moving to King's College London, and Huddersfield University. He joined UWE Bristol in 1995 as Dean of the Faculty of Health and Social Care and Professor of Health and Social Care, and went on to hold a number of senior posts at the university before taking up the role of Vice-Chancellor.
Alongside being a vice-chancellor, Professor West has served on the Boards of HEFCE, UUK and the Office for Students, and Chaired the University Alliance, South-West CBI, West of England Academic Health Science Network and West of England Local Enterprise Partnership. He has chaired UUK's Health Policy Network and continues to champion the sector's work to address a wide range of mental health and wellbeing issues as chair of UUK's mental health in higher education advisory group.
Professor West said: "I am honoured to have been selected by my peers to lead Universities UK. I firmly believe that together we are stronger, and intend to do all I can to ensure universities work as a team to ensure the UK's higher education sector remains world leading at this time of great change.
"UUK plays an essential role, harnessing universities' collective influence to ensure the sector can continue to transform lives through top class education, research and enterprise."
Alistair Jarvis, Chief Executive of Universities UK, said: "Steve is a successful and experienced leader, widely respected across the sector. His experience spanning health, business and education will be invaluable as he leads our university sector.
"Steve understands the strengths and diversity of our sector and has a depth of experience in higher education policy. He is widely recognised for leading sector-wide efforts to improve support for student mental health and wellbeing, which is more important than ever.
"I look forward to working with Steve to champion and enhance the positive impact of universities and support UUK members."