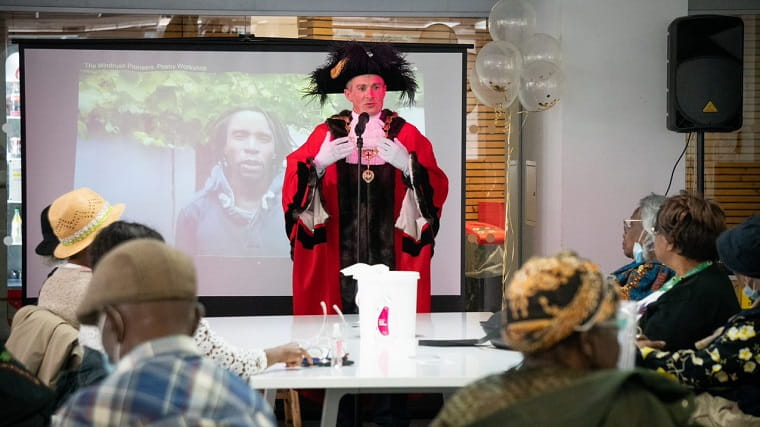 Members of Bristol's Caribbean community and student population came together today (22 June) to mark Windrush Day and to celebrate the success of a seven-month-long UWE Bristol project exploring the contribution of the Windrush Generation to the city.
Today marks the 73rd anniversary of the arrival of MV Empire Windrush which arrived at the Port of Tilbury, near London, on 22 June 1948 bringing workers from Jamaica, Trinidad and Tobago and other Caribbean islands to help fill post-war UK labour shortages; an event which is often described as a seminal moment in Britain's history.
Approximately 30 people attended the event at UWE Bristol's Bower Ashton Campus, including local community leaders, UWE Bristol alumni and students who have been working together on a collaborative project documenting the stories and experiences of the Windrush generation in Bristol and Britain.
The project was kick-started last year by the successful Windrush Generations lecture series attended by more than 100 people. The lectures were held with leading artistic and community leaders such Bristol Mayor Marvin Rees, Executive Director at St Pauls Carnival LaToyah McAllister-Jones and Councillor Cleo Lake who highlighted the successes and challenges of adapting to life in Britain.
As part of the project, UWE Bristol students were invited to work alongside generations of Caribbean community members and to create artistic expressions of their learnings through stories, research, short films and poetry. These artistic works were viewed and enjoyed by guests at today's event alongside Caribbean music and food.
Associate Lecturer Roger Griffith MBE who co-led the event and the project said: ''Today's event has been a wonderful opportunity to mark Windrush day, celebrate the achievements of our Caribbean Bristolian elders as part of our collaborative project and bring the local community together after a very challenging year. The pandemic meant many of our project activities were delivered online so it's brilliant to be able to bring everyone together in person today.
''Our chief aim was to encourage an intergenerational collaborative project which developed the creative skills of students with community members. By working together, we have sought to highlight Caribbean elders' experiences and their resilience by showcasing the contribution they have made to British society while producing artistic learning resources about the Windrush story created by our talented UWE Bristol students.''
Second-year filmmaking student, Sam Badby, was one of the students who took part in the Windrush Generations project. He said: ''Being a young mixed-race man I have always struggled with my identity and where I fit in. However, taking part in this project has not only allowed me to learn an enormous amount about my cultural background, but it has also opened many conversations about my family history between me and my mother. It was amazing to hear some of the stories my mother told from her younger years and to learn about the struggles she went through as a young black woman growing up in England.
''Myself, Klajdi Ymeri and Keaton Brignall-Mcdougall decided to make three films called 'Roots', 'Resilience' and 'Culture', each focusing on a different aspect of the Windrush generation. My film looked into the history of the Windrush through the eyes of my mother who recalled what it was like for her parents coming over to England in the late 50s. I wanted to inform people on the history of Windrush whilst making a film that was very personal to me and my family.'' The films are available to watch here: https://www.youtube.com/channel/UCxakZlDUp6PDDj-ZEk5FSPA