Antarctic Fire Angels and UWE Bristol join forces to bring visible female role models to Bristol schools
See all news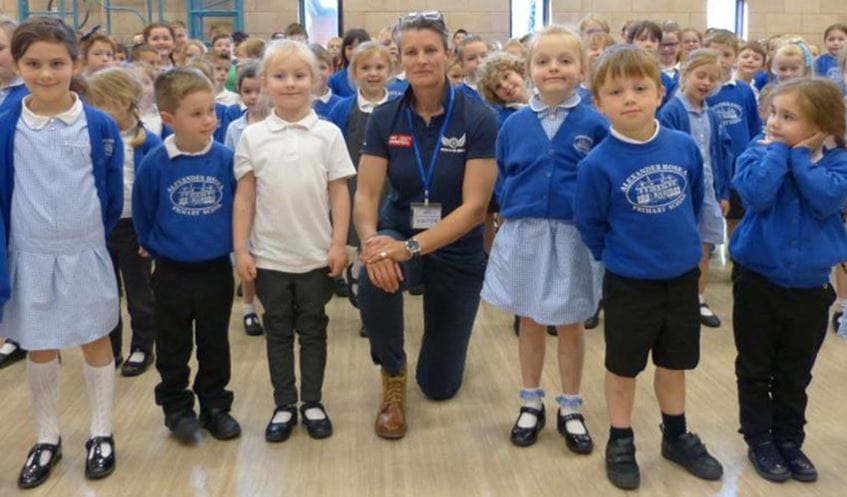 The Antarctic Fire Angels – a pioneering group of female adventuring firefighters – have made a special appearance at a number of Bristol schools to inspire the younger generation to follow their dreams.
The team, Georgina Gilbert, Rebecca Openshaw-Rowe, and Rebecca Hinchley, are training to ski 1,130 km from the coast of Antarctica to the South Pole in November 2023.
The journey will be unassisted and unsupported, pulling 85+kg pulks (supply sleds) in temperatures as low as -50c with possible wind speeds of over 60 mph in approximately 45 days. This will be the world's first attempt at the expedition by an emergency services team.
Working in partnership with UWE Bristol and its Future Quest programme, team member Georgina has been speaking to the pupils about their roles as firefighters and their upcoming expedition in a series of assemblies at seven primary schools on Monday 15 May and Tuesday 16 May.
Th Antarctic Fire Angels hope to inspire and empower the young audience to think outside the box when it comes to what may or may not be possible in their lives; in particular to encourage girls and young women to challenge the gender stereotypes that are barriers to them entering traditionally male dominated activities or careers.
During the assemblies Georgina showed expedition equipment to the children, and talked about how they train and the exercise they undertake to get expedition fit. To support the children's learning they explained how they use maths to calculate distance, food needs and calorie intake. They described how they use geography in planning and how they take care of their mental and physical health.
Co-founder Georgina says: "Historically women and girls have been stereotyped into certain roles and are therefore unaware of their own capabilities outside of these boundaries. We intend to challenge that concept and show what women are capable of.
"When we were growing up, we didn't see any representation of female firefighters or female adventurers, and we didn't really know these options were available to us. We intend on being visible role models to women and girls, as you can't be what you can't see!"
The first visit for the Antarctic Fire Angels was to Alexander Hosea Primary School in Wickwar, with over 210 children aged between five and 11-years-old attending the special assembly on Monday morning. Headteacher Debbie Williams said: "It was a pleasure to welcome the Fire Angels to our school. The children have been inspired by their expedition and the positive message they gave to aspire and reach for their dreams. We look forward to hearing about the team's success in their challenge."
UWE Bristol and Future Quest share a common goal with the Antarctic Fire Angels team, which is to inspire, raise aspiration and empower young women and girls through outreach activities so that they are not confined by gender stereotypes in their future careers. Gender equality is also the focus of a number of research projects by the Human Resources, Work and Employment research group (HRWE) at UWE Bristol.
Dr Sarah-Louise Weller, Associate Head of Department (Postgraduate Human Resource Management Programmes), is currently conducting research that explores women's experiences in the workplace. She said: "We're delighted to be able to offer these schoolchildren the opportunity, through our Future Quest programme, to hear directly from these pioneering women and how they are striving to break down the barriers women face in male dominated sectors.
"The under-representation of women in traditionally male dominated disciplines, for example, STEM, aviation, and defence, is well documented, alongside the associated challenges of the gender pay gap and 'glass ceiling'. Furthermore, women who work in male dominated industries face discriminatory attitudes and behaviours, as well as inequalities relating to their career progression choices, balancing caring or parental commitments, and a lack of support for menopause or other female health issues.
"The Antarctic Fire Angels will encourage a diversity of experience and perspectives for this young audience."
In October, UWE Bristol will join forces with the Antarctic Fire Angels once again, with a knowledge exchange event for UWE Bristol staff, students, and external organisations. The event will include a presentation from the Fire Angels, UWE Bristol's Human Relations, Work and Employment research group and industry guest speakers. The aim of the event is to develop a network for women in male dominated workplaces.
The Antarctic Fire Angels are fundraising to support their expedition. More information on their expedition and how to donate is available on the Antarctic Fire Angels website.
You may also be interested in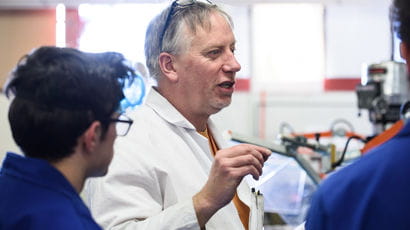 Media contacts are invited to check out the vast range of subjects where UWE Bristol can offer up expert commentary.