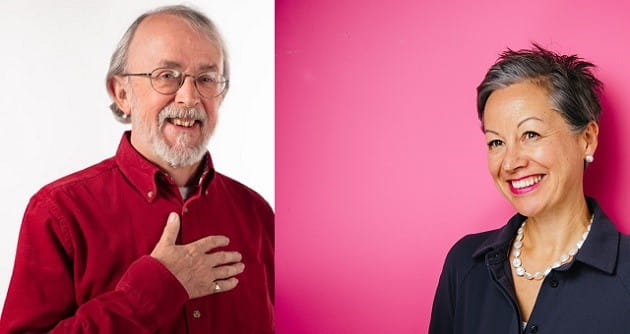 Learning what it takes to develop a career in animation and how to improve people's access to digital skills are among the subjects of a new series of evening talks given by top executives as part of the University's Bristol Distinguished Address Series (BDAS). Open to the public, the spring lectures will continue to take place online and include talks given by Aardman Animations' co-founder, and by an award-winning TV and film industry expert.
Kicking off the series on Wednesday 27 January is 'A life in animation: getting going to letting go', a live video talk from Peter Lord, Co-founder and Creative Director of Aardman Animations.
Peter Lord and his long-term partner David Sproxton experimented with the craft when they were still at school. At the time it was far from easy as a career move, but those early experiments have proved to be crucial in the creation of a very British creative powerhouse with a worldwide reputation.
On Wednesday 10 February the University welcomes Jacqueline de Rojas CBE, President of techUK and Digital Leaders, and Co-Chair of the IoC (Institute of Coding) to deliver her lecture 'Diversity and inclusion - why it's never been more important'.
Jacqueline's talk will look at technology's increasingly influential role in modern society and why it is fundamental to ensure it works for everyone. Digital exclusion is becoming a key issue in our society, as millions of people in the UK don't have the essential digital skills that have become vital in day-to-day work and social life.
On 10 March Professor Lyndsay Duthie, who is CEO of The Production Guild of Great Britain at Warner Bros Studios Leavesden UK, will give a talk entitled 'Pushing past the pandemic, what's next for film and television?'
Lyndsey has worked in the media industry for over 20 years as an educator, television executive producer and broadcaster. Her lecture will look at how the pandemic paved the way for new production techniques and opened up new methods of working safely. She will also explore what lessons we can learn from 2020 and how the industry might look post-pandemic.
Vice-Chancellor Professor Steve West said: "The BDAS talks remain as popular as ever, showing that despite lockdown restrictions the public still has an appetite for learning and seeing through the eyes of top leaders from a variety of industries. We therefore look forward to welcoming these wonderful speakers, as they give their lectures virtually."
All BDAS lectures are free to attend - all are welcome - and take place online from 18:30. Members of the audience will have the chance to ask questions to the hosts during a Q&A session following each talk.