Philosophy, Politics and International Relations resources
Food for thought, an inspiring community, and space to grow, engage and connect. It's more than just great facilities that will set you up for success when you choose to study Philosophy or Politics at UWE Bristol.
Our greatest resource has to be people who will open your mind when you join us. Get a taste of how it feels to learn here.
Take a tour of our Philosophy and Politics facilities
Immerse yourself in our Philosophy and Politics facilities by viewing our 360° images below. Move between different rooms and spaces by using the arrows or menu bar on the top left, and use the controls or your cursor to explore the images. You can also expand to full screen using the icon on the bottom left of the images.
What's waiting for you?
Philosophy
International faculty - who share diverse perspectives and open your eyes to new viewpoints.
A close-knit community - where you can feel comfortable discussing ideas and debating.
Politics and International Relations
Alumni speakers - to inspire you and share valuable first-hand perspectives.
An international student body - we actively welcome international students to reflect the world you'll be working in.
Employer connections and placements - with working politicians, NGOs and other organisations to foster the kind of connections you'll need in a political career.
Food for thought
Film night at Watershed - series of screenings and discussions around films of great philosophical and political significance.
Academic and non-academic speakers to talk with an audience of students, lecturers, activists, and regular cinema-goers.
Good to know: you can help to organise these sessions, connecting with the wider community and building both employable skills and your own personal network.
In the library and on campus
Frenchay Campus library is open 24 hours a day.
Our library also has an array of online resources for philosophy and politics.
Hive social learning areas provide a mix of computer stations, flexible desk space, and dedicated group-work booths and rooms.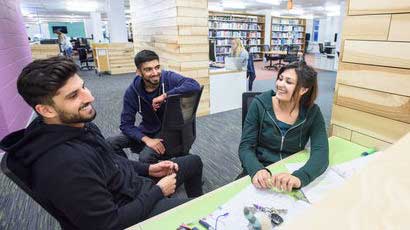 Find out more about our Philosophy, Politics and International Relations courses at UWE Bristol.