Architecture facilities
Spaces and facilities to inspire tomorrow's architecture.
Dream of designing spaces where people can flourish? Begin your career in architecture in a space that won the Royal Fine Art Commission 'Building of the Year' award for Architectural Education. Light, bright and alive with knowledge, here there's inspiration all around you.
Architecture facilities
Immerse yourself in our Architecture facilities by viewing our 360° images below. Move between different rooms and spaces by using the arrows or menu bar on the top left, and use the controls or your cursor to explore the images. You can also expand to full screen using the icon on the bottom left of the images.
What's waiting for you?
Spaces and facilities to inspire tomorrow's architecture
Our award-winning R Block is home to fantastic facilities and inspiring industry-recognised teaching staff. There's all the latest technical equipment, and stunning studio facilities. Here you can make the most of:
Integrated studios for computer-aided design (CAD)
Model-making and drawing resources
Architectural modelling resources including laser cutters, wood, metal and concrete workshops.
Good to know: our supportive team will be on-hand to help you make the most of all our industry-standard equipment.
Library and facilities to share
Digital creative suites - you can access industry-standard video and editing facilities, including the latest design, animation and illustration packages to bring your projects to life.
Frenchay Campus library is open 24 hours a day, and you'll find a wealth of online resources, journals and databases available for architecture courses.
Hive social learning areas provide a mix of computer stations, flexible desk-space, and dedicated group-work booths and rooms.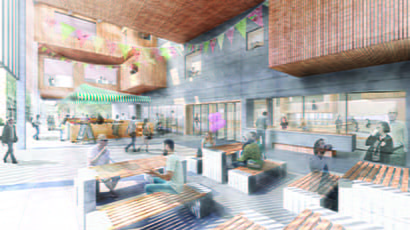 Our Architecture courses include: Architecture, Architectural Technology and Design, Interior Architecture, Architecture and Environmental Engineering and more.