Information for aspiring entrepreneurs and early-stage businesses
If you have a business idea you would like to put into action, Launch Space can help you do just that. We'll give you free business support and expert advice for up to 12 months so you can focus on achieving great things. We also have a small number of bursaries available for eligible entrepreneurs.
Applications now open.
Why choose Launch Space?
Grow your ideas with the support of our existing and alumni founders – Launch Space is home to existing graduate-led businesses at various stages on the start-up journey, so you'll be working alongside others who have a common goal of making their vision a success.
Develop your ideas – Turn your pre-commercial ideas into successful business enterprises.
Dedicate time to your business – Spend up to 12 months developing your idea with the support of our in-house team.
Immerse yourself in a caring and supportive environment – Be part of an entrepreneurial community well connected to the wider University, with support on hand when you need it.
Access great minds and facilities – Build relationships with academics and make use of our fantastic campus facilities.
Help to raise funds – Develop your pitching skills, pitch deck and your go to market strategy.
Am I eligible?
Launch Space is open to graduate-led, or early stage, businesses with high-growth potential. We're looking for those that are working on products and services across key themes:
Health and life science
Advanced engineering
Digital futures
Sustainability and climate change
If you're applying as a graduate, then we'll use the date on your graduation certificate to determine your eligibility. This date must be within seven years of the date on which your Launch Space residency is due to begin. For example, if you become a resident in June 2022, your graduation certificate will need to carry a date on or after June 2015.
Support at Launch Space
You'll get help setting up your business and benefit from:
one-to-one mentoring with our Entrepreneur-in-Residence service
guidance from our in-house team, delivered via a mix of peer groups, virtual webinars and onsite workshops
access to expert advisory services across vital themes, such as intellectual property (IP), finance, and legal
networking and other events with our wider Future Space community, made up of science, tech, and engineering start-ups and small and medium-sized enterprises (SMEs).
With access to communal networking areas, use of professional meeting rooms, and on-site hot-desks, you can get ready to launch your business (all subject to availability, eligibility, and terms of your contract).
Extra support for eligible graduates
If you're an eligible graduate, you'll also be able to apply for up to £4,000 to help kick-start your career as an entrepreneur.
Santander Start-Up Grants and Internships
The Santander Start-up Grants aim to remove the financial disadvantage to pursuing the entrepreneurial career path. This is aimed at graduate-led businesses and those at a financial disadvantage.
You could receive up to £4,000 for research and development (R&D) activities in your business, to fund an internship or help drive your marketing activities.
Selection
Individuals qualifying for the awards will be selected on the basis that they:
can demonstrate the need for a grant, for example, no identifiable means of income to fund the idea
have a business idea deemed worthy of support and with high-growth potential.
Expectations
Successful applicants will:
be encouraged to engage with Bristol's Santander Business team
provide students with valuable insight, guidance and support
engage widely with the University in our drive to support entrepreneurship.
Further information about using Launch Space
Does my business need to be registered?
To access Launch Space, you need to either register a company (in order to get a company number) or register as a sole trader with HMRC.
We recognise that you may have a business idea without having got to the stage of formally setting up the business itself. We can support you through the process of setting up a business, so please email the Launch Space team at launchspace@uwe.ac.uk.
What are the implications for my intellectual property (IP)?
Launch Space and, by association, the University of the West of England does not take an ownership stake in any companies, and similarly does not have a stake in intellectual property you generate before, during, or after your residency.
What do you mean by Research and Development (R&D)?
Research and development (R&D) is activity aimed at achieving a new advance of some kind (technological, scientific or otherwise) in an industry or within the business itself. It usually draws on existing knowledge – gained from practical experience, previous research, knowledge of competitors or just a great new idea – that is directed at producing new or improved products, technologies, devices, materials, processes, systems or services. Basically, it's work you undertake to create something completely new, or that is better than what has come before it.
What if I have an idea but not a formal business yet?
Launch Space and other support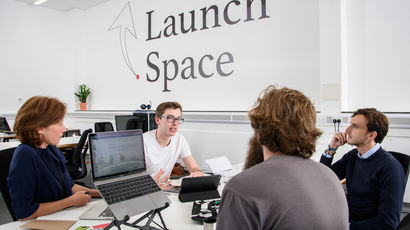 Contact details for Launch Space, enterprise facilities and support for UK graduates, located on Frenchay Campus.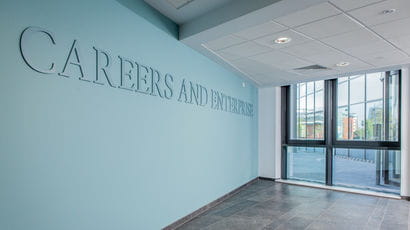 If you bring the big ideas and ambitions, we've got the places, spaces, people and buzz to help you grow. When you're learning at the heart of a community of entrepreneurs and careers experts, who knows who you'll meet, connect with and be inspired by.