What's included?
Our Active Card membership offers inclusive use of many of our fantastic sports facilities and services to help you reach any health, fitness or sporting goal.
Membership includes: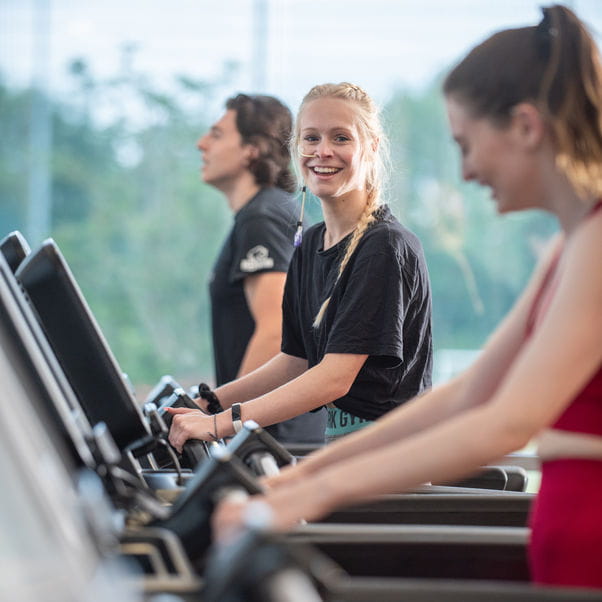 Costs
Cost per annual membership
Fee
Monthly rate
Student
£199
N/A
Staff and their families
Alumni
Retired staff
Aged 60+
£215
£17.92
Community
£330
£27.50
Buy Active Card membership
Guests
If you bring a guest they will be charged £4.00 per court to use the court facilities and £5 to use the climbing wall.
Payment plans
Student payment
If you're a student you need to pay for annual membership up front. If you live in campus accommodation you can opt in to pay in instalments until 8 October 2021, contact the Centre for Sport reception team for details.
Non-student payment
Staff and their families can pay the annual membership in full or via a monthly rolling membership paid through the salary sacrifice scheme.
Community members, alumni, retired staff and those aged 60+ can pay the annual membership in full or choose to pay monthly via Direct Debit.
Register as a Pay as you Go member and then email reception.sport@uwe.ac.uk for the direct debit registration link.
Student Active Card renewal
If you hold a 12-month student membership, you can save on the cost of your Active Card for the next academic year. Renew up to one month after your membership expires for £150. Contact reception to renew.
Criteria for alumni membership
You must have completed a course or programme at UWE Bristol to qualify for alumni membership. You'll be required to bring in a UWE Bristol alumni card or confirmation email from the Alumni Office as proof.
British Universities and Colleges Sport (BUCS) UNIversal
If you have an Active Card or Gym Only membership at UWE Bristol Sport you get access to the exclusive BUCS UNIversal scheme. So if you head home for the holidays or are visiting friends at other universities you may be able to access the gym at the local university.
To find out which Universities are participating and for further information on how to apply, please view BUCS UNIversal gym. If you have any additional questions please contact UWE Bristol Sport. Please note, you may need to complete documentation and an induction at participating venues.
UWE Bristol Sport app
Book exercise classes, MOVE sessions and facilities, get up-to-date information, news and offers, hear about events and receive push notifications for important alerts.
Get the app