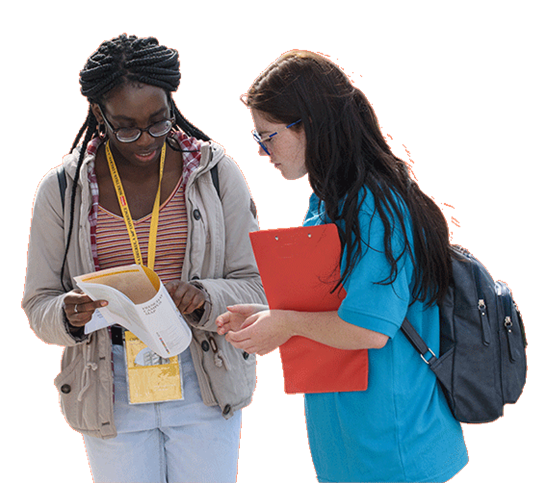 Clearing Virtual Open Days
Join us on Friday 14 and Monday 17 August where you can watch a range of videos and live Q&As, with subject leaders and university services. Find out about Clearing accommodation options, hear from students who've been through this process and find out what it's like to live and study here.
If you have already received a Clearing Offer from us, we will be in touch with more details soon. We will also be updating this page regularly so keep an eye out for further information.
Our Virtual Open Days
The best way to know if UWE Bristol is for you is to visit. But right now, that's not possible. So while physical events can't happen, we're opening our doors digitally to all prospective UK and international students. From videocasts and live Q&As with subject leaders and university services to live chats with current students, we're 100% here for you.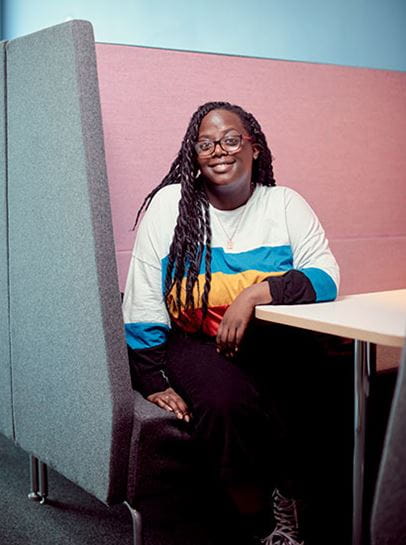 "UWE Bristol makes you more confident, more determined and more open."
Mercedes BA(Hons) Drama and Creative Writing
Ask a student
If you are thinking about applying to UWE Bristol and have questions about your course, facilities, societies or anything else, you can ask one of our current students.
Ask a student
Physical Open Days
Whilst we are unable to invite you to our campuses at the moment, at some point in the future we hope to return to normality. This means that you will be able to visit the University and see it for yourself at a regular Open Day. Below you can see information about our physical events, for when that day happens.
Postgraduate and professional Open Events
We hold specific events for people interested in postgraduate and professional study. From accessing the money to make it happen, to finding out about childcare and flexible study, it's all about making it happen for you.
Postgraduate Open Events
Planning your Open Day
How do I get there?
We have three main campuses in Bristol: Frenchay Campus, Glenside Campus and City Campus, and we also run Open Day sessions at Bristol Zoo – there's info on travel and directions to all on our
Open Day travel pages
.
What do I need to do before the day to prepare?
Check our course listings to find out which department and campus you need to visit

–

and the latest entry requirements for your course.
We'll give you a printed copy of the Open Day programme on the day. You can download a copy a week in advance to help you plan if you prefer.
Think about what tours and talks you want to attend. We recommend that you prioritise the subject sessions you want to attend first then fit the general sessions and tours and visits around those.
Remember to think about where you want to live and plan a visit. Whether it's on campus at Frenchay and Glenside, or in our city centre accommodation, you'll be able to drop in at a time to suit you during the day.
What questions should I ask at a university Open Day?
There'll be academics, Student Ambassadors and professional staff present so you'll find the answers to any questions you may have. Thinking about these in advance is a great idea as it depends on which course you're interested in and what you want from your university experience. Some things to think about might include:
what are selection panels looking for in your personal statement and UCAS application?
what are the common career paths for graduates from your course of interest?
which modules you will be able to study on your course?
how the course is assessed
what do students think about the different accommodation options?
what are the opportunities for placements and extra-curricular activities that compliment your course?
what societies you can join.
What should I wear?
Our Open Days are relaxed so wear whatever makes you feel good. You'll probably be doing quite a bit of walking so wear comfy shoes and bring an umbrella just in case.
When should I arrive?
There's lots to see and do on an Open Day, so arrive early if you can. Our sign-in points are open from 09:30 to 13:30 on Frenchay Campus, Glenside Campus and City Campus.
Where can I get something to eat or drink on the day?
At Frenchay, City and Glenside Campuses, all Students' Union shops and bars will be open so please explore and tuck in.
There are lots of social spaces, cafes, restaurants, and shops across our campuses so you'll have plenty of opportunities to refuel and top up your water bottle.
There's also complimentary tea and coffee in the Information and Advice Zone and Faculty areas.
Where do I go when I arrive on campus?
When you arrive, make your way to the sign-in areas. There will be signs, staff and Student Ambassadors (dressed in blue t-shirts) to help direct you.
After an Open Day
Next steps
Find out more about the next steps in the process, after you've attended different Open Days and are making your university decisions in UCAS.
Offer Holder Days
Are you holding an offer to study at UWE Bristol? If so, you will be invited to one of our Offer Holder Days. Find out what to expect.