Contextual offers
Details of what our contextual offers involve, who's eligible, the application and support available.
UWE Bristol is committed to ensuring all students are able to fulfil their potential. We strive to make our UWE community welcoming, caring and supportive. We support students from all backgrounds and look to understand applicant's individual circumstances when making an offer of a place to study.
We use information from your UCAS application to consider your background and experiences as an individual and the impact these may have had on you and your qualifications. Using this information, we look to provide a contextual offer.
For any questions about contextual offers, please email the Admissions team at admissions@uwe.ac.uk.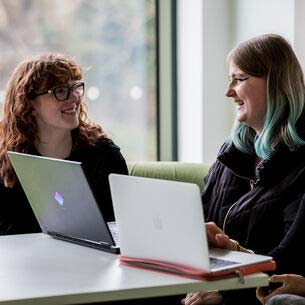 Our contextual offer
UWE Bristol's contextual offer is a tariff reduction of 16 tariff points for all undergraduate degree courses and 8 tariff points for all foundation year courses below the standard entry tariff. This is applicable to home applicants only.
Further tariff information is available on our course pages.
Who's eligible for a contextual offer
We will use the multiple equality measure (MEM). It brings together information on several equality dimensions for which large differences in the probability of progression into higher education exist.
These dimensions include:
Sex
Ethnic group
Where you live (using the

Participation of Local Areas (

POLAR4) and

Indices of multiple deprivation (

IMD) classifications)
School type
Income background (as measured by whether a person was in receipt of free school meals (FSM) at age 15, a means-tested benefit while at school)
Income deprivation affecting children index (IDACI).
We will also use UCAS's widening access questions:
Do you have any caring responsibilities?
Are you a parent or do you have any parenting responsibilities?
Do you have official refugee status in the UK?
Would you consider yourself estranged from your parents?
Do you have a parent or carer that currently serves in the UK armed forces, or has done so in the past?
Have you ever served in the UK armed forces?
Are you currently receiving free school meals, or have you ever been in receipt of free school meals during your secondary education?
Would you consider yourself as living with any of the following? (dropdown selection provided)

A learning difference (such as dyslexia, dyspraxia or AD(H)D)
A visual impairment uncorrected by glasses (such as blindness or partial sight)
A hearing impairment (such as D/deafness or partial hearing)
A physical impairment or challenges with mobility (such as climbing stairs or uneven surfaces), or dexterity (such as using a keyboard or laboratory equipment)
A mental health condition, challenge or disorder (such as anxiety or depression)
A social, behavioural or communication impairment (such as an autistic spectrum condition (including Asperger's syndrome) or Tourette's syndrome)
A long-term illness or health condition which may involve pain or cause fatigue, loss of concentration or breathing difficulties – including any effects from taking associated medication.
A condition or impairment not listed above.
Applying for a contextual offer
Apply in the usual way through UCAS and we will be in touch if we are able to provide you with a contextual offer.
Please note you will find the widening access questions in the 'More about you' section of the UCAS application form.
Access to UWE Bristol support programme
All contextual offer holders will be invited to join our Access to UWE Bristol support programme, which aims to support students through the transition from school or college to university life. You will have access to our:
preparing for higher education talks – these are delivered by the Widening Access team at offer holder days.
mailing list – you will receive helpful updates and resources via email.
For more information about the programme of support for contextual offer holders, please email the Widening Access team at widening.access@uwe.ac.uk.