Join 30,000 senior leaders taking part in a practical management training programme delivered by world-class business schools, accredited by the Small Business Charter.
Help to Grow: Management will support senior managers of small and medium sized businesses (SMEs) to boost performance, resilience, and long-term growth.
The 12-week programme combines online sessions with face-to-face learning, alongside peer support and mentoring. It is 90% funded by the Government and has been designed to allow you to complete it alongside full-time work.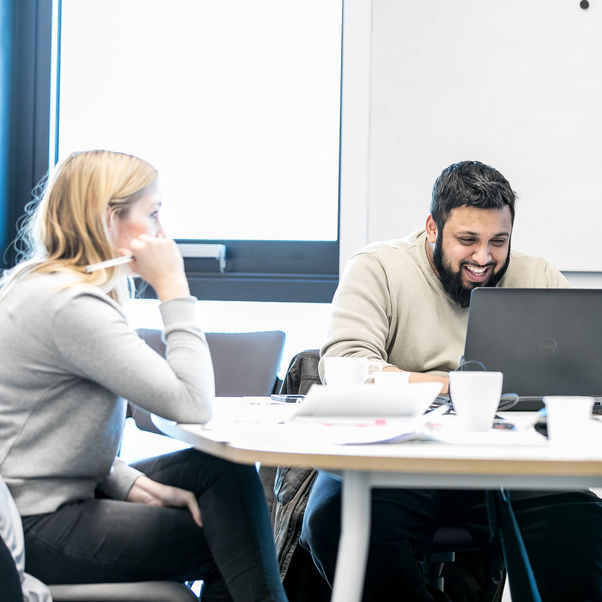 Programme overview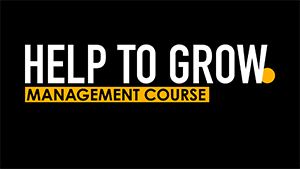 Facilitated by small business experts, this practical programme has an in-depth, high-quality curriculum designed to support you to build your capabilities in leadership, innovation, digital adoption, employee engagement, marketing, responsible business, and financial management. By the end of the programme, you will develop a business growth plan to help you lead your business to release its potential.
Practical curriculum
The curriculum features:
eight facilitated sessions, each one lasting two hours and delivered online
four practical, face-to-face case study workshops
one-to-one support from a mentor, providing you with personalised support to develop your business growth plan
peer networking, including peer group calls that give you the opportunity to share experiences with a small group of other small business leaders
access to the Alumni Programme featuring events with inspirational speakers, business clinics and networking events.
Key areas of leadership featured
Strategy and innovation
Growing national and international markets
Leading for high performance
Building vision and brand
Engaging and inspiring teams
Creating customer value
Adopting digital technology
Adopting responsible business practices
Financial management
Eligibility
Businesses
Your business must:
be a small or medium-sized enterprise (SME) based in the United Kingdom
be from any business sector, employing between 5 and 249 people
have been operational for at least one year
not be a charity
Applicants
You must be a senior decision maker, such as Chief Executive, Finance Director or Operations Director. Please note that only one person per business can attend the programme.
How to take part
The University will deliver Help to Grow: Management programmes in the South West of England. Various start dates between September 2021 and March 2022 will be available. Our courses are aimed at businesses in the following areas:
South West 'North', comprising: Gloucestershire; Swindon and Wiltshire; North Somerset and the West of England Combined Authority area (Bath and North East Somerset, Bristol and South Gloucestershire)
South West Peninsula: Cornwall, Devon, Somerset and Dorset
How to take part
The following dates are currently available to book:
Please note: 90% of the cost is funded by the Government and the remaining cost to businesses is only £750.
You can find out more about the programme on the Small Business Charter website.
Once registered, you will be sent a link to make a payment via UWE Bristol's secure Online Store. (Please note this may take up to two working days).
For further information on the Help to Grow programme at UWE Bristol, please contact helptogrow@uwe.ac.uk
Become a Help to Grow mentor
Use your skills and experience to mentor the Help to Grow: Management programme participants and join the network of SME leaders and senior decision makers. The Help to Grow programme provides ten hours of mentoring to each participant, to help them develop and lead their strategies for growth. We are looking for mentors who can support the UK's SME leaders to grow their businesses.
Requirements
Using your in-depth understanding of the barriers SMEs face in achieving their growth potential, you will:
build trust and help participants improve their leadership skills to drive change within their business
guide the participant to realise their business's growth potential by exploring all the avenues open to them
support participants to develop a robust, actionable growth plan and provide guidance on implementation.
Download the full mentor person specification (PDF) on the Small Business Charter website.
For further information on Help to Grow mentoring contact Lynda Williams at Lynda.Williams@uwe.ac.uk.
You may also be interested in