Hospitality - sustainable food
UWE Bristol Hospitality delivers high-quality sustainable food across our three campuses.
Our students and staff are increasingly concerned about the source of their food, and its impact on the environment and animal welfare as well as on their own health.
We are in a unique position to provide environmentally friendly and healthy food to a receptive audience and to encourage a longer-term change in buying and eating habits.
We are particularly committed to using local food and ingredients, both to cut food miles and to also contribute to thriving local economies and sustainable livelihoods. We recognise the link between healthier diets and sustainability, and our Sustainable Food Plan has been developed to contribute towards UWE Bristol's Health and Wellbeing Strategy and action plans.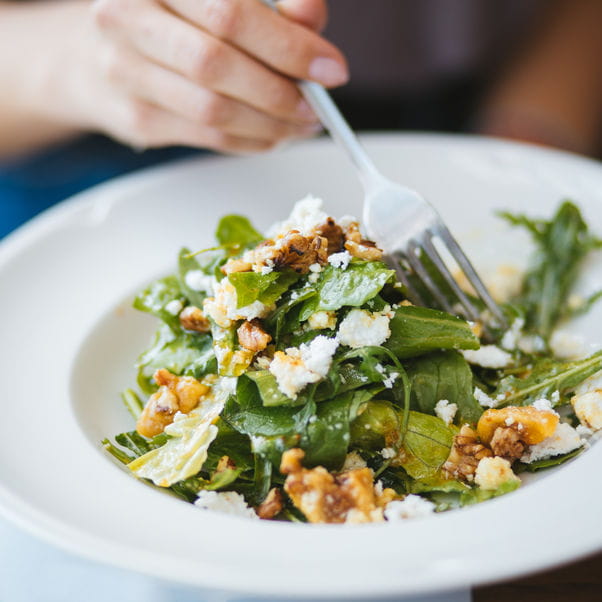 2030 Strategy targets
Our 2030 Strategy targets are contained in our sustainable food plan (PDF). Read below how we are meeting them and be inspired by what we are doing.
Sustainable sourcing
Local food: by 2030, 70% of our food (by value) will be sourced locally within the UK (our definition of 'local' is taken from the Soil Association Food for Life accreditation). We will facilitate the provision of ultra-local produce from growers within a 30-mile radius where possible and financially viable.
Provision of seasonal fruit and vegetables: currently at 60%, by 2030 75% of fruit and vegetables used and sold on campus will be seasonal (2016 baseline 52%), with an intention to reach 80%. Our supply chains are already set up to prioritise seasonal food and the majority of vegetables and some fruit has Red Tractor traceability.
Vegan and vegetarian food: we have increased vegetarian and vegan options in line with our policy to reduce meat consumption and currently 30% of our food is plant based. This will rise to 40% by 2025 and to 55% by 2030.
Plant based food champions: we have a plant-based only cafe, Wild Kitchen, which showcases vegan food and drinks and shows the way forward in terms of alternatives to an animal-based diet.
Alternative proteins: we include different alternative proteins when creating menus, and aim to look at increasing this by a minimum of 15% by 2030.
Plant based milks: we provide plant-based alternatives to dairy milk in all UWE Bristol outlets, with a focus on those with the lowest carbon impact (i.e. oat milk).
100% free range eggs: we use free range shell eggs from Reynolds Fruit and Veg, Total Produce and Cotswold Dairy. We have been awarded the Good Egg Award in conjunction with Compassion in World Farming.
100% organic milk: all our fresh milk is organic, supplied by a local dairy farm based in Tewkesbury which uses dairy farms within a 30 mile radius of their site.
100% sustainable fish and seafood: all products we use have been certified by the Marine Stewardship Council as sustainably sourced and we are independently audited by them.
All our meat is Red Tractor assured: this means that we can trace all our meat back to independently inspected farms in the UK which must meet safety, hygiene and animal welfare standards. Our chicken, pork and lamb come from John Sheppard Butchers in Bristol.
UWE Bristol grounds: The UWE Bristol grounds team continue to develop an integrated edible campus approach of herbs and edible plants as well as planting additional, on-site fruit orchards.
Sustainable palm oil: our purchases of catering products are certified to Round Table on Sustainable Palm Oil (RSPO) and, where possible, by 2030 all products that UWE Bristol purchases will meet this expectation.
Fairtrade champion: UWE Bristol champions Fairtrade and we are an accredited Fairtrade university. We have Fairtrade products in all of our outlets including over 70% of coffee served being Fairtrade in our cafes. Our future plans include consolidation of our product range in the face of restricted supply issues, plus increased promotion. Find out more about Fairtrade at UWE Bristol.
UWE Bristol Fairtrade progress and best practice
We are committed to being a Fairtrade University.
Fairtrade progress
Food for Life Soil Association silver award
In November 2022, we were again awarded the Food for Life catering mark for OneZone, our main outlet at Frenchay Campus. Accredited by the Soil Association, the Catering Mark ensures that our meals are made up of seasonal, traceable, healthier, sustainable and fresh ingredients, free from trans fats and additives, as well as reducing food waste. In the future, we will expand the Food for Life programme to include Glenside Campus. 
Healthy eating: we do not use any food additives in food prepared in our kitchens; we use below the government target level for salt and have reduced sugar usage and intake under the national Sugar Smart programme. We offer fruit for sale at a cheaper price than the cheapest dessert at all our outlets. We also provide a healthy Meal Deal choice of fruit instead of a chocolate bar.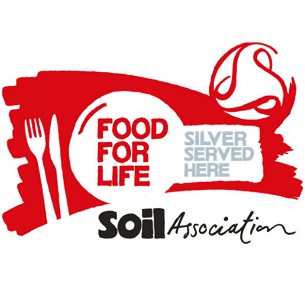 Supporting circular economy and waste prevention
Building on work on reduction of portion and plate size, established through accreditation under the Soil Association Food for Life award, we continue to take measures and do public education on food waste and cooking with leftovers. We continue to buy non-standard vegetables and to maintain excellent food storage practices to ensure longest life of food used on campus.
To make sure that our food surplus ends up on the plate not in the bin, we offer customers discounted food through the Too Good To Go app.
We facilitate and promote customers using china or their own reusable containers and cutlery, as the preferred option and then, only as a secondary option, disposables will be offered.
A levy on all takeaway packaging has been introduced to incentivise waste-free serving when alternative options are available (china plates).
We sell reusable mugs at cost in all cafes to encourage the use of reusable cups rather than single-use disposable ones, charging customers without their own reusable cups an extra 20p.
Working with City to Sea, we are taking part in an innovative trial to cut single-use cups at Frenchay Campus outlets whereby an outlet stocks free, reusable cups and, provided they are returned to a range of Bristol outlets, no charge will be made.
Student support and study projects
We can support you by providing information and learning opportunities; email the Sustainability Team at sustainability@uwe.ac.uk.