Partnerships in the Department of Computer Science and Creative Technologies
We work with some of the top employers in the industry to keep our courses relevant and bring real world insights into your teaching.
Computer Science and Creative Technologies partners
PlayWest is a staff, student and graduate powered game studio at the heart of our TIGA-accredited Games Technology curriculum.
Work at PlayWest includes high-profile real world games technology projects, the creation of commercial videogame products and fostering the next generation of developers.
As a partner, the studio gives students the chance to develop their skills by undertaking internships and paid work under industry conditions. PlayWest has exclusive access to our new PlayStation First studio and is also delivering our MSc in Commercial Games Development – a new award designed with industry CPD in mind, focusing explicitly on commercial development and advanced games research.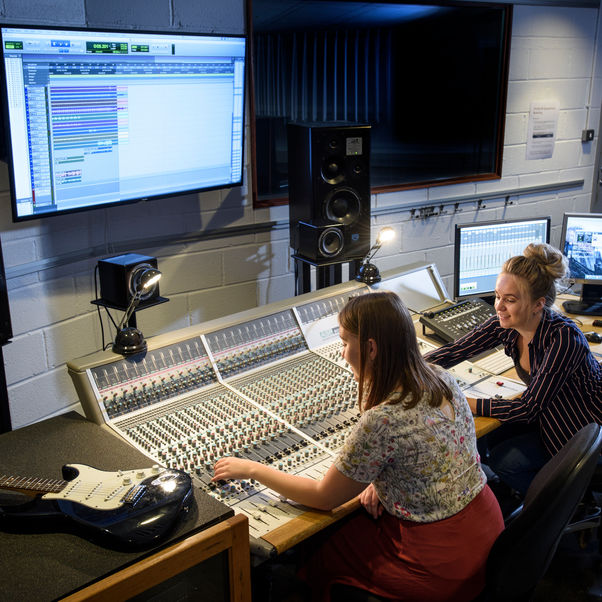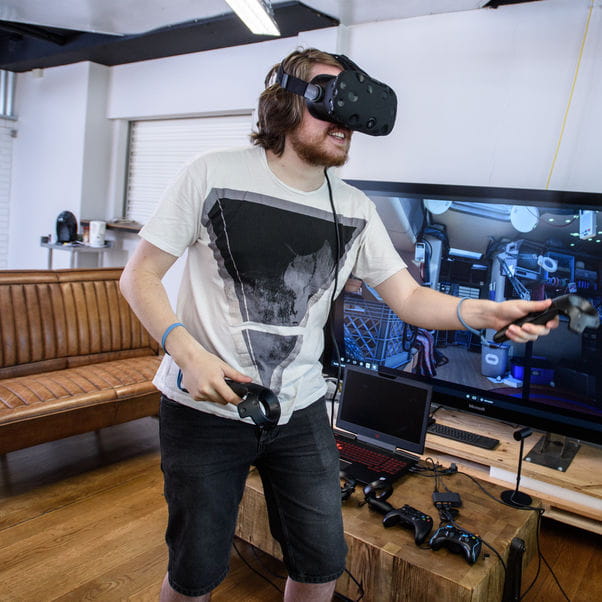 Audio and Music Technology partners
Past students have undertaken placements in acoustics, recording and post-production for the BBC, Dolby Labs and Acoustic Design Sound, By Design and Bang Post Production. Some have worked with national orchestras such as the London Symphony Orchestra.
Our students have composed music for BBC wildlife programmes, created podcasts for the Natural History Museum, and produced audio for festivals, radio, and local industry partners.
Several leading tech firms such as Focusrite, Allen&Heath and ROLI/JUCE actively recruit graduates and interns from the course.
Accreditation and professional recognition
Many of our Computer Science and Creative Technologies and Audio and Music Technology courses are accredited by relevant professional bodies. Specific accreditations include:
British Computer Society – The Chartered Institute for IT
Known by its acronym as the BCS, it was established in 1957 under royal charter and is the professional body and learned society for those within the IT professions. The BCS is a member of the Engineering Council UK (ECUK) and is responsible for the professional regulation of ICT and computer science. It has some 70,000 members across the world.
Tech Partnership (e-skills)
Our BSc(Hons) Information Technology Management for Business course was developed in partnership with e-skills UK, the Sector Skills Council for IT, Telecommunications and Contact Centres.
Chartered Institute of Library and Information Professionals (CILIP)
CILIP is the professional institution for librarians, information specialists and knowledge managers. It facilitates the achievement of the highest standards for the professions it supports.
Successful completion of a CILIP accredited course means that you have the industry recognised qualification needed to practice as a professional librarian or information manager.
Our MSc Information Management has been fully accredited by CILIP. Accreditation is internationally recognised and, by completing this programme and gaining relevant professional experience, you could be well on your way to becoming a chartered professional in your field. Please note that the PG Diploma is also accredited.
Joint Audio Media Education Services (JAMES)
JAMES is the educational arm of the Association of Professional Recording Services (APRS), the Music Producers Guild (MPG) and the UK Screen Association. It aims to further links between the industry and education ensuring that the value of current professional experience is carried forward into future generations.
The APRS and MPG are the principle music industry associations representing recording and audio post-production studios, engineers, producers and manufacturers.
In a recent reaccreditation visit, representatives from JAMES had the following to say: "The philosophy behind the team is very innovative and greatly benefits the students and the course. This innovative approach will ensure that UWE is at the forefront of this industry orientated education in the UK and internationally."
The assessors were also impressed with the quality of teaching and support staff.